Federal Covid Response Shrinks as New Funding Stalls in Congress
Covid, monkeypox money caught in congressional gridlock
Federal spending shifts to vaccines instead of research
Bloomberg Government subscribers get the stories like this first. Act now and gain unlimited access to everything you need to know. Learn more.
The country risks a Covid spike this winter as congressional bickering prevents a new federal infusion of money to distribute vaccines and therapies, public health groups warn.
Congress, clearing another government spending bill (Public Law 117-180) last week, omitted the White House request for almost $27 billion for resources to slow the spread of Covid and the monkeypox virus. It's been more than 18 months since new money was approved for a list of federal Covid-fighting programs.
That lag in funding has prompted federal spending to shift away from research into vaccines and on combating viruses that are still circulating widely among the public.
"It's a sad day for public health in America," said David Harvey, executive director of the National Coalition of STD Directors, a group that's pushed for months for funding to fight monkeypox. "Congress has once again let down our public health workforce when the urgency couldn't be greater and the need couldn't be clearer."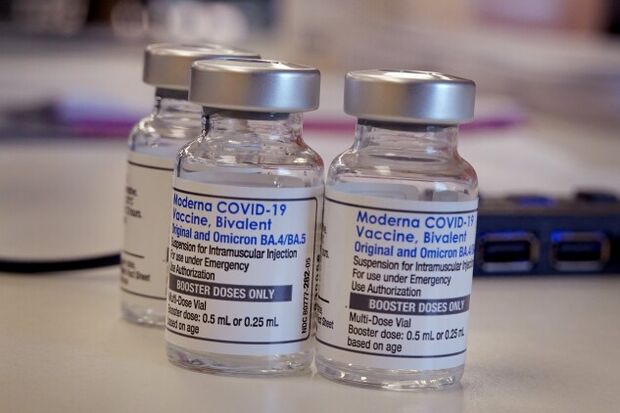 Researchers have warned that vaccination rates are lagging and the country could see Covid-related deaths and hospitalizations quadruple from currently moderate levels unless more people get shots.
But the warnings come as many Americans, and subsequently lawmakers, appear to have moved on from the virus and don't want to invest in activities like creating the next generation of vaccines.
"There's a false sense of security," said Georges Benjamin, executive director of the American Public Health Association.
Congress has deadlocked over giving the White House more money for its Covid programs since earlier this year, when a number of House Democrats objected to using state aid to offset the new funding. Republicans have demanded any new funds be paid for by rescinding other, unspent federal money. Similar disagreements have affected monkeypox funding.
Read More: White House Weakens Covid Message With Move to Private Sales (1)
Funding Drop
The Centers for Disease Control and Prevention reports Covid-related deaths have fallen to less than 350 per week on average, down from the 800-plus weekly average the country saw during the same time last year. Monkeypox cases are similarly down from all-time highs, according to the CDC. During the first week of October, the US was seeing fewer than 100 cases per week, compared with a high of more than 400 in early August.
"We're heading in the right direction," Anthony Fauci, White House chief medical adviser, said at an Oct. 4 event. "We can't let our guard down."
Without new money, pandemic-related procurement from both civilian and defense agencies has dropped to $35.6 billion in fiscal 2022, from a peak of $58.7 billion in the prior fiscal year, according to a Bloomberg Government analysis of contract spending.
That drop in spending has come with a change in direction as well: Where the government was spending billions of dollars to develop vaccines and buy medical supplies in 2020, in subsequent years it shifted to distribution of therapeutics and tests. White House officials have signaled they want to make new investments into the next generation of vaccines and medicines, but can't do so without new funding.
That has been most clear in the decline in spending by the Department of Health and Human Services, which led early testing and research and development efforts. HHS contract spending peaked in fiscal 2020 at $14.3 billion but dropped to $5.3 billion in fiscal 2022.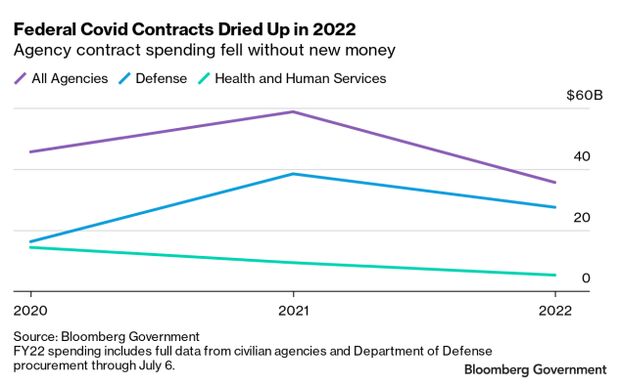 Meanwhile, Department of Defense Covid contract spending, led by the Army, surged in fiscal 2021 to more than $38 billion with a series of large vaccine manufacturing contracts aimed at both domestic and international distribution. It's moderated only slightly since then: The Pentagon has already issued over $27 billion in Covid contracts in fiscal 2022, with the busiest three months of contract activity not yet reported.
No New Funds
Congress last approved a round of Covid funding in March 2021 as part of a partisan bill, the American Rescue Plan. At the time, Covid cases were falling from all-time highs as more Americans were getting vaccines, CDC data show. But the fall in cases—and more importantly, deaths—that started at the beginning of 2021 has made it harder to persuade Congress to set aside emergency pandemic funding.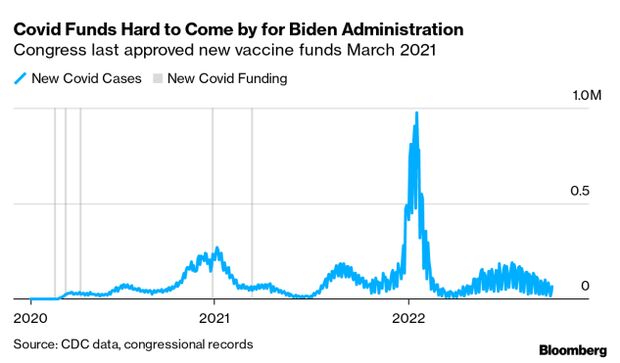 The Biden administration early this year warned its Covid response programs were running dry and asked for more than $20 billion to replenish its coffers. Officials repeated the plea later in the summer, tacking on a request for funds to buy and distribute monkeypox vaccines as cases of that virus climbed into the thousands.
Part of that request was to invest in next-generation vaccines that protect against Covid variants, such as the one being recommended now. To pay for the latest booster, the White House has cut back on buying Covid tests, as well as on programs to pay for vaccinations for the uninsured.
But even the money to buy vaccines and therapeutics is going to start running out in early 2023, the HHS warned on a call with reporters in late August.
Allowing doctors and hospitals to buy their own vaccines starting next year could put more costs on consumers and some health-care providers. Harvey, from the National Coalition of STD Directors, says health clinic resources have already been strained by the outbreak of monkeypox, as more people seek testing, vaccines, and therapies.
Health-care providers are not getting paid for administering Covid vaccines or therapies to people without insurance, the heads of the nation's largest nursing union warned lawmakers in a recent letter. They urged support for free coronavirus testing, vaccines, and treatment, as well as money to distribute vaccines globally, in order to keep the virus in check.
"If we do not do this, the illness, death, and suffering caused by this pandemic will continue, and we may see the development of even more dangerous variants, both at home and abroad," wrote Bonnie Castillo, director of National Nurses United, and other NNU leaders.
Read More: Talk of Covid's End Sparks Fight Over Funding, Emergency Powers
Prospects for a Deal
Republicans say the White House hasn't laid out how its plans are evolving or why the government can't just allow private companies to distribute the vaccines and therapies.
"I want to see a new plan," said Sen. Richard Burr (N.C.), the top Republican on the Senate Health, Education, Labor, and Pensions Committee. "Until then, I don't see a reason they need more money." His view was shared by Sen. Richard Shelby (Ala.), the top Republican on the Senate Appropriations Committee.
Democrats, facing long odds, say they'll seek agreement on both Covid and monkeypox funding in December, when the latest federal spending bill expires and a longer-term spending deal must be enacted.
Read More: FDA Fixes, Pandemic Response on Congress December Wish List (1)
Patty Murray (D-Wash.), a member of Senate leadership, said in a statement she has a list of priorities for the next spending bill, including legislation that "improves our pandemic preparedness, provides resources for the Covid and monkeypox responses—and delivers Washington state the resources it needs."
To contact the reporters on this story: Alex Ruoff in Washington at aruoff@bgov.com; Paul Murphy in Washington at pmurphy@bloombergindustry.com
To contact the editors responsible for this story: Robin Meszoly at rmeszoly@bgov.com; Anna Yukhananov at ayukhananov@bloombergindustry.com
Stay informed with more news like this – from the largest team of reporters on Capitol Hill – subscribe to Bloomberg Government today. Learn more.