Farm Payments to Offset Tariffs Lag as Trump Seeks Round Two
Trade aid program has paid out about 10% less than projected
Disasters, program limits seen as main reasons for shortfall
Supporters of a second round of payments to farmers to offset the hit they've taken in the China-U.S. trade war say they want to change some of the rules that kept the first round from paying out more than $1 billion of aid authorized.
The trade aid package announced in July 2018 by the Agriculture Department was authorized to pay out up to $12 billion in relief across three programs. The biggest of those three, direct payments to producers through the Market Facilitation Program, has not paid out what had been estimated and could be changed even before a program for a second round of aid is introduced.
As of May 13, the MFP program had paid out $8.5 billion to farmers, according to an agency spokesman, more than 10% below the $9.6 billion that had been projected by the Agriculture Department. An announcement on a second round come as soon as Thursday, Bloomberg News reported, citing people familiar with the plan.
"I think it's clear that the agriculture safety net is going to be more complex, more costly and more distorting for the foreseeable future," said Josh Sewell, senior policy analyst with Taxpayers for Common Sense, a group that advocates for lower government spending.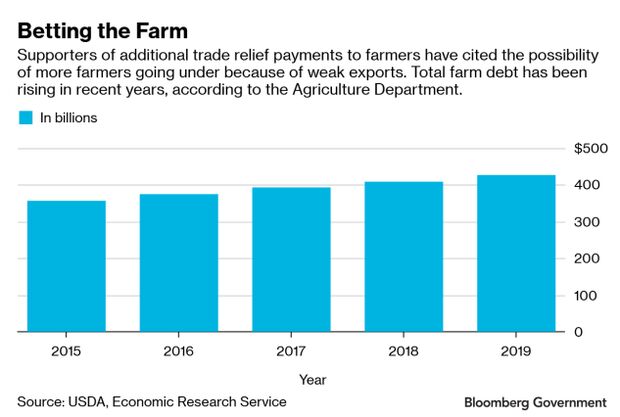 "I think it shows you the government proclamations' margin of error," Sewell said. The model the agency used to calculate estimated payments was all "guessing and estimates," he said.
Rep. Austin Scott (R-Ga.) said farmers want to see the trade dispute resolved soon, but "in the interim, if he doesn't do it you'll see massive farm bankruptcies."
"They more than need it—they have to have it," he said.
'In the Throes'
The Agriculture Department is "expediting" preparation of the second round of trade assistance, which could reach up to $20 billion, said Agriculture Secretary Sonny Perdue, on a press call May 15. President Donald Trump announced earlier this month an increase to tariffs on $200 billion in Chinese products and said the U.S. would make additional purchases of domestic farm products for humanitarian aid in an effort to offset lost demand from China.
The move marks a turnabout for the Trump administration. In February, Perdue told Bloomberg Government farmers should not expect a second round of aid and that they would "need to look at markets and do what they've always done to determine what crops they should pursue, based on what the current markets are."
Supporters of aid say the lower-than-expected payouts so far should not affect the debate on a second round of aid as the U.S.-China trade dispute enters a new phase. But the reasons given for the lower payments illustrate why lawmakers may want changes in a new program.
The structure of a second trade aid program remained unclear. "We are assuming it will contain direct payments for commodities," Perdue said May 15. "We are in the throes of constructing it."
The USDA did not immediately respond to a request for comment.
Disasters Dented Payments
Two factors explain much of the lower-than-anticipated payments: bad weather that curtailed farm production and income eligibility and payout limits critics say make the program less helpful.
"If you got hailed out or rained out last year, you didn't get anything," said House Agriculture Committee ranking member Mike Conaway (R-Texas) in an interview.
Sewell, the analyst with Taxpayers for Common Sense, said commodity payments were based on actual production by farmers. For producers affected by natural disasters, their "actual production was much less than what it was supposed to be, so they have a harvested amount payment that is lower because some counties had no harvest or significantly reduced harvest."
"Having disasters did depress payments for some producers," he said.
Other hurdles to getting payments were the program's gross income cap and the cap on total payments producers could receive, according to Sewell and an economist with an agriculture trade group who spoke on condition of anonymity.
Farmers and producers were disqualified if they had an adjusted gross income above $900,000—leaving out some of the larger corporate farms. Additionally, the payment limit per farm owner was $125,000, too little to make it worth it in some cases for smaller farmers to do the leg work.
"Larger operations are likely more aware of the program, technically proficient in navigating the program, and have more capacity (time and financial resources) to execute sign-up," said Sewell.
Disaster Aid Fix?
Changes to the current Market Facilitation Program could happen in a disaster aid deal being worked onby lawmakers, according to Conaway.
"We have a fix in the disaster bill that would reset MFP to a better framework than the 2018 version," said Conaway. Since 2019 crops aren't in the ground yet, there's no way to pay on actual production this year, he said, so "we think a better way would be to go at some sort of average production history."
Perdue told reporters Wednesday the Agriculture Department is looking at the disaster aid bill "to see if there is an opportunity to address trade mitigation as well," but provided no details.
The House passed a $19.3 billion disaster aid package (H.R. 2157) earlier this month, but the Senate hasn't taken it up. One sticking point has been opposition by Trump to further aid spending for Puerto Rico, money that was included in the bill passed by the Democratic House.
The bill includes a provision that would remove the AGI limit for farmers applying for MFP aid payments if at least 75 percent of their income comes from farming.
Pick Me, Please
While Trump has said the aid will come only in purchases of U.S. agricultural goods, lawmakers and Perdue have said it will resemble the agency's first aid package's three-pronged approach.
Senate Agriculture Committee ranking member Debbie Stabenow (D-Mich.) said she had requested information on how the new program would be set up and has gotten no details.
"We've gotten no detail whatsoever," said Stabenow in an interview. "At this point I'm very skeptical."
Commodity groups that said they got low payment rates or did not qualify for aid in the first program will likely urge the administration for a bigger chunk of the money.
The National Corn Growers Association in a letter to the Agriculture Department asked that the payment rate for corn growers must be more than the 1 cent-per-bushel they received under the first market facilitation payments.
The National Farmers Union echoed that sentiment in its own May 15 letter. "We ask that trade assistance be offered to producers of all affected commodities, and that payment rates be based on historical production. In addition, we recommend that the USDA address the growing problem of oversupply by providing farmers with incentives to reduce overall production," the group said.
But tweaks to aid payments would be less desirable than an end to the dispute with China, lawmakers said,
"We need to get back to the table," Senate Agriculture Committee Chairman Pat Roberts (R-Kan.) told reporters May 16. "I've been urging everyone I can in the White House to do that. That's my main message."
To contact the reporter on this story: Teaganne Finn in Washington at tfinn@bgov.com
To contact the editors responsible for this story: Paul Hendrie at phendrie@bgov.com; Jonathan Nicholson at jnicholson@bgov.com; Bernie Kohn at bkohn@bloomberglaw.com