Facing Split in Ranks, Democrats May Stumble on Defense Spending
House leaders have to wrangle support for $733 billion
Progressives ratchet up pressure; GOP noncommittal on support
Democrats wary of showing weakness on national security but intent on boosting domestic spending are confronting a schism that may hamper their ability to pass defense spending measures in the House they control.
Lawmakers representing the Progressive Caucus want to spend less for national security in fiscal 2020 than the $733 billion party leaders are supporting as they seek to pass defense legislation by the end of next month.
"We think national security is actually about domestic spending, not just about what we spend on private contractors for military wars we have never approved," Rep. Pramila Jayapal (D-Wash.), a Progressive Caucus leader, said in an interview. "There are two issues: one is how much we spend on our military and how we bring that number to a more realistic number. The other question is what do we invest in domestic spending."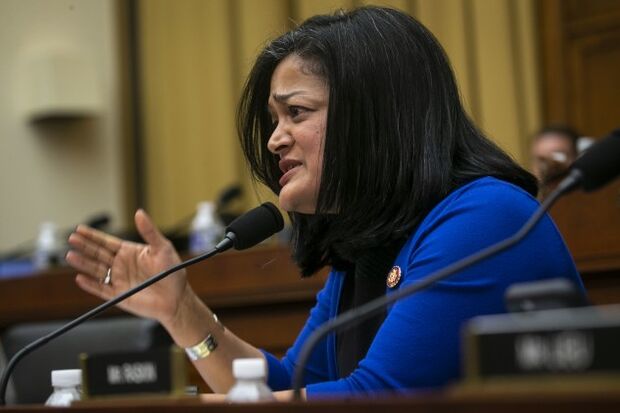 House Democratic leaders view their work on the defense bills as the opening shot in larger negotiations over federal spending. They view the only path to getting Republicans on board for more domestic spending is to keep higher spending for defense programs.
Democrats "are going to have a hard time," Gordon Adams, a senior White House budget official for national security in the Clinton administration, said. "They have a strong caucus on the progressive side that would rather not see this bill," Adams, currently a foreign policy professor at American University, said in a telephone interview.
House Republicans have lined up behind President Donald Trump's request for $750 billion in national security spending. Emboldened by a GOP-led Senate and White House, they aren't committing their support for the traditionally bipartisan measures.
Democrats "have had trouble getting a budget out of the budget committee even at $733 billion because of divisions within their own caucus. So you add all that together and it sounds like some trouble," said Rep. Mac Thornberry, the top Republican on the House Armed Services Committee. "What we need is a budget cap deal and a little urgency in getting that done." The Texas congressman held his cards close to the vest when asked whether he would back a $733 billion defense authorization bill.
In a Hurry
Republicans say Democrats are starting from a point of weakness in their effort to get the annual defense authorization and spending bills passed before the July 4 congressional break. That's because the Budget Committee wasn't able to approve a blueprint calling for $733 billion in national security spending, and House leaders decided to forgo bringing a budget cap to a floor vote. That bill would have increased defense and domestic spending above the levels set in law for fiscal 2020 and 2021.
"Not being able to vote on a budget as a member of the Budget Committee, as a member of the majority party was obviously very frustrating," Rep. Jimmy Panetta (D-Calif.) said in an interview. The leadership's approach is understandable, he said, "but at the same time it is kind of a big pill to swallow."
Even so, Budget Chairman John Yarmuth sniffed out "exactly where the split-line was," getting an understanding of where Democrats stand, ensuring that they won't fail in bigger negotiations, said Rick Berger, a fellow at the American Enterprise Institute and a former aide on the Senate Budget Committee. "It was a very illustrative failure," Berger said.
The formula for success would be to get more moderate Democrats and Republicans to vote for $733 billion instead of acquiescing to progressives on spending numbers that wouldn't lead to any negotiations, he added.
Without bringing a budget cap bill to the floor, Democratic leaders agreed to write the full scope of next year's spending bills following the budget panel's outlines. Pentagon spending alone, excluding war funds, would be about $632.6 billion, according to committee allocation numbers.
The House majority is pressing ahead with funding legislation for next year even though there's no larger agreement with the Senate and Trump over government spending in 2020 and 2021 –two more years subjected to drastic reductions under the 2011 Budget Control Act (Public Law 112-25). Democrats and Republicans alike oppose those cuts.
Under the budget control act, defense spending caps for the next two years are $576 billion and $590 billion, respectively.
Tension
Even the $733 billion number wouldn't be acceptable to Republicans, Tom Cole (R-Okla.) a member of the House Appropriations Committee, who also serves on the defense panel, said. "There is clearly lots of tension, the numbers we are operating under as we mark up are not numbers that can survive the Senate, let alone the administration," he said.
In the Senate, Jim Inhofe (R-Okla.) and Richard Shelby (R-Ala.), the leaders of the Armed Services and Appropriations Committees, made it clear that they would write their bills following a $750 billion topline for national security.
The key is to come to a larger budget agreement and then final votes on negotiated bills would be bipartisan, Cole said. "They are not going to get a lot of Republicans in the House signing onto to many bills until we go to conference."
House Speaker Nancy Pelosi (D-Calif.) will be key to wrangling her caucus to vote for about $733 billion in national security spending, Adams said. That number "is the easiest" for a compromise under a larger budget deal, he said.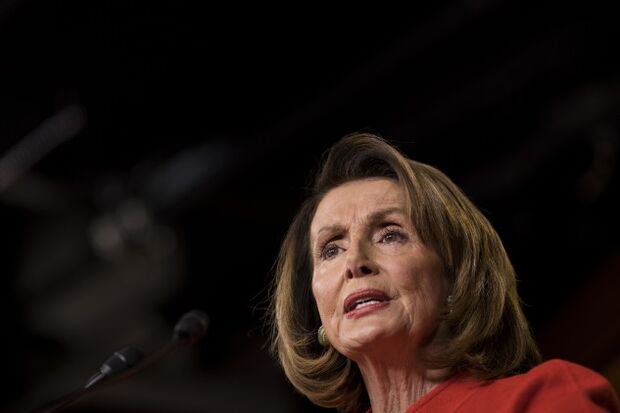 Pelosi "has done a pretty remarkable job so far," marshaling her troops "given the fact that Democrats are a fractious caucus," Adams said.
The real test for the speaker will come when the Senate passes its defense bills at a level of $750 billion, he added. The differences will be resolved in budget talks that include the president, and "progressives know that it is this bigger deal that is going to solve the problem," he said.
Bigger Budget Deal
Democrats on the defense panels have indicated that a larger bargain on budget caps could ease the pressure on the House majority by providing enough money for both a $733 billion defense measure and more for the domestic programs that progressives want. House and Senate leaders have yet to make any progress on a possible agreement.
"If we have a deal on caps then that would clear the way for bipartisan votes because I think the topline issue then fades," Joe Courtney (D-Conn.) a senior member of the House Armed Services Committee, said in an interview. "If there is not a deal on the caps that could possibly delay consideration of the appropriations and defense bills."
Failure to pass a defense budget would bring back the threat of another government shutdown or force Democrats into adopting another continuing resolution to maintain funding. Come January, the spending bills could also be subject to cutting the budget automatically under sequestration if no permanent resolution is found.
The House's attempt to see the defense bills through is just the first shot, said Tim Kaine (D-Va.), a Senate Armed Services member.
"We are going to get a budget and an appropriations deal that is good for defense and I think we are going to get one that is good for non-defense because the other side doesn't want to shut the government down," he said.
Yet, nothing will happen until the government gets funded by a stopgap measure come the end of September, according to Adams. "Then we will get the big negotiation," he said.
To contact the reporter on this story: Roxana Tiron in Washington at rtiron@bgov.com
To contact the editors responsible for this story: Paul Hendrie at phendrie@bgov.com; Bernie Kohn at bkohn@bloomberglaw.com; Robin Meszoly at rmeszoly@bgov.com