Expiration Date Sought on Emergencies After Trump's Wall Funding
Bloomberg Government subscribers get the stories like this first. Act now and gain unlimited access to everything you need to know. Learn more.
Presidential national emergencies like those used by the Trump administration would expire unless lawmakers extend them under a House Democratic bill introduced Wednesday that broadly aims to enforce Congress's power of the purse.
Democrats aim to prevent a repeat of President Donald Trump's decision to unilaterally move military funds toward border wall construction under a national emergency designation. The bill would end emergency declarations after 30 days, not including weekends and holidays, unless Congress passes a joint resolution of approval.
The bill also addresses Trump's withholding of Ukraine aid last year by adding enforcement mechanisms to the Impoundment Control Act (Public Law 93-344), the 1974 law that says the executive branch is legally obligated to spend the money that Congress approves and which the president signs into law.
House Budget Chairman John Yarmuth (D-Ky.) introduced the bill (H.R. 6628), which is cosponsored by Appropriations Chairwoman Nita Lowey (D-N.Y.) and Oversight Chairwoman Carolyn Maloney (D-N.Y.). Senate Appropriations Vice Chairman Patrick Leahy (D-Vt.) said in a statement he plans to introduce a companion bill in the Senate.
"The fundamental purpose of the legislation is to reassert Congress's power of the purse," Yarmuth said in an interview on April 13, ahead of the bill's introduction.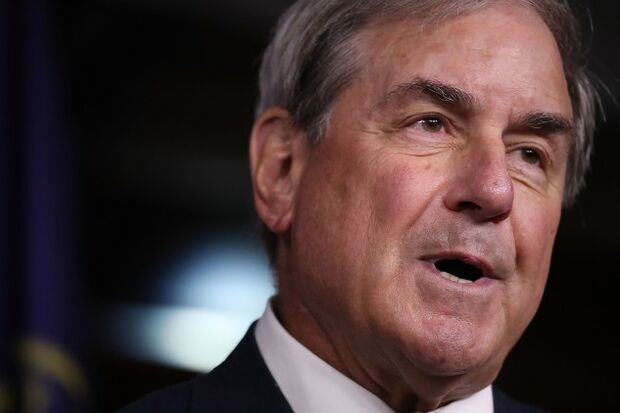 While some Republicans have expressed interest in reining in the executive branch on spending, the bill will likely face pushback from supporters of the Trump administration. Rep. Steve Womack (R-Ark.), ranking member of the Budget Committee, said in an interview he hadn't reviewed Yarmuth's bill but that he was generally hesitant to limit the executive branch's flexibility.
"Every time we pass a law, we further constrain the ability of an administration to use it for legitimate purposes," Womack said of emergency declarations. "So I want to be really, really careful. I think the best way to deal with this issue is through having an ongoing dialogue with the administration and a mutual respect between the powers vested in it and the control of the purse strings by the Congress."
Adding Enforcement
Trump used a national emergency declaration to get about $8 billion in border wall funds in February 2019 after Congress appropriated slightly less than $1.4 billion. Both chambers passed a measure to end the emergency designation, but they lacked the two-thirds supermajority necessary to override Trump's first presidential veto (H. J. Res. 46).
Lawmakers in both parties immediately started discussing changing the law so that an emergency would end automatically unless Congress allowed it to continue, rather than putting the burden on lawmakers to block an indefinite declaration.
Yarmuth said earlier this month the bill is broadly aimed at adding teeth to the Impoundment Control Act, which bars the executive branch from withholding appropriated funds or substituting its own spending priorities for Congress's. The bill would explicitly require administrative discipline for officials who violate the law, including suspension without pay or removal from office in some cases.
That's one way of responding to last year's withholding of Ukraine funds, which led to the House's impeachment of the president. The Government Accountability Office said the Trump administration violated the Impoundment Control Act by withholding $214 million for policy reasons.
The comptroller general, the head of the Government Accountability Office, would have the ability to interview government officials "at any reasonable time." During GAO's inquiry into the withheld Ukraine funds, OMB officials responded to questions by letter, the Office of the President didn't offer any further information, and Department of Defense officials didn't respond, the GAO said in its report.
Under the bill, the GAO could also bring a civil action to federal court to require that officials obligate withheld funds.
The bill would also require the White House Office of Management and Budget to develop an automated system to post apportionment documents—measures that make funding available to agencies to spend—to a public website within two days. OMB would also have to publicly post who is put in charge of apportionment authority.
The bill would require OMB to release appropriated funding at least 90 days before it expires. The president is currently able to temporarily rescind funds for 45 days before Congress must approve, and the measure is meant to prevent the president from unilaterally rescinding funds by using that period to let an appropriation expire.
"The reforms in this bill would help protect against the President abusing his power and reassert Congress' sole constitutional authority in deciding how federal dollars are spent," Maloney said in a statement.
To contact the reporter on this story: Jack Fitzpatrick in Washington at jfitzpatrick@bgov.com
To contact the editors responsible for this story: Zachary Sherwood at zsherwood@bgov.com; Brandon Lee at blee@bgov.com
Stay informed with more news like this – from the largest team of reporters on Capitol Hill – subscribe to Bloomberg Government today. Learn more.