'Everything Is at Stake': Georgia and Biden Transition Converge
Biden, Trump, Pence to hold events in state Monday
Harris held drive-in rally in Savannah on Sunday
The incoming and outgoing presidents and vice presidents are descending upon Georgia hours ahead of runoff elections that will decide the Senate majority and just more than two weeks before power is transferred in the White House.
The state has been the temporary center of the political world for the past two months, as advertising dollars, campaign donations, and volunteers from around the country flocked to the Peach State to help decide whether Democrats take full control of governing in Washington.
The repeated presidential visits, including as Joe Biden prepares to be inaugurated, underscore the twin races' importance and how close both sides expect the results to be.
Biden, President Donald Trump, and Vice President Mike Pence are appearing around the state Monday. Vice President-elect Kamala Harris headlined a drive-in rally Sunday just outside Savannah for Democratic challengers Jon Ossoff and Raphael Warnock. About 200 cars turned out in the parking lot of a local football stadium, as attendees sat on hoods and waved signs.
"Everything is at stake," Harris said.
"When you pull out the votes that are in your community, in your family, in your neighborhood by reminding people what is at stake, the future of our country will be very much in the mix," she added.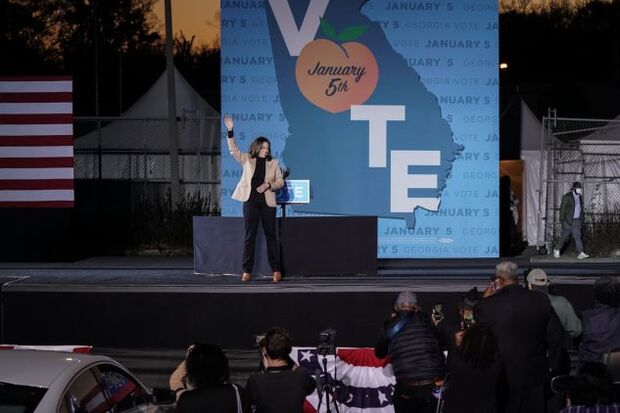 Sunday's appearance in Georgia was Harris' second in the past two months. On Monday, Biden and Trump will also make their second appearances since the general election. Biden will hold an event in Atlanta, whose suburbs helped hand him a narrow victory in the presidency. Trump will hold a rally in Dalton, a city near the state's northern border that he easily carried in November.
Pence's visit to an evangelical church in the Atlanta exurbs is the latest of several trips to campaign with Republican incumbents David Perdue and Kelly Loeffler.
Read More: Trump Tries to Rally Georgia Republicans After Election Attacks
Warnock, Ossoff, and Loeffler have dashed around the state the last few days, holding rallies for canvassers and to motivate Georgians not among the 3 million who already voted early.
Missing from the action was Perdue, who's quarantined since Jan. 1 after coming into contact with someone who tested positive for the coronavirus.
Perdue's spokesman wouldn't say whether he'd attend events Monday or Tuesday, but said Perdue wasn't slowing down in his campaign.
"Senator Perdue isn't missing a step on his way to running through the tape on Tuesday," his spokesman John Burke said. "He's doing local and national TV interviews, reaching out to supporters virtually, and making calls to get out the vote for January 5."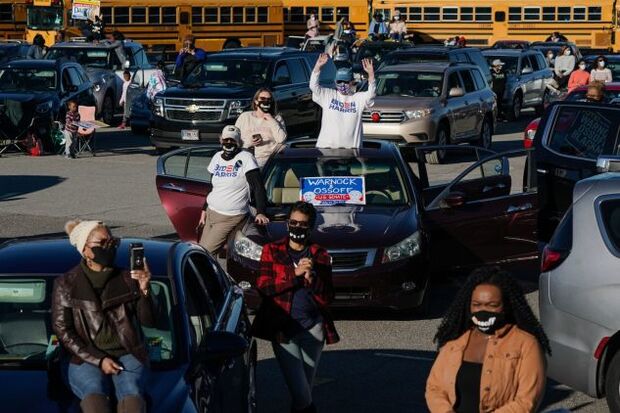 External Influence
The high stakes of not one but two elections — Loeffler and Warnock are running in a special election to serve out the remaining two years of former Sen. Johnny Isakson's (R) term — has supercharged activists across the country.
In the first few weeks of the runoff — from Nov. 4 to Nov. 23 — the bulk of online donations flowing into Georgia were coming from outside the state.
Read More: Georgia Senate Runoffs Fueled Mostly by Out-of-State Donors
Volunteers across the country are calling, texting, and in some cases traveling to the state to help turn out voters.
Jared Elosta and a friend split the 12-hour drive from New York City to canvass in Georgia for the Democrats during the race's final days. Elosta said he was initially on the fence about participating, but was disturbed by how Republican senators refused to acknowledge Biden's win.
"It was the behavior of the Republicans after the election that kind of pushed me over the edge to do this," he said. "This kind of behavior just can't stand anymore."
To contact the reporter on this story: Emily Wilkins in Savannah, Ga. at ewilkins@bgov.com
To contact the editors responsible for this story: Kyle Trygstad at ktrygstad@bgov.com; Heather Rothman at hrothman@bgov.com