'Erratic' Trump Undermines Iran, Russia Policies, Report Says
Ex-Trump adviser McMaster decries `partisan discourse'
President's `unilateral whims' seen putting progress at risk
President Donald Trump has complicated policies toward U.S. adversaries Iran and Russia over the past two years by breaking with his own administration, according to a new report by the Foundation for Defense of Democracies.
The report from the hawkish think tank, which includes a foreword by former National Security Advisor H.R. McMaster, attempts to sum up Trump's first two years of foreign and national security policy and cites mixed results.
It paints a picture of an administration pursuing tougher and what the think tank sees as productive approaches, including toward Tehran and Moscow, but subject to the "unilateral whims of an erratic president" that could upend progress at any moment.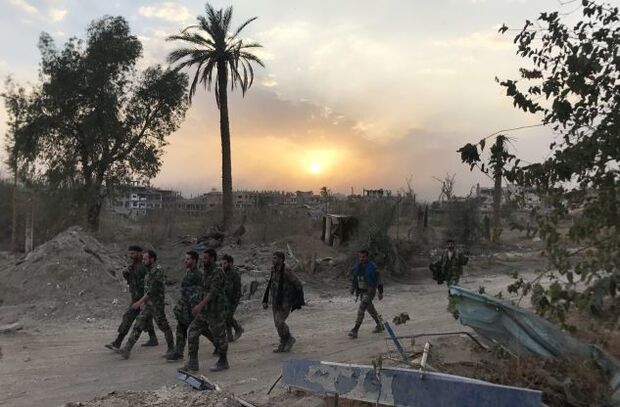 "Any time that your president is at dramatic odds with the policies being pursued by the senior levels of his national security team, you are going to have a real systemic problem in maximizing the success of your national security policy," John Hannah, the foundation's senior counselor who served as Vice President Dick Cheney's national security adviser, said in an interview.
The Foundation for Defense of Democracies assessment was set for release Thursday morning and is the think tank's first major publication since it announced its new Center on Military and Political Power and named McMaster the center chairman on Jan. 22. McMaster reviewed the report and wrote a foreword but didn't write the assessments, which were compiled by a roster of the think tank's experts.
'Vitriolic and Shallow' Discourse
"This assessment deserves wide attention because the stakes are high, and it deserves attention because the authors have transcended the vitriolic and shallow partisan discourse that dominates much of what passes for commentary on foreign policy and national security," McMaster wrote.
Trump's decision last month to withdraw 2,000 U.S. troops from Syria is a prime example of the unpredictability that has characterized his presidency, according to the think tank.
"No prior discussion with his top foreign policy and military advisers," or Congress and allies, Hannah wrote. "One day U.S. troops were staying and the next day they were leaving."
The administration has pursued a more hardline approach to Tehran during its first two years, walking away from the Obama administration's nuclear deal, reimposing crippling sanctions, and hammering the country for human-rights abuses.
The U.S. forces on the ground in Syria were one prong of that effort, providing a deterrent to an Iranian expansion of its influence in the war-torn country. National Security Adviser John Bolton and Syria special envoy James Jeffrey said last year that the ground force would remain in the country as long as Iran and its proxy forces maintained a presence there.
But Trump upended the policy suddenly, issuing a tweet and video statement after reports of the withdrawal decision surfaced. The Foundation for Defense of Democracies said the withdrawal eases pressure on Iran at a crucial time and raises doubts about Trump's commitment to fully confronting Tehran.
'Life Support'
"In contrast to the effectiveness of sanctions, the administration's regional strategy to counter Iranian influence in the Middle East is on life support thanks to the planned withdrawal of U.S. troops from Syria," wrote Mark Dubowitz, the foundation's chief executive, who helped write the Iran sanctions legislation that was eased under the Iran nuclear deal and reimposed by Trump when he quit the accord.
The same dynamic also played out in the U.S. dealings with Russia, which is deemed a top global threat in the administration's national defense strategy, according to the report.
The administration has delivered anti-tank missiles to Ukraine, increased military operations in eastern Europe, and imposed new sanctions to ratchet up pressure on Moscow .
But Trump's public defense of Russian President Vladimir Putin against charges of human rights abuses and U.S. election meddling means his administration is pursuing two separate policies at the same time, the report says.
"In general, Russia doesn't fear a full-court press because it knows the president's heart isn't in it," David Adesnik, the director of research at the foundation, said in an interview.
Overall, Hannah said the administration has made major progress by shifting U.S. strategy back to dealing with major powers such as Russia and China, and its attempts to confront rogue regimes such as Iran and North Korea. That has been made formal in new national security, defense, and cyber strategies.
"It's important that the president actually believe in those documents and the strategies that they articulate," Hannah said. "The fact that we don't know for sure whether he does, I think is an issue and a problem for American national security policy going forward."
To contact the reporter on this story: Travis Tritten at ttritten@bgov.com
To contact the editors responsible for this story: Paul Hendrie at phendrie@bgov.com; Robin Meszoly at rmeszoly@bgov.com