Eric Holder Wants Congress, DOJ to Act on 'Democracy Challenges'
Former attorney general leads Democrats' redistricting effort
Urging partisan gerrymandering ban, other election protections
With the end of redistricting approaching, former Attorney General Eric Holder is more optimistic about Democrats' competitive positioning over the next decade but just as disheartened by the overall state of elections.
Holder has focused as chairman of the National Democratic Redistricting Committee on leveling the playing field after Republicans dominated the previous round of district line-drawing. In an interview, Holder said Democrats "stopped Republicans from drawing their way into a permanent majority in Congress."
Now he wants lawmakers and Justice Department officials to do more to protect voting rights and election infrastructure, and to change the method for crafting congressional district maps.
"We are facing democracy challenges the likes of which we have not seen since the Civil War," he said. "I know that sounds kind of alarmist and hyperbolic, but I think that's actually true."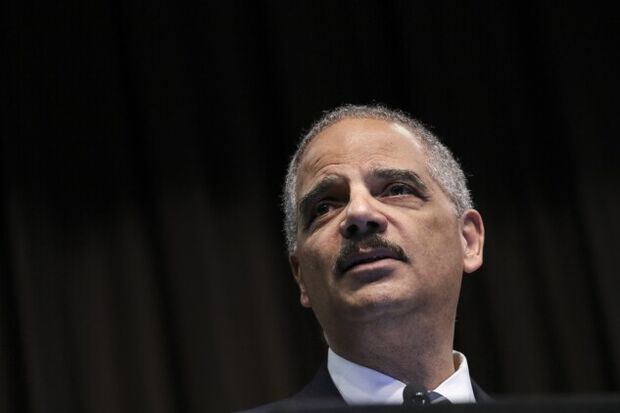 ( Sign up for Ballots & Boundaries, a weekly check-in as states change voting laws and revise political districts.)
Holder said lawmakers should continue to push legislation, suggesting they narrow their focus to specific issues such as banning gerrymandering, after broad voting rights and election overhauls failed. Republicans opposed the sweeping packages, saying they'd give the federal government too much control over state processes.
"Give me a good reason why you wouldn't support a ban on partisan gerrymandering," Holder said. "Challenge people in Congress, the House as well as the Senate, on why they are not in support of that."
Thanks to their control of state legislatures, Republicans were again in charge of drawing more congressional districts than Democrats. But Democrats pursued aggressive gerrymanders in New York and Illinois, benefited from a favorable map drawn by California's redistricting commission, and scored major legal victories in North Carolina and Pennsylvania, where state supreme courts rejected Republican maps as too partisan.
They may also prevail in Ohio, where the state Supreme Court is weighing a map under which Republicans could prevail in as many as 13 of 15 districts. Republicans could redraw North Carolina's map next year if they maintain control of the state legislature and secure a majority on the state Supreme Court in the November elections.
While Republicans are favored to win control of the House in November, that's tied more to President Joe Biden's poor approval rating, a historically difficult midterm election for the White House's party, and Democrats' five-seat majority—one of the smallest in history—than to redistricting results.
Reached for comment, Adam Kincaid, executive director of the National Republican Redistricting Trust, said "Republicans were never going to gerrymander our way into permanent majorities" and that doing so was never possible.
"The idea that Democrats somehow prevented an impossibility is absurd," Kincaid said. "Our stated goals in redistricting were to position ourselves to take back the House and have the ability to hold it in future cycles. Republicans have achieved those goals."
More Vocal
Holder said Democratic-drawn maps were more reflective of census population trends than Republican-drawn maps, citing the one in fast-growing Texas, which gained two districts in reapportionment. He said it didn't reflect that 95% of the state's net population gain in the 2010s came from people of color. The Justice Department and a coalition of Latino voting-rights organizations are challenging the map in court.
NDRC-affiliated organizations are currently involved in 14 active cases in federal and state courts.
"There's still a lot of work to be done," Holder said. "If everything had been done in a fair way, we would have seen an increase in competitive seats by 40%."
Holder said he also wants to see the Justice Department be more active and vocal on election issues. Not only in terms of litigation, but also for officials to use the "bully pulpit" to talk "about redistricting and, more generally, talking about electoral protections."
"That's one of the things I'd like to see them do more, just talk more about the concerns that I know they have," he said.
To contact the reporters on this story: Emily Wilkins in Washington at ewilkins@bgov.com; Greg Giroux in Washington at ggiroux@bgov.com
To contact the editors responsible for this story: Kyle Trygstad at ktrygstad@bloombergindustry.com; Bennett Roth at broth@bgov.com