Energy Prices Spur Renewed Calls for Green Jet Fuel Credit (1)
Biden, airlines want action to meet climate goals
Tax credit proposal stalled with reconciliation
(Updates with industry letter in sixth paragraph)
Bloomberg Government subscribers get the stories like this first. Act now and gain unlimited access to everything you need to know. Learn more.
President Joe Biden and the airline industry want Congress to offer financial incentives for sustainable aviation fuel, which could help lower airlines' soaring energy costs.
Lawmakers proposed new legislation this month on funding for sustainable aviation fuel, while continuing negotiations on a tax credit to help the transition to greener fuel. Prior efforts stalled as part of Democrats' domestic agenda package.
Biden and airlines argue the tax credit would move the aviation industry toward the administration's climate goals, while helping to curb energy prices by reducing the demand for jet fuel. Sustainable aviation fuels, which can be made from renewable biomass and waste, have a lower carbon footprint than jet fuel and are intended to reduce airplane emissions.
"Industry leaders like the CEO of United and President Biden all recognize that this is a critical element of our efforts to reduce greenhouse gasses, in particular the aviation industry, and a tax credit is the best way to do that," said Rep. Brad Schneider (D-Ill.), who sponsored a bill in the House (H.R. 3440). "We're going to look at every path forward."
Major airlines, including United Airlines Holdings Inc., American Airlines Group Inc., Southwest Airlines Co., Delta Air Lines Inc., and JetBlue Airways Corp., lobbied on sustainable aviation fuel legislation in the most recent quarter, according to federal disclosures released this week.
Dozens of companies and groups urged congressional leaders to enact a "sufficiently robust" blenders tax credit for green jet fuel in a letter Friday. Trade groups advocating for the credit said they are hopeful discussions will pick up again after the congressional recess, and that a credit would move forward as part of a slimmed-down, more climate-focused reconciliation package.
Earlier: Biden Tags Putin for Gasoline Prices, Touts Higher-Ethanol Plan
Energy Price Pressure
Biden highlighted the urgency in a speech last week about lowing energy costs. The cost per gallon of jet fuel hit a seven-year high of $2.60 in February, according to Bureau of Transportation Statistics data released this month.
"In recent weeks, global fuel shortages have underscored the growing need for sustainable aviation fuels," said Tori Emerson Barnes, U.S. Travel Association executive vice president of public affairs and policy.
The Biden administration has blamed fuel price hikes on Russia's invasion of Ukraine, and is working to spur a new market in sustainable aviation fuels with funding and research. It announced a goal of dropping aviation emissions 20% by 2030. Aviation makes up 11% of transportation emissions in the U.S. and the transportation sector generates the largest share of the nation's greenhouse gas emissions.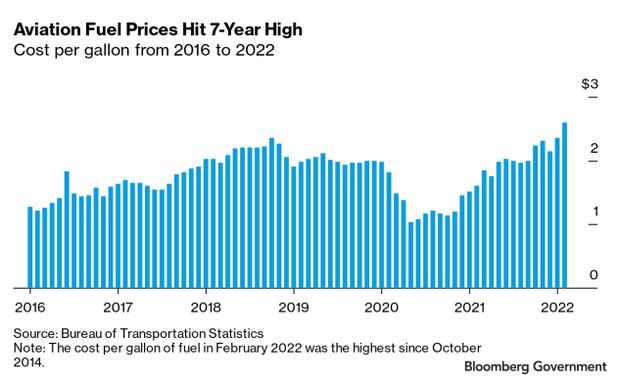 "Neither the current energy crisis nor the climate crisis will be solved swiftly or easily, but it is essential that we start immediately to ensure that our energy sources are cleaner, more sustainable, and more secure," United CEO Scott Kirby told lawmakers this month, urging a "robust" tax credit.
Biden Urges Net-Zero Aviation by 2050 in Leap Beyond Cars
High jet fuel costs have been an increasing pain point for airlines, which have passed on those costs to consumers via pricier tickets.
"Jet fuel prices have more than doubled over the course of the last 15 to 18 months, and as a result of that for Delta, that's billions of dollars a year of higher cost," Ed Bastian, Delta CEO, said at an event April 18. "Consumers are understanding that, and it is being reflected in ticket pricing."
'Clock is Ticking'
Airlines say cost is an impediment to broad adoption of sustainable fuel. To meet the White House goal of 3 billion gallons of sustainable aviation fuel available per year by 2030, the industry needs Congress "to take bold action in the near term to create a tax incentive for producers," said Sharon Pinkerton, senior vice president of legislative and regulatory policy at Airlines for America.
The White House estimates 4.5 million gallons of the fuel are now produced domestically each year—less than 1% of the goal that must be hit in less than a decade.
"We do feel that there is an opportunity in this Congress with a reconciliation package or other vehicle to make this a reality," Pinkerton said. "The urgency of our advocacy has increased as we recognize that the clock is ticking."
United and others in the aviation industry point to the Sustainable Skies Act—Schneider's bill in the House, as well as a Senate version (S. 2263) from Sen. Sherrod Brown (D-Ohio)—as a model for what they want. It would create a tax credit starting at $1.50 per gallon for blenders that supply sustainable aviation fuel, with the credit expiring in 10 years.
United Invests in Houston Startup to Study Greener Jet Fuel
Lawmakers have offered other plans, such as a bipartisan Senate bill (S. 4038) introduced this month on loans, but a tax credit is the industry's priority. Schneider said he was speaking with others on a possible vehicle to move the tax credit forward, including with Finance Committee Chairman Ron Wyden (D-Ore.).
The Senate may use Wyden's Clean Energy for America Act (S. 1298) as a model for how it addresses Biden's climate goals. The bill would take a technology neutral approach in providing tax credits for energy production that reduce carbon emissions, including sustainable aviation fuel. Sen. Joe Manchin (D-W.Va.), a key swing vote, has expressed tacit support for Wyden's bill.
Compromise Plan Stalled
The stalled House-passed reconciliation package (H.R. 5376) included a tax credit for sustainable aviation fuel that was a compromise between Wyden's proposal and the Sustainable Skies Act, creating a credit from $1.25 to $1.75 per gallon for blenders for four years that would then be wrapped into a clean energy tax credit with other biofuels.
Karen Huggard, managing director of legislative affairs and industry relations at the National Air Transportation Association, said she expects the Senate would likely use that hybrid approach if it moves ahead with a smaller reconciliation package.
"We would prefer a longer duration of a SAF-specific tax credit," Huggard said. "But it is at least something to boost some investment in SAF in the next few years."
Sustainable Jet Fuel Incentives Make Wish List for Spending Bill
Scott O'Brien, senior director of public policy and advocacy at National Business Aviation Association, said the credit could be included in a reconciliation package, or legislation to reauthorize the Federal Aviation Administration. The current authorization is through fiscal 2023.
"There's just such broad support for this that it's unfortunate that this can't move," he said.
With assistance from Colin Wilhelm
To contact the reporter on this story: Lillianna Byington in Washington at lbyington@bloombergindustry.com
To contact the editors responsible for this story: Sarah Babbage at sbabbage@bgov.com; Anna Yukhananov at ayukhananov@bloombergindustry.com
Stay informed with more news like this – from the largest team of reporters on Capitol Hill – subscribe to Bloomberg Government today. Learn more.