Energy Permits Fight Puts Shutdown-Wary Democrats in Tough Spot
Keeping government running a priority as elections beckon
Progressives reeling from side deal Sen. Manchin negotiated
Controversy over adding language to overhaul permitting of federal energy projects to must-pass spending legislation likely will take a back seat to keeping the government running after Sept. 30, people on and off Capitol Hill said.
No one wins in a government shutdown, said Bill Hoagland, senior vice president of the Bipartisan Policy Center and a former long-time Senate budget and appropriations aide to Republicans. The November midterm elections loom close and contentious, particularly in the House, and lawmakers won't want to waste valuable time fighting in Washington over reopening the government after the new fiscal year starts Oct. 1, he said.
"House members want to get back on the campaign trail as quickly as possible," Hoagland said in a recent interview.
Progressive Democrats and climate activists have been reeling from news of a side-deal that leadership brokered with Sen. Joe Manchin (D-W.Va.) earlier this summer in exchange for his vote on a tax, health, and climate law (Public Law 117-169). The deal, which complicates the last few months of the 117th Congress, involves holding a vote in the fall on measures that would streamline federal permitting for energy projects under the National Environmental Policy Act. That language would help expedite operation of the Mountain Valley Pipeline, a natural gas project near completion in Manchin's state.
Related: Manchin Side-Deal Draft Lacks Mountain Valley Pipeline Mention
The permitting language could hitch a ride on a continuing resolution, forcing a tough vote for lawmakers of both parties who want a "clean" CR.
Many Democrats and environmental groups worry the proposed changes to the permitting process will undercut environmental reviews under the National Environmental Policy Act and short-circuit a system designed to protect vulnerable communities from pollution. Republicans, while generally supporting streamlining federal permitting, aren't keen on using appropriations legislation for horse-trading that benefits Manchin.
Manchin's office didn't respond to a request for comment on the deal, or progressive Democrats' criticisms.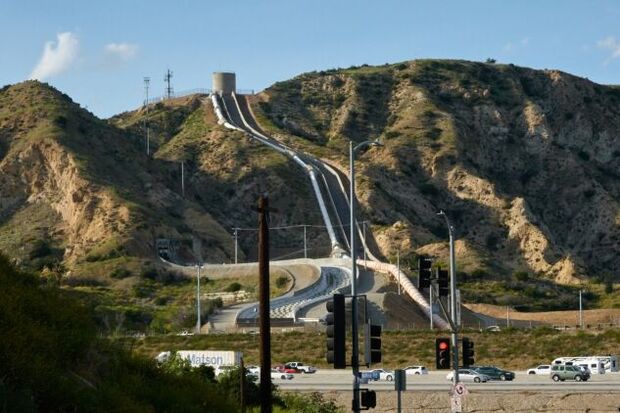 Environment and Public Works Chairman Tom Carper (D-Del.) and his staff have been in discussions over the energy project permitting language in the proposed legislation "to ensure that it aids our ability to meet our nation's climate and energy goals," the senator said in a statement to Bloomberg Government. "I intend to respect this agreement."
Vote Counting
House Natural Resources Chairman Raul Grijalva (D-Ariz.) opposes the proposed permitting overhaul, and is ginning up support among his colleagues to ask House leadership to separate the two votes.
If the permitting changes are included in a CR, Grijalva said he suspects that "most people would have to vote for it because they don't want the responsibility of closing the government. I understand that." Grijalva said if the votes aren't separated, it "complicates" his vote, though he wouldn't say what he'd do. "We'll face that crucible down the road."
Still, Grijalva and fellow progressive Democrats insist consideration of any federal permitting changes should be in a stand-alone bill, and not tied to must-pass legislation.
Related: Democrats Seek to Avert 'Gun to the Head' on Energy Permitting
"This backroom deal exaltation of Joe Manchin, as if he is his own branch of government, doesn't work for most of us," said Rep. Jared Huffman (D-Calif.) in a recent interview. "To ask members like me to either shut down the government or greenlight a huge fossil fuel project in West Virginia is patently unreasonable."
Hoagland said that if Democratic leaders expect the permitting measures to seriously endanger a government funding bill, they might do a short-term CR without unrelated provisions that runs until after the midterms, to buy some more time to deal with both issues later this year.
The dynamics of separating the votes make it tricky to pass a permitting overhaul in either chamber — but not impossible, he said. A stand-alone bill on permitting would lose Democratic votes in the House and Senate but could gain Republican support.
House Speaker Nancy Pelosi (D-Calif.) is "very good at counting votes," Hoagland said, and she would know ahead of time whether she had enough to advance the permitting legislation. A separate vote in the Senate puts more pressure on Manchin to deliver at least 10 Republican votes — likely more — because it would lose Democrats. And "there will be some Republicans still upset" over Manchin ensuring the passage of the tax, health, and climate law, said Hoagland.
Permitting Politics
Rep. Garret Graves (R-La.) said in August Republicans could get behind permitting changes pushed by Manchin — if the measures are significant enough to restore focus to a regulatory process that's unmoored from the intent of major environmental laws, such as NEPA and the Endangered Species Act.
Graves said it would be "impossible" for Democrats to achieve their objectives on emissions reductions under the current "regulatory quagmire."
"You cannot reform or modernize the grid, you cannot build the extra electrical generation that is needed to charge EVs," without a robust overhaul to the permitting and regulatory processes, Graves said.
Most Democrats haven't come to that realization yet, but that it's "absolutely inevitable," he said.
A real overhaul of permitting is going to take more time and effort than the truncated congressional calendar offers for the rest of the year, said Alex Flint, executive director of Alliance for Market Solutions, a right-leaning group focused on reducing carbon pollution while growing the economy.
Read More: Manchin's Pipeline Could Be the Last of Its Kind, if It Survives
"We do not have experience in the last several decades with reforming the set of environmental laws that were enacted in the early 1970s," said Flint, a former staff director of the Senate Energy and Natural Resources Committee. "The committees of jurisdiction will need to build capacity to do that."
'Horrible Way to Govern'
Climate groups, including Food and Water Watch, have vociferously opposed the permitting overhaul agreement, calling it a sweetheart deal for the fossil fuel industry.
They protested outside of Democratic Senate Majority Leader Chuck Schumer's office and home in New York in August; another rally outside the Brooklyn office of Hakeem Jeffries (D-N.Y.), who leads the House Democratic Caucus, is expected before members return to Washington.
Jim Walsh, policy director at Food and Water Watch, and Food and Water Action, said his group has been talking to "dozens" of lawmakers' offices every week about the potential permitting deal.
"The overwhelming concern is not only with the legislation, but also the way this is getting done," he said, of the possibility of attaching it to a continuing resolution. "It's a horrible way to govern to force members to take a vote on either shutting down government, or to erode" environmental standards.
With assistance from Daniel Moore
To contact the reporter on this story: Kellie Lunney in Washington at klunney@bloombergindustry.com
To contact the editors responsible for this story: Robin Meszoly at rmeszoly@bgov.com; Anna Yukhananov at ayukhananov@bloombergindustry.com