Election 'Political Poison' Needs Bipartisan Fix, Portman Says
Commission could depoliticize 2020 election dispute
Panel would offer best practices for states managing elections
A bipartisan commission might be the solution to removing the "partisan poison" from debate over the 2020 election, the next top Republican on the Senate Homeland Security and Governmental Affairs Committee said.
"Pulling this out of politics a little bit and having a bipartisan group that is more independent look at the issue is a good idea," Rob Portman (R-Ohio) said during a sometimes tense panel hearing Wednesday.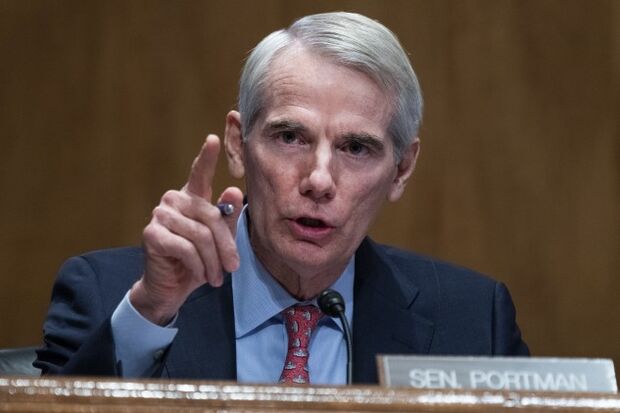 The hearing, "Examining Irregularities in the 2020 Election," included at least one exchange between the current ranking member, Gary Peters (D-Mich.), and outgoing Chairman Ron Johnson (R-Wis.). Each senator accused the other of spreading disinformation or lies.
The bitter exchange and the hearing come as President Donald Trump refuses to accept the outcome of the 2020 election, which the electoral college this week certified he lost to president-election Joe Biden, and continues to lean on claims of widespread election fraud that his own attorney general and the Department of Homeland Security have found to be untrue.
Portman, who will either be chairman or ranking member of the committee next Congress depending on the outcome of two Georgia Senate runoffs Jan. 5, is discussing with at least one Democratic colleague creating such a commission, he said. His remarks and proposal to extract the dispute from the committee's purview suggest how he'd prefer to see the committee operate.
Carter-Baker Commission
Portman proposed something similar to the 2005 Commission on Federal Election Reform, co-chaired by former President Jimmy Carter and former Secretary of State James A. Baker III. Baker was a consigliere to George W. Bush, who won the presidency over then-Vice President Al Gore in 2000 after the U.S. Supreme Court halted a recount in Florida.
Ken Starr, the former independent counsel in the investigation that led to President Bill Clinton's impeachment, lauded the idea of a new commission akin to Carter-Baker during the hearing Wednesday.
"In light of the acrimony and the division with respect to the 2000 election, bringing together Jimmy Carter and former secretary Baker was, I think, very efficacious. They made thoughtful recommendations. But they bring attention and shed light on what the issues are," he said.
However, the Brennan Center for Justice panned much of the report at the time, saying its study was only of a "cursory nature" after two hearings and no public comment opportunities.
"Although a number of its recommendations could improve our electoral system, several of its suggestions would be damaging and should not be included in any proposal for election reform," the report said. One of the biggest issues voting rights advocates took with the report at the time were recommendations on voter ID, a sore point to this day.
Portman wants to establish the 2020 look-back commission quickly so it would be able to offer best practices to states before the next midterm elections, he said.
To contact the reporter on this story: Shaun Courtney in Washington at scourtney@bgov.com
To contact the editors responsible for this story: Robin Meszoly at rmeszoly@bgov.com; Travis Tritten at ttritten@bgov.com