Election Panel's First Black Member Blazes Path as New Chair
Shana Broussard faces challenges uniting polarized agency
Commission holds first open meeting with quorum after hiatus
Shana Broussard, the Federal Election Commission's incoming chair, is blazing trails as the first Black commissioner in the agency's 45-year history and as a former prosecutor who rose through the staff ranks to assume the FEC's top spot.
The 300-plus FEC employees include many people of color, but their leadership has always been overwhelmingly white. Most commissioners came from a close-knit fraternity of Washington election lawyers in private practice, who work for Democratic and Republican candidates, party committees, and campaign spending groups.
"I don't know if I've ever had a minority as opposing counsel," Broussard said in a phone interview.
The commission held its first open meeting Thursday after a 15-month hiatus because of lack of a quorum. Elected chair last month, Broussard's skills will be put to the test as she tries to forge consensus on what has been a polarized panel that's struggled to carry out its mission to make and enforce federal campaign finance regulations.
The FEC, which has seats for six members equally divided between the two major parties, hasn't adopted a major new regulation for more than a decade and has deadlocked repeatedly on key questions like whether to require more disclosure of those funding campaigns or punish coordination between federal candidates and big-spending outside groups.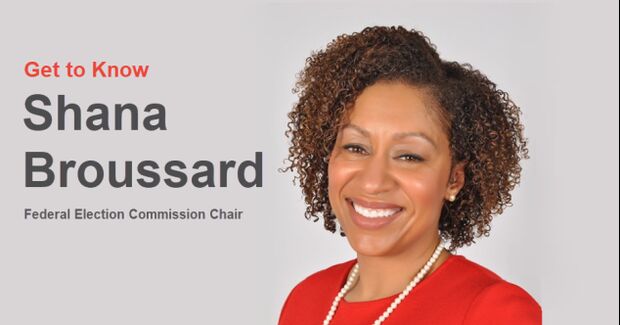 American Dream
Broussard's Senate confirmation last month for a Democratic seat after a year-long struggle made her feel "like the American dream is a reality," she said, adding that she hoped that didn't sound too corny.
She's already started to boost morale at the beleaguered agency just by being there — many FEC staffers "have reached out and said 'thank you,'" Broussard said. "It's very touching."
The daughter of an Air Force veteran and public school teacher raised mostly in a small town in Louisiana, Broussard's commitment to service was informed by her parents. She graduated from Dillard University and has a law degree from Southern University Law Center, both historically black universities, and is still active in the Black sorority Delta Sigma Theta.
She's a longtime lawyer, like almost all other previous and current commissioners, but beyond that Broussard's experience couldn't be more different. She spent decades in public service at every level of government, including prosecuting major crimes in the local district attorney's office in New Orleans, working for a Louisiana agency in charge of disciplining attorneys, and serving as an adviser in the IRS Office of Professional Responsibility. She spent a year early on in her career at a private firm but said she quickly decided it wasn't for her.
Broussard investigated campaign finance cases in the FEC general counsel's office for six years and spent the past six years as counsel to Steven Walther, a veteran commissioner who's now Broussard's colleague on the panel.
Despite her differences from other election lawyers, Broussard, 51, said her experience as an FEC staffer, especially in Walther's office, taught her how to work with others to try to get things done. She said she'd "love to get together" with Republican colleagues to plow through a mountainous backlog of enforcement cases, which she called her "immediate priority," and hopes to complete a long-awaited new rule requiring disclaimers naming sponsors of online political ads. Such disclaimers have been required for decades in TV, radio, and print ads.
Broussard's had good discussions with Allen Dickerson, the commission's newly installed Republican vice chairman, and is hopeful about prospects for consensus. She said describing her feeling about it as "excited" would be "too bubbly." There will be an ebb and flow in trying to find consensus, and it "might not be pleasant at some times," she said, adding: "We have to plug through to find common ground."
"I understand and respect the work that goes into" what the FEC staff does, Broussard said, indicating she'd work to make sure these efforts aren't wasted in the future.
Full Slate
Walther and another veteran commissioner, Democrat Ellen Weintraub, remain on the FEC, while Broussard and three Republican commissioners — Dickerson, Sean Cooksey and James "Trey" Trainor — all were appointed last year. They gave the bipartisan commission a full slate of six commissioners for the first time since 2017.
Weintraub welcomed her new colleagues last month in a statement that said the commission needed to get to work on 446 backlogged enforcement cases, including more than 100 where staff already has recommended finding reason to believe the law was violated. She said 21 cases involve alleged foreign interference in elections. Details of individual complaints are handled in secrecy by the FEC until a case is closed.
At the meeting Thursday, all six commissioners expressed support for an advisory opinion regarding Facebook's internal rules — adopted after the 2016 election — requiring political advertisers to prove they're American by having a U.S. address and bank account. The company's requirements are a valid way to ensure it doesn't violate campaign finance laws by facilitating illegal foreign election interference, according to a draft advisory opinion on the meeting agenda. Broussard said a final vote would be held by written tally after the meeting because some commissioners wanted to make a minor wording change.
Simply having new blood at the FEC could help resolve impasses, said Adav Noti, a former FEC staff attorney now with the nonprofit Campaign Legal Center. Former commissioners were so entrenched in their opposition to each other they couldn't work toward compromise, Noti said, adding that things like updating rules to recognize the importance of digital advertising in the 21st century "shouldn't be that hard."
To contact the reporter on this story: Kenneth P. Doyle in Washington at kdoyle@bgov.com
To contact the editors responsible for this story: Bennett Roth at broth@bgov.com; Kyle Trygstad at ktrygstad@bgov.com