Election Overhaul Plan Secures Wide Backing of House Democrats
House expected to pass measure on party-line vote next week
Legislation faces uphill battle in Senate with GOP opposition
House Democrats are preparing to pass sweeping legislation to revamp election and campaign finance rules next week on a party-line vote that portends an uphill battle in the Senate, where it faces stiff Republican opposition.
Supporters of the bill (H.R. 1) announced Monday that all 221 House Democrats signed on to the nearly 800-page measure that would ease voting rules and strengthen restrictions on money in politics, including provisions on guaranteeing voting by mail, public campaign funding, and automatic voter registration.
The development followed a $1.3 million digital and TV ad campaign sponsored by groups allied with House Democratic leaders to shore up support among their own members. More than a dozen in swing districts were targeted, including Jennifer Wexton (Va.), Mikie Sherrill (N.J.) and Elissa Slotkin (Mich.), who were among the last to sign on, according to a list of cosponsors on Congress.gov.
House Democrats say they want to pass a bill in time for the 2022 elections, when the party will defend narrow majorities in both chambers. But even if it falls short in the Senate, the effort could help reinforce voting rights and anti-corruption messages they believe resonate with their base voters. It could also help counter Republican efforts at the state level to restrict certain voting procedures, such as mail-in ballots.
Rep. John Sarbanes (D-Md.), the lead sponsor and coordinator of action on the Democratic bill, pointed specifically to Republican state legislatures across the country advancing "a record number of voter suppression schemes in a blatant attempt to silence the voices of Americans — especially in communities of color — and block people from voting in our elections." In an emailed comment, Sarbanes said congressional Democrats "remain united and committed in our effort to swiftly pass H.R. 1 and prevent these insidious, Republican-led efforts from taking effect."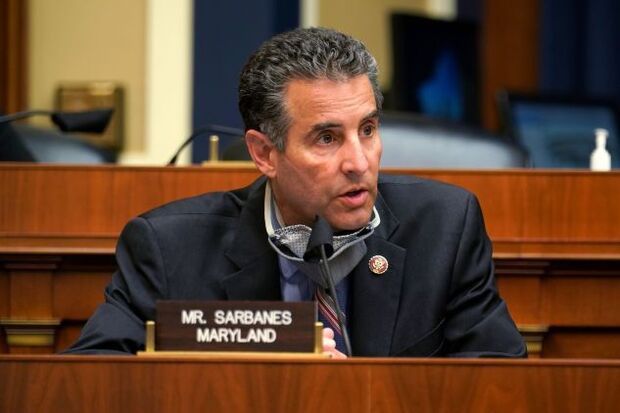 The new bill's essential elements are identical to a measure the Democratic-controlled House passed in 2019 before it stalled in the Republican-controlled Senate. Democrats pushed to bring it to the House floor in the new Congress through an abbreviated process that includes only one scheduled hearing in the House Administration Committee.
No plans have been announced yet in the Senate to move the chamber's version (S. 1) of the Democratic-backed elections bill. The Senate Rules and Administration Committee, which primarily oversees election and campaign finance issues, has no hearings scheduled. With Democrats holding the majority, the panel is now chaired by Sen. Amy Klobuchar (D-Minn.), a key supporters of past Democratic proposals on these issues.
Uphill Climb
"It's a huge uphill climb in the Senate," said Meredith McGehee, executive director of the nonprofit Issue One, who's worked to pass campaign finance legislation since the 1980s.
McGehee expects Senate Republicans to oppose the bill, even though it contains some provisions Republicans have endorsed. Lacking enough GOP support, McGehee said Democrats likely would need to eliminate the filibuster — with its 60-vote requirement to cut off debate — to pass their elections bill. But Democrats don't have the votes to change filibuster rules, she said, noting at least two Senate Democrats, Kyrsten Sinema (Ariz.) and Joe Manchin(W.V.), have said they're opposed to getting rid of it.
Republicans have spent years fighting a Democratic proposal to disclose sources of campaign money, known as the DISCLOSE Act, that's a key element of the new legislation. Groups such as the nonprofit Institute for Free Speech have argued that more disclosure would "hinder grassroots political speech and activism, with little or no benefit to public accountability," according to a letter to congressional leaders released by the group and signed by nine former GOP members of the Federal Election Commission.
Republicans accuse Democrats of trying to change rules to win victories they've been unable to secure at the ballot box. At the state level, Republicans are moving in Georgia and other GOP-controlled states to roll back changes in election procedures, such as no-excuse absentee voting, that were adopted for the 2020 elections to deal with the coronavirus pandemic.
Executive Action
Democrats are looking to the Biden administration to advance their goals while the legislative debate continues. Klobuchar led a group of 20 Senate Democrats who wrote to President Joe Biden on Feb. 17 calling for administration moves they said would strengthen democracy. These include tougher enforcement of voting rights and campaign finance laws and reinstating donor disclosure rules for tax-exempt social welfare groups involved in political activity.
The administration "already has the authority to take significant steps to make it easier for Americans to vote, stop voter suppression tactics, and reform our campaign finance system," the senators told Biden.
To contact the reporter on this story: Kenneth P. Doyle in Washington at kdoyle@bgov.com
To contact the editors responsible for this story: Bennett Roth at broth@bgov.com; Kyle Trygstad at ktrygstad@bgov.com