Election Night Clues to Be Found at Early-Evening Poll Closings
Indianapolis suburban House district could be harbinger
Georgia's changing demographics boost competition
A few states where voting concludes earlier in the evening Tuesday are primed to serve as harbingers for the congressional majorities.
Dozens of elections Tuesday stretching from Maine to Alaska will determine if Democrats capture Senate control and expand their hold on the House. The first clue of what kind of night it will be for both parties may come as the initial polls close at 6 p.m. eastern time in eastern Kentucky and in most of Indiana, which is hosting a toss-up House race.
Here are a half-dozen races to watch as election night begins to unfold:
Indiana
The top race in Indiana is in the 5th District, which includes northern Indianapolis and suburbs to the north. Its biggest source of votes is Hamilton County, the highest-income and best-educated county in Indiana. Hamilton voted 66%-32% for Mitt Romney in the 2012 presidential election and 57%-37% for Donald Trump in 2016, the president's biggest drop from Romney in any Indiana county.
Watch Hamilton County in the race between former state Rep. Christina Hale (D) and state Sen. Victoria Spartz (R). If Hale runs competitively in Hamilton, coupled with a strong performance in a Democratic-leaning area of Marion County (Indianapolis), she could capture the Republican stronghold. Rep. Susan Brooks (R) didn't seek re-election.
Spartz's policy views and prospects for success are more closely aligned with Trump's. She's a favorite of the Club for Growth, a small-government advocacy group.
"A different type of Republican or a more moderate Republican might be able to experience some split-ticket voting," said Greg Shufeldt, a political scientist at Butler University in Indianapolis. "The district still is a Republican district, but given the current political headwinds and the dynamics of the candidates running, it's more competitive than we might otherwise think."
While the race should serve as a House landscape indicator, it's unclear how quickly the results will be tabulated given that state law bars county election officials from processing ballots before Election Day.
Of the 60 best-educated congressional districts in the nation, Indiana's 5th is one of only eight held by a Republican, according to a BGOV analysis of the Census Bureau's estimates in its American Community Survey. Democrats are also seriously competing in most of the rest, including Missouri's 2nd District in suburban St. Louis, Texas' 22nd District in metropolitan Houston, and Arizona's 6th District in areas of Scottsdale and Phoenix.
Georgia
Voting concludes at 7 p.m. eastern time in Georgia, a presidential and Senate battleground thanks in part to Republicans' deterioration in diversifying Atlanta suburbs such as Cobb and Gwinnett counties.
Gwinnett, which is less than 40% non-Hispanic white and has large Black, Hispanic, and Asian populations, provides most of the votes in the 7th District, where Carolyn Bourdeaux (D) faces Rich McCormick (R) in a top pickup opportunity for Democrats. Bourdeaux in 2018 came close to unseating Rep. Rob Woodall (R), who's not seeking re-election.
Georgia hosted two Senate races this year, including a special election. Both may require runoffs on Jan. 5, but Jon Ossoff (D) is hoping to win the regularly scheduled election against Sen. David Perdue (R) outright on election night. A Libertarian candidate's presence on the ballot could extend the race, but an Ossoff victory would portend a big night for Senate Democrats.
The special election is a ballot royale and includes more than a dozen candidates of all parties, making it highly unlikely anyone will win a majority of the vote. Appointed Sen. Kelly Loeffler (R) is competing with Rep. Doug Collins (R) for a runoff berth against the top-running Democrat, pastor Raphael Warnock.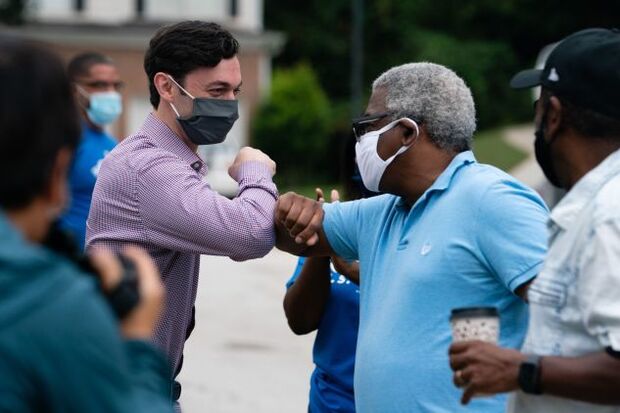 South Carolina
Republican-friendly South Carolina, where polls close at 7 p.m., is playing unlikely host to a top-tier Senate race between Judiciary Committee Chairman Lindsey Graham (R) and Jaime Harrison (D), the first Senate candidate in history to raise more than $100 million.
Graham, a Trump critic-turned-ally, is running behind the president in South Carolina and looking to shore up his right flank after helping shepherd the confirmation process of Amy Coney Barrett to the Supreme Court. Vice President Mike Pence campaigned for Graham Oct. 27 in Greenville County, where Graham won less than a majority of the vote against three little-known opponents in the June Republican primary.
A Harrison win would be a major upset and make South Carolina the first state to have two Black Senators serving at the same time. Tim Scott (R) holds the other Senate seat in South Carolina, which is more than 26% Black.
Trump won South Carolina in 2016 by 55%-41% but ran behind Romney's 2012 performance in coastal Charleston and Beaufort Counties. Parts of Charleston and Beaufort are in the 1st District of Rep. Joe Cunningham (D), who's seeking a second term against state Rep. Nancy Mace (R).
Cunningham is among the 29 Democrats seeking re-election from districts Trump won in 2016 and was one of the biggest surprise winners of the midterms. Republicans hoped to unseat many of them and reclaim the majority, but nonpartisan political analysts including the Cook Political Report rate Cunningham as a slight favorite and are forecasting that Democrats will gain House seats.
Virginia
In Virginia, Democrats are defending competitive districts in Tidewater and in the Richmond suburbs, but they're also seeking an upset in the 5th District, a conservative-leaning area that runs from the North Carolina border north past liberal Charlottesville to the exurbs of Washington.
Cameron Webb (D), a doctor and professor of medicine at the University of Virginia, is facing Bob Good (R), a former Liberty University athletics official who unseated Rep. Denver Riggleman (R) at a drive-in party convention. Webb would become the first Black doctor to be a voting member of Congress.
This is an area the party last won in 2008, as President Barack Obama became the first Democrat to carry the state since 1964.
To contact the reporter on this story: Greg Giroux in Washington at ggiroux@bgov.com
To contact the editors responsible for this story: Bennett Roth at broth@bgov.com; Kyle Trygstad at ktrygstad@bgov.com