Election Law Changes on Hold in Texas: Ballots & Boundaries

The Texas election-law changes that were thwarted once by the lack of a quorum are being held up again, this time with extra drama.
More than 50 House Democrats are in Washington, D.C., where they held a press conference with members of Congress this morning and U.S. Senate Majority Leader Chuck Schumersaid he intends to meet with them. Back in Austin, Republicans voted to send law enforcement to track down the AWOL representatives, "under warrant of arrest if necessary." (The Texas Constitution allows for a smaller number than a quorum to compel the attendance of absent members.)
The other half of the Texas Legislature is continuing with its part of the special session. It established a quorum today and will be able to proceed with consideration of its voting bill (S.B. 1). But it'll take some minority-party cooperation to enact any new laws.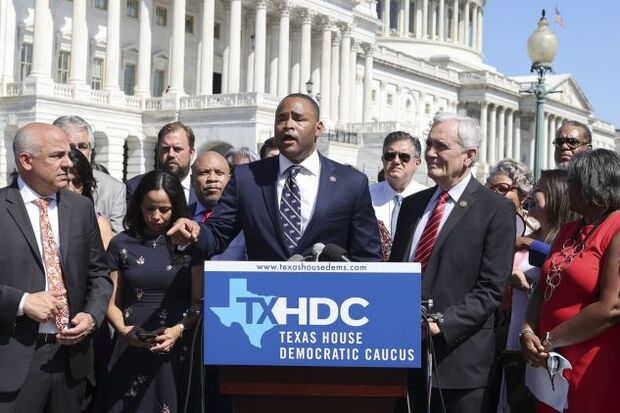 Special sessions can last no more than 30 days. In an interview with Austin television station KVUE, Gov. Greg Abbott (R) said he's prepared to keep calling special sessions though next year's election. — Paul Stinson
Read more:
ARIZONA RECOUNTING THE RECOUNT, 'SHAM ELECTION AUDIT' IN PENNSYLVANIA
Ballots cast for president in Arizona's most populous county are getting yet another recount to check a state contractor's work on a contentious audit.
The Arizona Senate is using paper-counting machines at the state fairgrounds to check the total number of ballots cast, The Arizona Republic reported. Work could wrap up next week, before former President Donald Trump is slated to speak July 24 at a downtown Phoenix rally. The newspaper also is taking the Senate to court seeking records about the audit, including how it's funded.
Meanwhile, a state lawmaker in Pennsylvania wants to follow Arizona's example. Sen. Doug Mastriano (R), who toured the Arizona audit site last month with some colleagues, posted his observations on his website. Gov. Tom Wolf (D) called Mastriano's plan for a "forensic investigation" a "sham election audit" and a "disgrace to democracy," and has discouraged counties from cooperating. — Brenna Goth and AP
(Did you get this newsletter as a forward? Subscribe here.)
NEW YORK: LAWSUIT SETTLED
The U.S. Justice Department and a local board of elections in New York have agreed to settle a lawsuit over voting rights.
The Oneida County Board of Elections was accused of violating federal law by failing to process about 2,400 timely-submitted voter registration applications completed through the state motor vehicles offices. And the state was accused of improperly rejecting 1,800 provisional ballots cast by Oneida County voters in the November election without verifying their eligibility or counting those ballots.
The consent decree announced today, if approved by the court, will require the board to develop and implement uniform and nondiscriminatory procedures. The board also must train all poll officials and election personnel, and provide periodic reports to the Justice Department regarding its compliance. — Keshia Clukey
MICHIGAN: COME BACK WHEN YOU GET SUED
The Michigan Supreme Court has denied an extension of the state's Independent Citizens Redistricting Commission's map-drawing deadline. Delayed release of U.S. Census redistricting data means the group won't meet its Nov. 1 deadline, which could give legal ammunition to challengers of the new lines.
"The risk of future lawsuits—however likely and however inconvenient to the commission's ongoing work—is insufficient reason to justify the relief requested," Justice Elizabeth Welch said in a concurrent statement to the court's order. — Alex Ebert
WEST VIRGINA: THREE FOR TWO
Three's about to be a crowd for West Virginia's U.S. House delegation.
The state will lose one of its three congressional districts because of population changes. But figuring out which of the three current Republican lawmakers will lose out may not be easy.
So far, Reps. David McKinley, Alex Mooney, and Carol Miller have tried to maintain a united front. "At this time, we all plan to seek re-election to Congress," they said in a joint statement. "Once the West Virginia State Legislature meets in the fall and redraws the congressional maps, we will consider the issue again at that time."
While Census data needed for redistricting is expected to be released by Aug. 16, it's evident that West Virginia is so deeply red it would be hard to draw any district to give Democrats much of a shot at winning a House seat. The Republican-controlled legislature only has to worry about which of the current GOP lawmakers loses out. — Kenneth P. Doyle
Must Reads:
A record number of voters in the 2020 presidential election said they cast their ballots by mail or absentee (46%). — Pew Research Center
The Maine Apportionment Commission has agreed to postpone most of its work until the state Supreme Judicial Court allows more time for redistricting.— Maine Public Radio
Resources
Put Us in Your Inbox
Click HERE to sign up for Ballots & Boundaries, your weekly check-in as states change voting laws and revise political districts, influencing power and policy decisions for the next decade.
To contact the editors responsible for this story: Tina May at tmay@bloomberglaw.com; Katherine Rizzo at krizzo@bgov.com