Election Agency Resources Shrink as Foreign Hacking Threats Rise
Annual budget of almost $8 million half of what it was in 2010
Senate revived four-member commission that GOP tried to kill
The tiny federal agency charged with helping to secure U.S. elections has shrunk even further as the threat of foreign interference has grown.
While the Election Assistance Commission is back in business with a full slate of four commissioners for the first time in nearly a decade, its staff and funding have been cut in half during that time, Chairwoman Christy McCormick told the Senate Rules and Administration Committee during a Wednesday oversight hearing.
Staffing has dropped to 22 employees from a high of 49, while the EAC's annual operating budget of just under $8 million has dropped to 50% of what it was in 2010, McCormick said.
"Without additional resources, we simply will not be able to provide the breadth of support election officials need and expect from the EAC to ensure secure, accessible and efficient elections," McCormick said in her written testimony.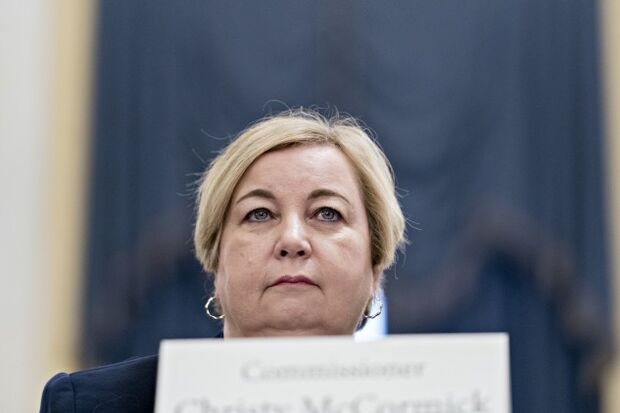 More federal support for securing elections remains in doubt despite threats highlighted by Russian actions in 2016 and continued warnings from U.S. intelligence agencies. Congress provided $380 million for federal grants to improve elections in 2018, but the Senate has no plans to consider new legislation beyond that effort, according to Rules and Administration Chairman Roy Blunt (R-Mo.).
The Senate committee heard from all four commissioners: Republicans McCormick and Donald Palmer, as well as Democrats Thomas Hicks and Benjamin Hovland. Senate confirmation of Palmer and Hovland to join the commission at the beginning of 2019 restored a quorum and gave new life to an agency that Republicans had sought to eliminate.
With a quorum, the commission has been able to work this year on writing new standards for voting systems, a move that could encourage state and local officials to begin replacing outdated voting machines.
The EAC operated without a quorum from March 2018 to early 2019. The departure of Republican Commissioner Matthew Masterson last year left the EAC with just two commissioners – Hicks and McCormick.
Last week, top election officials from Alabama and Michigan testified before the House Administration Committee about election security needs. The House Committee is scheduled to hear from the EAC at a May 21 hearing.
To contact the reporter on this story: Kenneth P. Doyle in Washington at kdoyle@bgov.com
To contact the editors responsible for this story: Bennett Roth at broth@bgov.com; Katherine Rizzo at krizzo@bgov.com