Durbin Undiminished in Senate as He Reaps 'Rewards of Seniority'
The Senate whip, Judiciary chair will be key Biden ally
The Illinois Democrat tries to elevate restive junior members
Bloomberg Government subscribers get the stories like this first. Act now and gain unlimited access to everything you need to know. Learn more.
Some of the most powerful Democrats in Congress are stepping away from leadership. Not Dick Durbin.
The Illinois Democrat is poised to enhance his powers next year as he enters his fourth decade in Congress – and 18th year as his party's whip, the No. 2 leadership post. He's been in that role longer than any senator in modern history.
"I've been able to help my state, and that is one of the rewards of seniority," Durbin told Bloomberg Government in a recent interview in his Senate office.
Durbin and his colleagues say his seniority – he ranks fourth in the chamber overall – gives him an outsized role in the Senate that prioritizes the longest-serving members with plum assignments and influence over legislation. He'll also will benefit from a slightly larger Democratic majority in both the full chamber and on the influential Judiciary Committee he chairs.
In the upcoming session, President Joe Biden will be leaning on the Durbin to push his court nominees through Judiciary. He'll also need Durbin to keep the Democratic caucus united to defend him against the onslaught of attacks from Republicans, who will be in charge of the House.
Senate Democrats Re-Elect Schumer and Team After Election Wins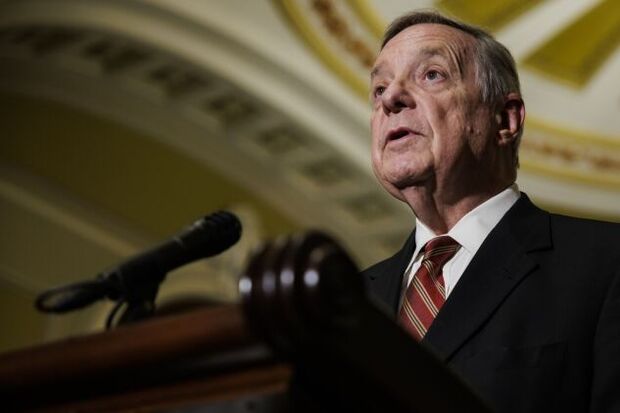 Durbin, 78, who joined the Senate in 1997, said he is inclined to seek a sixth term in 2026 but was weighing both his efficacy and personal health in the decision.
"I am mindful of my own physical and mental abilities, as I watch my colleagues, some of them struggling with aging, others conquering it pretty easily," Durbin said. "So I want to be honest about my capacity to do the job. So far, I am not where I was 40 years ago, but I still think I can make a contribution."
Durbin took the gavel of the Judiciary Committee last year after Democrats won the narrowest of majorities with an evenly-divided Senate. While Sen. Dianne Feinstein (Calif.) was the most senior Democrat on the panel, Durbin for the last two years has helmed the panel alongside Sen. Chuck Grassley (R-Iowa), an octogenarian like Feinstein.
His priorities in the upcoming session are some of the same issues that have defined his career.
"I haven't given up on" revamping the immigration system he said. He called one proposal from Sens. Kyrsten Sinema (I-Ariz.) and Thom Tillis's (R-N.C.) "a good starting point" but called provisions related to Title 42 "troubling."
"We've got to address this broken immigration system," he said. "Democrats have to give, as well as some Republicans."
Sinema Says Immigration Talks 'Coming Back Strong' Next Year
Durbin, along with the late Sen. Orrin Hatch (R-Utah), wrote the first version of the DREAM Act in 2001 which would have established a path to citizenship for immigrants brought to the US as children. This year Durbin pushed for bipartisan action after a federal appeals court said the Obama-era Deferred Action for Childhood Arrivals program that temporarily protected these immigrants was unlawful.
Immigration Fights Face Make-or-Break Moment at End of Year
Durbin also wants to continue to press, along with Sen. Cory Booker (D-N.J.), for elimination of the federal sentencing disparity between crack and powder cocaine offenses.
He said negotiators were "so close" to including in the government funding bill a compromise that would have reduced that difference to 2.5-to-1 from 18-to-1. But he said Senate Minority Leader Mitch McConnell (R-Ky.) didn't want to take up the issue so close to the end of the congressional session.
"And that was the end of the conversation," Durbin said. One Republican source familiar with the negotiations said Attorney General Merrick Garland's action reducing the disparity removed the incentive to reach a deal.
Cocaine Sentencing Bill Left Out of Year-End Spending Measure
'That's Not Dick'
Durbin's longevity comes at a time when more junior Democrats have sought greater influence over the legislative agenda in the Senate. In the House, a number of old guard leaders have already stepped back, including outgoing Speaker Nancy Pelosi (D-Calif.) and Majority Leader Steny Hoyer (D-Md.).
Durbin has acknowledged that reality. He has empowered younger members in his committee and in the caucus to pursue issues and relinquished positions on key panels with oversight of foreign and military affairs.
"Time and again, what I've tried to demonstrate is I'm not trying to take in all the possibilities that seniority brings me, but to be fair with my colleagues," Durbin said.
His junior colleague from Illinois, Sen. Tammy Duckworth (D), is more blunt, "When I first got to the Senate, I had a senator tell me 'Tammy, don't tell anything to anybody of what you want to do, because those fuckers are going to steal it. They'll steal it from you.' That's not Dick."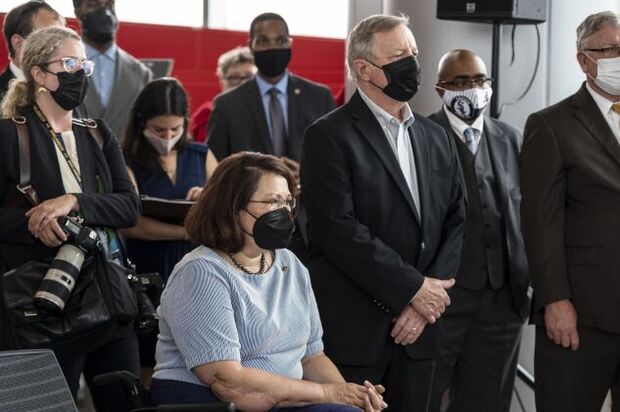 Durbin has been Democrats' whip since 2005, when he served on the late Senate Majority Leader Harry Reid's (D-Nev.) team. But after Reid's retirement, the top job went to now Senate Majority Leader Chuck Schumer (D-N.Y.), who entered the House in the same 1983 class of freshmen as Durbin and for years bunked with him in a Capitol Hill rowhouse.
Durbin said Schumer has deployed the whip operation "routinely" to get the support of "two or three senators," especially during the especially busy lame-duck session of Congress.
"It's in business every day that we're in session," Durbin said.
Junior Members
Durbin's ascendancy has engendered criticism within the caucus. Sen. Sheldon Whitehouse (D-R.I.) sought to bar Durbin and other senior members of leadership from also chairing committees. The effort failed in a secret-ballot caucus vote.
Whitehouse declined to elaborate. "Caucus business stays in caucus," he said Wednesday.
Senate Democrats Defeat Bid to Block Leaders From Heading Panels
Durbin last year did, however, lose the chance to chair the committee responsible for steering military spending, the Senate Appropriations Subcommittee on Defense, after Democrats opted to give younger members an easier shot at getting subcommittee gavels. Durbin also hasn't reclaimed his seat on the Foreign Relations Committee.
"He's powerful, he's influential, he's good to junior members, and I think that is why he enjoys so much support," said Sen. Chris Murphy (D-Conn.), who sought the rules changes last year.
Durbin prefers to wield power without flouting it. He said as whip that begging and threatening don't work in the "delicate task" of winning fellow senators' support for the latest must-pass bill. He's similarly hands off with his panel's subcommittees, which enjoy "unique" autonomy compared to other Senate panels.
"I share what I'm given as chairman in a manner that's never been done by any other committee," Durbin said. "It's been my approach over the last two years and will continue to be."
Legislative Wins
Durbin has his fair share of legislative achievements. Durbin, a senior appropriator, stands to bring home 88 earmarks in the latest government funding bill (H.R. 2617) totaling $93,695,000 on his own, plus two earmarks he sponsored with Duckworth totaling $1,975,000.
In the interview he touted his work as whip to pass last year's Covid relief (Public Law 117-2) and this summer's health care, tax, and climate bill (Public Law 117-169). Visitors to his office are greeted by a photograph of Durbin at the signing of the Affordable Care Act with the signature of President Barack Obama, a fellow Illinoisan.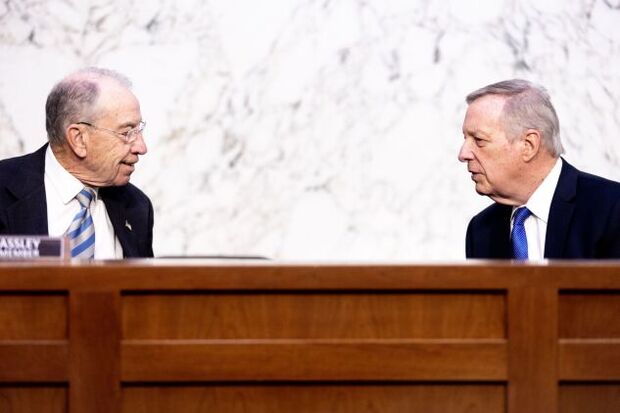 But Durbin's chief point of pride is on judicial nominees. He has so far helped shepherd nearly 100 of President Joe Biden's nominees to lifetime positions on the federal bench, including Supreme Court Justice Ketanji Brown Jackson. Many of those nominees have brought both demographic and professional diversity to courts.
Durbin said diversity in judicial nominations will continue to be a priority next Congress. "I share the president's priorities: more diversity, not just in gender, and race, and sexual orientation, but also in background," he said.
Biden, GOP Should Deal on Red State Judicial Picks, Durbin Says
He also celebrated the four-year anniversary Wednesday of the enactment of his criminal justice overhaul legislation (Public Law 115-391). Grassley, who co-authored the law with Durbin, called his working relationship with Durbin on the committee "perfect."
"We've been in the Senate long enough to know how the Senate's got to work," Grassley said. "And it can only work if you function in a bipartisan way. Pretty darn simple!"
With assistance from Jack Fitzpatrick
To contact the reporters on this story: Zach C. Cohen in Washington at zcohen@bloombergindustry.com; Madison Alder in Washington at malder@bloomberglaw.com
To contact the editors responsible for this story: George Cahlink at gcahlink@bloombergindustry.com; Bennett Roth at broth@bgov.com
Stay informed with more news like this – from the largest team of reporters on Capitol Hill – subscribe to Bloomberg Government today. Learn more.