Drugmaker Prices Exploited U.S. Market, Investigation Finds (1)
Democrats to tout report as justifying drug price negotiation
Drugmakers spent more on stock buybacks than on R&D
(Updates with additional comment from Democrats and Republican response, starting in the fifth paragraph.)
Bloomberg Government subscribers get the stories like this first. Act now and gain unlimited access to everything you need to know. Learn more.
Medicare could have saved more than $25 billion if allowed to negotiate better prices for the most costly medicines over a five-year period, according to a report released by a House committee.
The report, the result of a nearly three-year investigation into how pharmaceutical companies set their prices, is meant to underscore the importance of enacting Democrats' Build Back Better domestic policy package (H.R. 5376). That legislation, passed by the House and waiting on action from the Senate, would direct the government to demand lower prices from drugmakers for a selection of drugs, including insulin products.
Drugmakers such as Pfizer Inc., Teva Pharmaceutical Industries Ltd., and Celgene Corp. specifically target the U.S. for price increases because there's no government effort to control the price of medicine, according to internal documents released by the House Oversight and Reform Committee Friday. Some of these companies also pumped money into patient assistance programs specifically to boost profits, another quirk of the domestic pharmaceutical market.
"Several of the companies in the Committee's investigation targeted Medicare to boost revenues," the report said.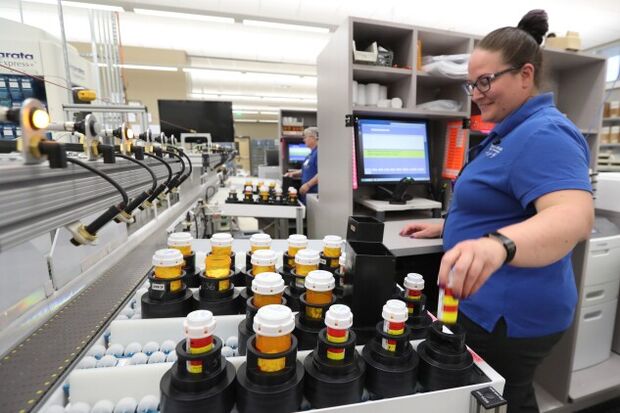 Democratic leaders will tout the report as a reason their spending bill must pass, Democratic aides told Bloomberg Government.
"The evidence overwhelmingly supports the need to pass the Build Back Better Act," House Oversight and Reform Chair Carolyn Maloney (D-N.Y.) said in a statement.
Speaker Nancy Pelosi (D-Calif.) on Friday railed against manufacturers who argue that Build Back Better would stifle drug research and development, noting that the House is advancing "billions of dollars in innovation" as part of its health appropriations legislation.
Drug companies have "the nerve to say, 'but for the better price for the American consumer, we wouldn't be able to do more innovation,'" Pelosi told reporters.
Biden's signature piece of legislation doesn't include provisions addressing drug patent protections and other practices that lawmakers and advocacy groups have long argued weed out competition from generics and biosimilars that could drive down patient costs.
Maloney, when asked Friday about whether House Democrats had plans to pursue any additional drug pricing changes, said "there are other things that can be done, but we need to focus our attention and our strength" on Build Back Better.
She added that the Oversight Committee, "will continue our investigation on drugs and the cost of drugs and ways to make it more affordable for people."
The report found the government could have saved $25 billion from 2014 through 2018 if it were able to peg the price of just seven costly medicines in Medicare Part D, which covers outpatient drugs, to their cost to other federal programs that negotiate directly with drugmakers, a key part of the spending package. Negotiating the price of insulin over a seven-year period would have saved an additional $16 billion.
However, several of the drugs listed in the report wouldn't qualify for negotiation under Democrats' plan, which excludes drugs that have generic competition. Drugs like Humira, the second-most-costly drug cited in the report, would be exempt from negotiation under Democrats' plan.
Regeneron, Janssen Drugs Fit Profile Targeted in Spending Bill
Republicans on the Oversight Committee countered with a report of their own Friday on the role pharmaceutical industry middlemen play in raising drug prices.
"Democrats talk a big game when it comes to lowering prescription drug prices, but they refuse to conduct oversight over the middlemen who are driving up costs for patients to increase their bottom line," the panel's ranking member, James Comer (R-Ky.), said in a statement.
The Republican report outlined how pharmacy benefit managers distort drug markets to reap profits and, in some cases, make it harder for patients to access their preferred medicines.
Stock Buybacks, Executive Pay
The Democrats' report seeks to rebut some of the pharmaceutical industry's main arguments against allowing the government to seek lower drug prices, including that high profits are needed to afford development of innovative new drugs. It does this by showcasing how much money the companies spent on stock buybacks and executive bonuses, some of them tied to revenue targets achieved by price increases.
The 14 largest pharmaceutical companies in the U.S. spent $577 billion on stock buybacks and dividends from 2016 to 2020, $56 billion more than they spent on research and development over that time. This meant the companies spent more rewarding shareholders than on developing new medicines, the report said.
The 10 brand-name pharmaceutical companies at the center of the committee's investigation paid their top executives more than $2.2 billion from 2016 to 2020, the report found. Topping that list was AbbVie Inc., which paid top executives $347.7 million in those four years.
The Democrats' report also cited internal documents obtained by the committee finding that patient assistant programs—deployed by drug companies to cover copayments for some people who can't afford them—actually drove up profits instead of operating as charitable enterprises.
Pfizer's copay program kept patients on its brand-name drug Lyrica even after low-cost generics hit the market, the committee revealed. Teva and AbbVie noted in documents that donations to third-party organizations that subsidize the cost of medicines for people on Medicare attracted patients to their products.
Teva's copay program for Copaxone generated a 451% return on investment between 2012 and 2014 by pushing patients toward the multiple sclerosis drug over others. These profits are generated by what insurers pay for the drug even as consumers are protected from the cost, according to the documents.
To contact the reporters on this story: Alex Ruoff in Washington at aruoff@bgov.com; Celine Castronuovo at ccastronuovo@bloombergindustry.com
To contact the editors responsible for this story: Sarah Babbage at sbabbage@bgov.com; Fawn Johnson at fjohnson@bloombergindustry.com
Stay informed with more news like this – from the largest team of reporters on Capitol Hill – subscribe to Bloomberg Government today. Learn more.