Drug Pricing Will Make or Break Democrats' Health Care Agenda
Committee leaders seek common ground on drug pricing
Holdout Democrats skeptical about government negotiation
Bloomberg Government subscribers get the stories like this first. Act now and gain unlimited access to everything you need to know. Learn more.
Democrats' ambitious plans to add new benefits to Medicare and bolster Obamacare this year hinge on delivering a major drug pricing package, putting pressure on committee leaders to find legislation the entire party can embrace.
Democratic leaders in the House and Senate are trying to shape a multi-trillion-dollar legislative package that includes expanding Medicare and Medicaid as well as extending enhanced insurance subsidies for people on the Affordable Care Act's exchanges. To offset at least some of the cost, lawmakers have proposed empowering the government to negotiate with drugmakers, and other changes to lower the price of medicines.
A failure to win big on drug pricing means Democrats won't deliver much of their promised health agenda, lawmakers say.
"Lowering drug prices is something that families need, and it's something Congress needs as a payoff," Sen. Elizabeth Warren (D-Mass.) said. "It's pretty hard to get rid of it and see how the whole package still comes together."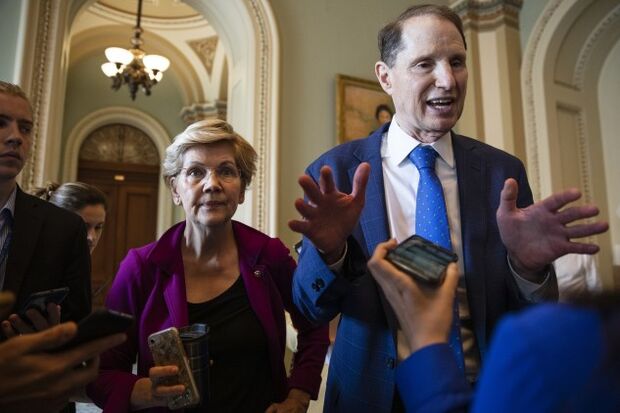 Progressives have long urged both growing public health insurance programs and tackling drug prices in concert—but they'll have to win over some in their party who've been reluctant to treat the drug industry as a piggy bank for their policy goals.
Democrats plan to pass a $3.5 trillion legislative package that includes their main health care priorities via a reconciliation budget process that permits legislation to clear both chambers of Congress by a simple majority. Democrats don't expect any Republican support for this package, so they can't lose any of their members in the Senate.
Rallying Democrats
Frank Pallone (D-N.J.), chairman of the House Energy and Commerce Committee, said he hopes Democrats will rally around a drug pricing bill he and other committee leaders reintroduced this year (H.R. 3). That legislation would lower government spending on medicines by $456 billion, the Congressional Budget Office estimates.
A version passed the House in 2019 that would add vision, hearing, and dental benefits to Medicare at a cost of $358 billion, by CBO calculations. Pallone said Democrats could deliver two big priorities—expanding Medicare and lowering drug prices—and have savings to spare.
"That would be the best idea," Pallone said. "You get significant savings and you use it to help people."
Some Democrats don't see it that way: Sen. Bob Menendez (D-N.J.) said in discussions with colleagues he's made clear he'll judge any drug pricing legislation by what it saves consumers, not by what it could potentially buy lawmakers.
Democrats' Drug Bill in Jeopardy as Centrists Plot Alternatives
"My whole focus on the question of prescription drugs has been: how do we ensure that the consumers pays lower prices," he said. "Saving the government is one thing, but that does nothing at the end of the day to help the consumer at the counter."
Menendez, who represents a state that's home to pharmaceutical giants Johnson & Johnson and Merck & Co., has voted against drug price negotiation legislation in the past but didn't rule out supporting it in the future. He recently introduced a bill with Sen. Bill Cassidy (R-La.) to cap what seniors in Medicare pay for medicines each year.
That legislation would alter how Medicare, insurers, and drugmakers split the cost of paying for drugs once beneficiaries hit their annual limit, putting more of the cost onto industry. This shift is meant to encourage insurers to pressure drugmakers to lower their prices overall.
CBO estimated that a similar redesign of Medicare's prescription drug benefit, where out-of-pocket costs are capped and insurers are pushed to negotiate for better deals, would save the government $3.39 billion.
Summer Priority
Senate Finance Chairman Ron Wyden (D-Ore.) said he wants to pass a government negotiation bill that includes a slate of other drug pricing items.
His job this summer is to win over his colleagues and find common ground.
"I'm going to spend day after day this summer working on these discussions," Wyden said.
Democrats expect to pay for a large portion of their health care priorities via changes in health policy, Sen. Bob Casey (D-Pa.) said. Traditionally, if lawmakers want to expand some kind of public health program, they need to find savings either by raising revenue in the industry or cutting expenses in public health programs, he said.
"It's not always followed, but that's the approach we start with," he said.
The entire reconciliation package doesn't have to be offset with new revenues or cuts in spending, Casey said, but the offsets will affect the overall size of the package.
Senate Infrastructure Deal in Sight After Medicare Agreement
One expected way to pay for the reconciliation package is being poached for separate legislation: a bipartisan infrastructure deal. Sen. Rob Portman (R-Ohio) said last week that a group of legislators are planning to delay a Trump administration rule to end drug rebates in order to reap billions of dollars in savings.
Delaying the rebate rule would save the government money because the regulation is expected to result in almost $180 billion in higher Medicare spending over a decade, according to government estimates.
To contact the reporter on this story: Alex Ruoff in Washington at aruoff@bgov.com
To contact the editors responsible for this story: Robin Meszoly at rmeszoly@bgov.com; Anna Yukhananov at ayukhananov@bloombergindustry.com; Sarah Babbage at sbabbage@bgov.com
Stay informed with more news like this – from the largest team of reporters on Capitol Hill – subscribe to Bloomberg Government today. Learn more.