Drug-Price Allies Worry Over Infrastructure Fight With Moderates
Democrats fear moderates will block effort to curb costs
Health care provisions too popular to give up, advocates say
Bloomberg Government subscribers get the stories like this first. Act now and gain unlimited access to everything you need to know. Learn more.
House Democrats who want to empower the government to demand lower prices from drugmakers are concerned that moderates in their party are now emboldened to blunt their ambitious drug-pricing agenda.
Lawmakers pushing to fulfill their party's longtime call to allow the government to negotiate with the pharmaceutical industry on the price of medicines watched with unease this week as a group of 10 moderate Democrats delayed a procedural vote for their party's reconciliation bill, the vehicle for their $3.5 trillion economic expansion plan.
Their fear is that some of these same moderates may again band together to blunt the drug-pricing provisions going into the reconciliation package.
"Now is the time to act and get something done on pharmaceutical pricing," Rep. Lloyd Doggett (D-Texas) said. "There may never be a moment just like this, which is why this current dispute is troubling. There's still the opportunity for those who made this argument of doing one bill instead of another to still have influence over the final bill."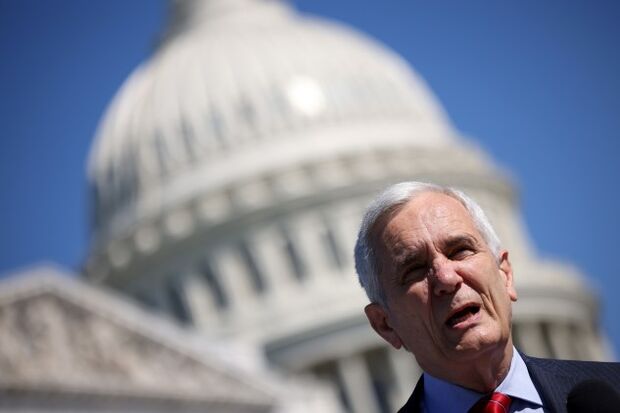 After more than a day of negotiations and delayed votes, House leaders agreed to a resolution saying they will vote in late September on a $550 billion bipartisan infrastructure bill, which moderates want to send to President Joe Biden's desk before Congress takes up the large economic package. In exchange for having a date certain for a vote, moderate Democrats agreed to vote to proceed on the vehicle for the $3.5 trillion economic package.
Pelosi Strikes Deal With Moderates on Biden Economic Agenda
Some of the same lawmakers demanding action on the bipartisan infrastructure bill ahead of the reconciliation package have also expressed misgivings with taking on drug-pricing changes without Republican support.
Reps. Josh Gottheimer (N.J.), Stephanie Murphy (Fla.), and Kurt Schrader (Ore.) were among 10 Democrats who in May wrote to House Speaker Nancy Pelosi asking her to first "garner bipartisan, bicameral support, with buy-in from a majority of Americans and stakeholders in the public and private sectors" before advancing a drug-pricing bill. All three also sought quick action by the House on the Senate-passed bipartisan infrastructure bill.
Some lawmakers signing that letter, such as Rep. Jake Auchincloss (D-Mass.), have since endorsed Democrats' signature drug pricing legislation (H.R. 3), which would direct the government to demand lower prices from drugmakers. The freshman congressman has also endorsed advancing the reconciliation bill, an Auchincloss spokesman said.
Other Democrats are already saying H.R. 3 needs to change before they sign off. For example, Rep. Scott Peters (D-Calif.) supports lowering drug prices, but he opposes how H.R. 3 uses the prices paid by other countries to set what the U.S. pays for medicines, known as international reference pricing, Peters spokeswoman Allie Polaski said.
"Rep. Peters will insist on an alternative to international reference pricing if H.R. 3 is used as the framework to lower drug costs within reconciliation," she said in an email. "If it is included, he has stated clearly that he will vote NO [on] the final reconciliation package."
Democratic leaders argue that to compromise the success of the reconciliation bill would be tantamount to giving up on popular priorities, such as reducing drug prices by allowing the government to negotiate with manufacturers, and adding new benefits to Medicare. Republicans generally oppose those policies.
"This year, we have the best opportunity in decades to enact comprehensive drug pricing reform," Sarah Kaminer Bourland, legislative director for Patients For Affordable Drugs Now, a group that lobbies to empower the government to negotiate with drugmakers, said. "The White House and congressional leadership have decided that the best path forward is by including Medicare negotiation in the budget reconciliation package."
The reconciliation package will give Democrats a rare chance to pass legislation with a simple majority in both chambers of Congress.
Some are arguing that reducing drug prices should be a central pillar of their party platform.
"I really have to question what people are doing in the Democratic caucus if it's not a top priority," Rep. Susan Wild (Pa.), a front-line Democrat, said.
Recent polling has shown the popularity of Biden's call to allow the government to negotiate with the pharmaceutical industry. AARP in July released a poll showing 87% of seniors favored the policy. Ahead of the vote, Democratic allies circulated data from Lake Research Partners, a polling group led by a former Biden campaign staffer, and Hart Research Associates that also showed support among voters for allowing Medicare to negotiate drug prices.
House Democrats' majority in the House is so slim they can only afford to lose three of their members to pass bills that don't have Republican support.
"It's very stressful having such a narrow majority because every single vote matters," Wild said. "We're a little too close for comfort."
To contact the reporter on this story: Alex Ruoff in Washington at aruoff@bgov.com
Stay informed with more news like this – from the largest team of reporters on Capitol Hill – subscribe to Bloomberg Government today. Learn more.