Don't Read Too Much Into Midyear Numbers: Ballots & Boundaries
Bloomberg Government subscribers get the stories like this first. Act now and gain unlimited access to everything you need to know. Learn more.

About those campaign-finance reports due tomorrow: No matter what the numbers say, don't jump to conclusions about the senators who haven't yet disclosed their 2024 political plans.
If Sen. Kyrsten Sinema, who bolted the Democratic Party last year, seeks re-election as an independent, she already had enough money before the most recent fund-raising quarter began: $9.9 million, buoyed by larger "itemized" donors. Rep. Ruben Gallego, the likely Democratic nominee in Arizona, will disclose $3.1 million raised in the last three months from 58,533 individual donors, a sign of his strength among low-dollar progressive donors who've shunned Sinema.
Money may be the least of worries for Sen. Mitt Romney (R-Utah), the 2012 GOP presidential nominee who has plenty of donor contacts and personal wealth to tap if needed. Utah Speaker Brad Wilson (R) said he raised $2.2 million for his "exploratory" primary challenge, including $1.2 million from the candidate.
Sen. Joe Manchin (D-W.Va.) had $9.7 million left to spend at the end of the first quarter, and Politico reports that his campaign's second-quarter balance will be about $10.7 million, plus more than $2 million in his leadership PAC. That's a huge start in low-cost West Virginia that's equivalent to having tens of millions of dollars in more populous states. The Senate campaign of Gov. Jim Justice (R-W.Va.) said it had $935,000 in second-quarter receipts and more than $800,000 in cash-on-hand, though Justice can easily self-finance a campaign from his hundreds of millions of dollars in net worth.
And Sen. Bernie Sanders (I-Vt.) probably could win re-election in heavily Democratic Vermont without spending a nickel from the $9.7 million warchest he had at the end of March. — Greg Giroux

In a week heavy with 2024 campaign announcements (here's why), some House and Senate hopefuls who lost in 2022 said they're trying again. Here are some that caught our eye:
Nick Begich III (R-Alaska) will again run for the statewide congressional district held by Rep. Mary Peltola (D). Begich, a software businessman, lost to Peltola in a special election last August and again in November. In Alaska's ranked-choice voting tabulations, he was stymied by ex-Gov. Sarah Palin (R).
Sam Brown (R-Nev.), a wounded Army veteran, announced a bid to unseat Sen. Jacky Rosen (D). Brown was the runner-up in the 2022 Republican primary for Nevada's other Senate seat.
Kina Collins (D-Ill.) is making a third primary challenge to Rep. Danny K. Davis (D) in the Chicago-area 7th District. Collins, a progressive community organizer, held Davis to a 52%-46% margin in the 2022 primary.
Ex-Rep. Mayra Flores (R-Texas) will try to unseat Rep. Vicente Gonzalez (D) in what would be a rematch of a 2022 race Gonzales won by 8.5 percentage points in the nation's most Hispanic district, Texas's 34th on the US-Mexico border.
Former state Sen. Tom Barrett (R-Mich.) will again seek the Lansing-area 7th District, a politically competitive area Rep. Elissa Slotkin (D) is giving up to run for Senate. Barrett lost to Slotkin in 2022.
Monica Tranel (D-Mont.), a lawyer and former Olympic rower, announced a rematch campaign against Rep. Ryan Zinke (R) in the western 1st District, the less strongly Republican of the state's two districts. Zinke edged Tranel by 3 points in 2022.
Lawyer Jamie McLeod-Skinner (D-Ore.) will try to oust one-term Rep. Lori Chavez-DeRemer (R), who won their 2022 matchup 51%-49% in a district President Joe Biden carried in 2020. McLeod-Skinner isn't assured of the Democratic nomination because the candidate field includes state Rep. Janelle Bynum. — Greg Giroux

THIS GRAPHIC SPEAKS FOR ITSELF
The 10 House members currently pursuing Senate campaigns have done their own math and decided the goal is worth the risk. That said, BGOV's Greg Giroux dug into the big picture. READ MORE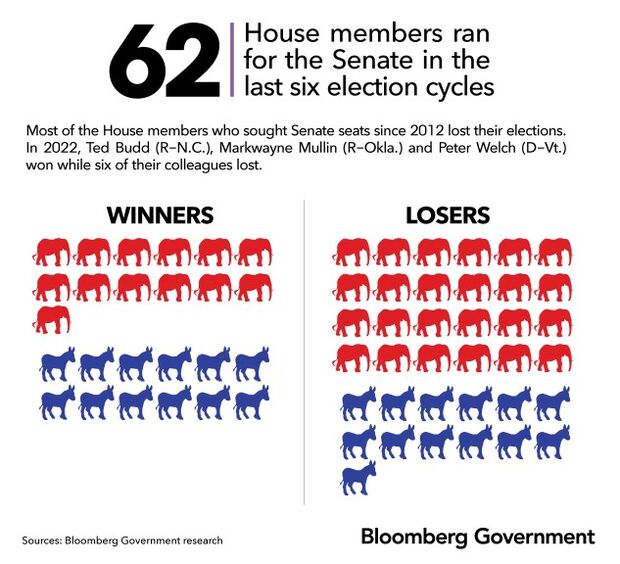 MICHIGAN
Actor Hill Harper has set his sights on the US Senate for his first attempt at elective office. He's running against Slotkin in Michigan's Democratic primary. Harper is known for his roles on CSI and The Good Doctor.
TEXAS: Challenger fom Uvalde
Roland Gutierrez, a state senator who represents Uvalde, Texas – the site of a 2022 mass school shooting – is challenging Rep. Colin Allred for the Democratic US Senate nomination and the right to take on Sen. Ted Cruz (R) next fall.
(Was this newsletter forwarded to you? SUBSCRIBE for free so you don't have to wait for the next edition.)
MARYLAND: Trone Goes Local
Senate candidates moved quickly into the endorsement-gathering phase of the Democratic primary cycle. First, Prince George's County Executive Angela D. Alsobrooks weighed in with backing from Rep. Steny H. Hoyer, the former House majority leader from Prince George's County, and Rep. Kweisi Mfume of Baltimore. Now Rep. David Trone has pulled out his cards: 40 endorsers including state legislators and small-down mayors.
OHIO: LaRose Publicity
There's an interesting intersection of 2023 and 2024 politics in Ohio, where there'll be a special election next month to decide whether to make it harder to win future constitutional amendment votes. In a new ad, a narrator says, "They got caught red-handed, admitting Issue 1 is one hundred percent about abortion." The ad then plays footage of Secretary of State Frank LaRose (R) saying, "Yes, it is about abortion." LaRose has been laying the foundation to run against Sen. Sherrod Brown (D). NBC News has more on the ad and Axios has more on the race.
WEST VIRGINIA: Deadline Day
The Democratic Senatorial Campaign Committee is suing West Virginia's governor for release of his official schedule, and today's the deadline for a response to the Kanawha County Circuit Court. The litigation is part of a soften-the-support effort that includes a microsite highlighting, among other things, the wealthy candidate's personal finances.

CALIFORNIA: Grace's Blessing
Rep. Grace Napolitano (D-Calif.), who isn't seeking re-election, endorsed someone who could make history.
Napolitano said she's backing state Sen. Bob Archuleta to succeed her in the heavily Democratic and Hispanic-majority Los Angeles County district. Archuleta would be 79 years old at the start of the 119th Congress in January 2025. That would make him older than the oldest known House freshman: James Bowler (D-Ill.), who was 78 when he won a special election 80 years ago this month, according to the House historian's office. As one of just 40 California state senators, Archuleta represents more people than any Californian in the US House. — Greg Giroux

UTAH: Three-Candidate Special Primary
The field is now set for the Utah's special Republican primary on Sept. 5. The GOP candidates vying for the nomination to succeed Rep. Chris Stewart (R) are one of his former staffers, a former state legislator who ran on an anti-Trump platform last year, and a Republican National Committeeman with some high-profile offspring.
Utah Republicans at their party convention last month nominated attorney Celeste Maloy, Stewart's former legal counsel. Former state Rep. Becky Edwards and businessman Bruce Hough qualified for the Republican ballot by submitting sufficient signatures.

If Hough's name sounds familiar, you may be a fan of Dancing With the Stars with his son and daughter in the cast. State Sen. Kathleen Riebe, whom Democrats nominated at their convention last month, is the only Democrat running. Five additional third-party and unaffiliated candidates are also running. — Associated Press
Earlier: Celebri-Dad, House Aide Want Congress Seat

ALABAMA: Special Session
Alabama's legislature begins a week-long special session Monday to amend its congressional map to include a second heavily Black district.
State Rep. Chris Pringle (R), co-chair of the legislature's redistricting committee, said his panel will vote early in the day, before the full legislature convenes. The committee heard testimony on a few maps including a proposal by some Black Alabama voters that creates a new Black-majority and Democratic-leaning district from Mobile to Montgomery. Majority Republicans haven't released a preferred map. — Greg Giroux
NEW YORK: We'll Watch for an Appeal
A New York Supreme Court panel ruled that the state redistricting commission had an "indisputable duty" to submit a second set of maps to the Democratic-controlled state legislature after its first set was rejected. The commission's now ordered to come up with a new map, which is the outcome Democrats wanted. Under the map in place for the 2022 election, Republicans exceeded expectations. — Beth Wang
Earlier:
UTAH
The Utah Supreme Court is in the deliberation stage after hearing arguments in a lawsuit complaining that lawmakers illegally ignored a successful ballot initiative that outlined an independent redistricting process. The Salt Lake Tribune reports that one of the justices honed in on the difference between the independent redistricting law and a constitutional ban on gerrymandering, which Utah doesn't have. READ MORE

Resources
Add Us to Your Inbox
SIGN UP for Ballots & Boundaries to keep up with congressional campaign trends, ballot initiatives, state voting laws, and redistricting.
To contact the reporters on this story: Greg Giroux in Washington at ggiroux@bgov.com; Zach C. Cohen in Washington at zcohen@bloombergindustry.com; Beth Wang in New York City at bwang@bloombergindustry.com
To contact the editors responsible for this story: Bennett Roth at broth@bgov.com; Katherine Rizzo at krizzo@bgov.com
Stay informed with more news like this – from the largest team of reporters on Capitol Hill – subscribe to Bloomberg Government today. Learn more.