Don't Like The Results? Change The Rules: Ballots & Boundaries

Voters in a handful of states have the chance to clip their own electoral wings through ballot questions seeking to add hurdles to changing the law via the voting booth.
Opponents say restrictions on citizen initiatives—such as requiring supermajority approval—are a trend against direct democracy. Supporters argue the public needs protecting from poorly-thought-through policy.
In Arkansas, where Issue 2 would ditch the simple majority and require 60% approval for constitutional amendments and ballot initiatives, turnout could be influenced by a marijuana legalization question on the ballot. Or, it's possible that voters get turned off by the size of the ballot and don't vote on every initiative.
Arizona turnout probably will be driven by the top of the ticket, with tight gubernatorial, US Senate, and other statewide contests. There, Prop. 132 would require that tax measures pass with a supermajority, and Prop. 128, would let the Arizona legislature change or repeal voter-approved measures if a court finds any part of them to be unconstitutional or illegal.
We'll be interested in whether there's a repeat of what happened in South Dakota, where about 67% of primary election voters in June rejected new ballot measure obstacles. READ MORE from Brenna Goth.
ARKANSAS: POTENTIAL FRUSTRATION
Touchscreen voting machines used in Arkansas time out after five minutes of being inactive, raising the possibility that having to read through multiple screens of initiative descriptions could force a lot of voters to start their ballots over and over.
The time-out feature is standard on all of the voting machines and is meant to alert poll workers if a voter leaves the voting booth without completing their ballot, reports the Hearst TV affiliate in Fayetteville. — 40/29 TV
(Was this newsletter forwarded? It's free! GET YOUR OWN )
OHIO: ELECTION INTEGRITY
Ohio Secretary of State Frank LaRose is hopping on a Republican bandwagon by creating his own "Public Integrity" division, and says he wants to hire two experienced investigators to take on allegations of voter fraud.
Why only two? He said in an interview that fraudulent voting only happens "a few dozen times a year" in Ohio.
"We need to do our job so well that even the loser knows they've lost. It's always our work as public officials, especially election officials to create an environment where people can accept the result," he said. "There's this really special thing that should happen at 10:30 or 11 on election night where the candidate that came up short calls up the winner and says, 'You won. We'll do better next time.'"
The GOP said the proposed new division would consolidate campaign finance review and voter list maintenance into a more cohesive unit. — Alex Ebert
PENNSYLVANIA: NO DATE, NO VOTE
The US Supreme Court has quietly reversed a federal court ruling that could have big implications for the upcoming Senate and governors race in swing-state Pennsylvania.
The court vacated a Third Circuit Court of Appeals ruling that mail-in ballots should be counted even when voters have left the date off the ballot's outer envelope—the primary reason why mail-in ballots are tossed in the state.
Though the case involved fewer than 300 ballots in a county judicial race, the one-paragraph ruling could lead to the spoiling of potentially thousands of ballots this November in the Senate race between Mehmet Oz (R) and John Fetterman (D), and the governor's race between Doug Mastriano (R) and Josh Shapiro (D).
Democrats tend to vote absentee more than Republicans, and Oz filed a brief urging the justices to exclude the ballots. Though justices dismissed the case because they said it was "moot," Justice Samuel Alito wrote a six-page explanation on why he would have reversed the ruling back in June. – Alex Ebert
Razor's Edge Races
The latest in our series spotlighting close congressional contests after redistricting changes.
Today: Pennsylvania's 7th District
Where Is It? East – THE Lehigh Valley, including Allentown, Bethlehem, and Easton.
Who Drew It? The Pennsylvania Supreme Court adopted the map, which was drawn by a special master.
2020 Presidential Vote: Joe Biden 50%, Donald Trump 49%
Demographics: 69% White, 19% Hispanic, 5% Black, 3% Asian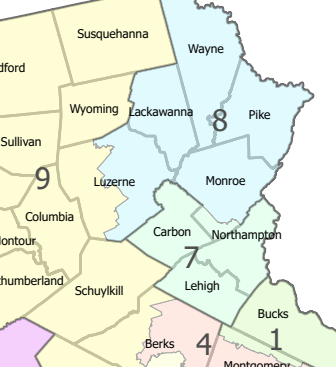 Cook Political Report Rating: Toss-Up
Nominees: Rep. Susan Wild (D), businesswoman Lisa Scheller (R)
What to Watch: This is a rematch of a 2020 election that Wild won by 3.7 percentage points. Redistricting favored Republicans by adding all of Carbon County, which voted overwhelmingly for Trump, and excising some of Monroe County, which voted for Biden. The changes reduced Biden's margin of victory in the 7th District to 0.6 percentage points from 4.8 percentage points previously. Wild acknowledged in a TV ad this week that rising consumer prices are "crippling families" and said she's working to combat price-gouging. Wild and Democratic groups have accused Scheller of outsourcing US jobs to China. Scheller and Republican super PACs link Wild to Biden and Speaker Nancy Pelosi and say the congresswoman has voted with their positions too frequently.
Next edition: Arizona's 2nd
Caught Our Eye
The Nevada ACLU is suing over a rural county's move to start hand-counting mail-in ballots two weeks before Election Day. (New York Times)
Millions spent to influence Colorado liquor vote. (Denver Post)
Resources
Add Us to Your Inbox
SIGN UP for Ballots & Boundaries, your check-in on ballot initiatives, state voting laws, and redistricting.
To contact the reporter on this story: Brenna Goth in Phoenix at bgoth@bloomberglaw.com
To contact the editor responsible for this story: Katherine Rizzo at krizzo@bgov.com