Domestic Terrorism to Skirt Sweeping 9/11-Style Law in Congress
Democrats seek institutional changes under Biden
Federal agencies pressured for data on enforcement priorities
Bloomberg Government subscribers get the stories like this first. Act now and gain unlimited access to everything you need to know. Learn more.
Domestic White-supremacist extremism is the greatest threat to U.S. security, President Joe Biden's top homeland security official told Congress — in the same way Islamist extremists were cast as the greatest threat before and after the 9/11 attacks two decades ago.
But unlike after 9/11, when Congress enacted broad measures to combat Islamist terrorism — ranging from a new airport security regime to warrantless wiretapping — key homeland security lawmakers aren't likely to pursue expanded powers to fight the domestic threat any time soon.
Some lawmakers believe the solutions to domestic violent extremism can be found in current rules and better resource allocation. There's also the reality that passing legislation could prove impossible in a political climate in which the definition of domestic terrorism is contested and highly charged. For example, 12 Republicans opposed a bill to award Congressional Gold Medals to Capitol Police officers who died from the Jan. 6 attack on the Capitol because the lawmakers disputed the bill's characterization of the attack as an "insurrection."
"There's no shortage of laws on the books to deal with violent extremist groups and the actions that they take. My sense is right now it's primarily resource allocation and prioritization," Sen. Gary Peters (D-Mich.), chairman of the Senate Homeland Security and Governmental Affairs Committee, said in an interview.
"The whole idea of having more robust oversight of the Department of Homeland Security and their intelligence operations, I think is a critical first step," Peters said.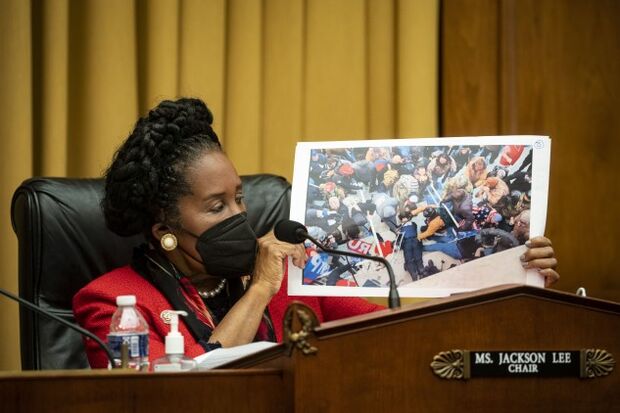 Becky Monroe, a policy director in the Justice Department's civil rights division under President Barack Obama, questioned whether there is collective will to combat White domestic extremists. There are already more than 50 statutes aimed at terrorism as well as laws governing material support for terrorism, hate crimes, conspiracies, and racketeering, she said.
Saying law enforcement agencies don't have the authorities they need to counter domestic terrorism "gives cover to the idea that somehow, 'Oh if you only had the tools, we would have actually been been targeting this threat,'" Monroe, now the director of the Fighting Hate and Bias program at the Leadership Conference on Civil and Human Rights, said about arguments in favor of new powers. The FBI Agents Association's president, Brian O'Hare, called for penalties explicitly associated with domestic terrorism in a February op-ed.
While some of those statutes could be used against domestic terrorists like violent White supremacists, Constitutional protections make domestic cases more complicated: Americans are protected by free-speech laws and there are different standards for allowing electronic surveillance of U.S. citizens.
But prosecutors can use terrorism statues, and they are: They told a federal judge that two of the Proud Boys arrested in connection with the Jan. 6 attack should be held before trial because their cases involve a "crime of terrorism."
U.S. Violent Extremists Seen as Poised to Attack in 2021
Congress Wants Receipts
White supremacist extremists are the "most persistent and lethal threat in the Homeland," DHS declared in an October threat assessment report.
Alejandro Mayorkas, Biden's DHS Secretary, echoed that assessment in recent appearances on Capitol Hill, saying he's made domestic violent extremism a national priority area for several grant programs the agency manages.
But DHS, the FBI, and the Office of the Director of National Intelligence have yet to produce a report on domestic terrorism required by the fiscal 2020 defense authorization law (Public Law 116-92). The report was due by June 2020.
Peters and other lawmakers, including House Homeland Security Chair Rep. Bennie Thompson (D-Miss.), have been hounding the agencies for that assessment.
"If the report is telling us it's the major threat and something that the agency is focused on, then we should see evidence of that in terms of their priorities and in terms of where they're applying resources," Peters said.
While data on extremist activities might be an underwhelming answer to what the country needs to address the root causes of the Jan. 6 attack, Peters says that information is fundamental to any future action he might try to take.
"It has been really, in many ways, shocking to me that this information is not already available, which kind of confirms my concern," Peters said. "We need that information so that we're certain we're prioritizing it the way that it should be prioritized and to make sure that resources are actually being put into efforts to disrupt these violent extremist groups before they engage in violent activities."
Charges and Penalties
Last Congress, several lawmakers introduced the Domestic Terrorism Penalties Act to address what they saw as shortcomings in the USA Patriot Act (Public Law 107–56), the law that governs wiretapping and other powers, by creating specific charges and penalties for domestic terrorism.
The bill never made it out of committee and no Senate version was introduced.
Rep. Michael McCaul (R-Texas) in a recent hearing said he would like to reintroduce the legislation to give law enforcement agencies the tools he thinks they need.
McCaul made his remarks during an exchange with Elizabeth Neumann, the former Trump administration assistant DHS secretary for counterterrorism and threat prevention. While prosecutors find ways to bring charges against domestic actors, creating specific domestic terrorism charges and penalties would make law enforcement's job easier, she told lawmakers.
"It's this odd specious semantic article that because it doesn't say 'domestic terrorism,' that it's somehow not a domestic terrorism statute when the very first part of it defines domestic and international terrorism, and then goes on to list 57 federal crimes and terrorism," Michael German, a former FBI special agent and a current fellow with the Brennan Center, said in an interview. "Of course they apply to domestic terrorists," he added.
House Homeland Security ranking member Rep. John Katko (R-N.Y.) was the first Republican to commit to impeaching Trump for his role in the Jan. 6 attack, but he has also echoed complaints about the far left, citing protests and clashes outside of federal buildings during Black Lives Matter demonstrations last summer.
"Clearly the events that happened at the Capitol shows we have a problem on the right. But we also have a problem on the left," he said in an interview in January.
Sen. Chuck Grassley (R-Iowa) urged FBI Director Christopher Wray to make sure that the agency's left-wing anarchist extremism program is "as robust" as the FBI's White supremacy and militas extremism programs.
Civil Rights Concerns
Monroe said she's concerned any new laws will create opportunities for abuse against minority groups even if they're passed with White domestic terrorism in mind. Law enforcement agencies used the Patriot Act in many cases against Arab Americans and Muslims, Monroe said.
"They were used improperly and unjustly and in ways that ended up indeed targeting the very same communities that White nationalists are targeting," she said.
"No matter how well-intentioned people are in creating these new tools, we've seen them time and time again, come back to harm us," she said.
Peters, whose state has one of the largest Arab-American populations in the country, said he is focused on balancing protecting communities while still protecting basic civil and privacy rights.
Chipping Around the Edges
A few lawmakers are itching to put a legislative stamp on the current threat environment, but they are limited in scope. For instance, Rep. Rosa DeLauro (D-Conn.) pressed senior DHS officials in a March 24 hearing about legislation targeting unauthorized, private, violent militias such as the ones under investigation for their suspected role in the Jan. 6 attack.
Congress has the purview to create new tools to counter militias while respecting free speech, DeLauro said in an exchange with John Cohen, the current DHS assistant secretary for counterterrorism and emerging threats.
Mayorkas tasked Cohen with evaluating whether DHS has the information, intelligence capabilities, and investigative abilities to distinguish between actions that may be constitutionally protected speech and when it transitions to illegal or violent behavior, Cohen told DeLauro.
"My sense is that we have a lot of the tools, but we'll need to be ready to use them differently," Cohen said.
To contact the reporter on this story: Shaun Courtney in Washington at scourtney@bgov.com
To contact the editors responsible for this story: Bernie Kohn at bkohn@bloomberglaw.com; Sarah Babbage at sbabbage@bgov.com
Stay informed with more news like this – from the largest team of reporters on Capitol Hill – subscribe to Bloomberg Government today. Learn more.