Dog Handlers, Air Marshals Risk Seeing TSA Raises Yanked Back
Lawmakers debating whether full workforce deserves raises
GOP bill would preserve increases only for airport screeners
Bloomberg Government subscribers get the stories like this first. Act now and gain unlimited access to everything you need to know. Learn more.
Transportation Security Administration workers knew to temper their excitement when long-sought raises hit their paychecks in July. The money might not last long for everyone.
Congress approved the pay increases last year to bring TSA workers in line with other federal personnel. House Republicans now say only one set of employees should keep the raises: the transportation security officers, or TSOs, who work at airport checkpoints.
Republican lawmakers say they have to use limited funds to prioritize frontline workers. Their plan to reel in raises across TSA would result in pay cuts for canine handlers, air marshals, administrative workers, and explosives specialists, among others.
"I don't think all of them realized the real effect of it," Air Marshal National Council President David Londo said of House Republicans. "If that pay raise goes away, you're going to see mass retirements within this year."
The compensation fight, a footnote to higher-profile appropriations battles over abortion, border security, and other divisive topics, will affect thousands of TSA employees. It would shape recruitment and retention in an agency plagued by low morale, and could weaken one of the last lines of defense against deadly threats as passengers board their flights.
An exodus of TSA employees — including the personnel who support checkpoints and the many air marshals who are nearing retirement eligibility — would also lengthen travelers' wait times during a year already riddled with travelers' headaches from air delays and cancellations.
The recent pay increases covered the agency's 48,000 TSOs and 14,000 other non-executive employees. According to TSA, 96% of the funding went to employees the agency classifies as frontline workers.
"I'm not aware of any raise that's been taken back from employees in our government, and we'll make sure that that doesn't happen in this situation," said Rep. Bennie Thompson (Miss.), a Democrat who's led the charge on TSA pay equity for years.
TSA workers and their advocates are rushing to persuade lawmakers to preserve the pay changes across the board as lawmakers haggle over fiscal 2024 funding, but they face strong political resistance rooted in Republicans' efforts to trim government spending overall.
"We are not living in a world of unlimited funding," Rep. David Joyce (R-Ohio), who leads the DHS appropriations subcommittee, said in response to criticism at a recent markup. "We must be precise and thoughtful in how we allocate our limited resources."
'Put Out Fires'
Congress established TSA in the wake of the Sept. 11, 2001, attacks with a separate personnel system from most of the rest of the federal government, providing fewer worker protections and a different pay scale.
The disparities became stark. The agency's TSOs were making roughly 30% less than their counterparts in other agencies before their raises kicked in last month. Now, compensation for screeners in the top pay band starts at $49,000, an increase from $36,000, according to TSA data.
For non-TSOs in a middle pay band that covers many explosives specialists and air marshals, base salaries now start at $59,000, up from $46,000. Across the pay bands, non-screeners notched an average 20% raise, according to TSA.
Longer Lines at Airports Loom Without Pay Boost for TSA Officers
TSA Administrator David Pekoske celebrated the pay increases at a recent press event at Reagan National Airport across the Potomac River from Washington, D.C. He spotlighted the contributions of employees in a variety of TSA roles. But of the eight people he introduced by name, five wouldn't see their pay increases continued into the next fiscal year under House Republicans' plan, he warned.
Peter Suh, a canine handler and explosives specialist, is among those whose recent pay bump is in jeopardy. He and Messi, a yellow Labrador Retriever, spend their days at Reagan National Airport, working to detect explosives among passengers or in planes or airport facilities.
"From seeing the paycheck and the projection of how much I'll be making in a year, it's definitely going to help out," he said. "It's going to make things a lot easier."
Suh and his wife are expecting their first child in January. But he'll keep the pay adjustment, a roughly 20% boost for him, only for a few months if Congress fails to extend the raises across TSA.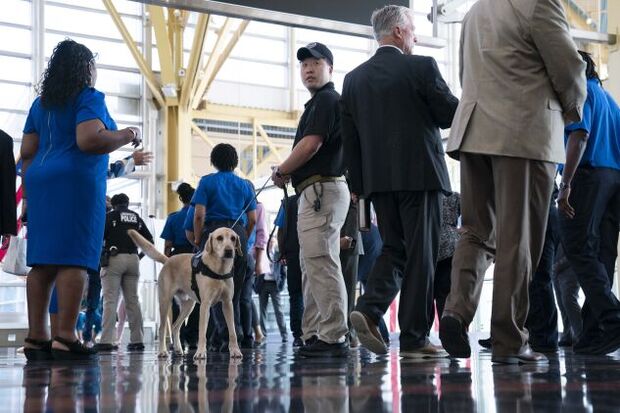 The increase is especially meaningful for more junior employees who have few opportunities to negotiate for higher pay, said supervisory transportation security inspector Richard Um, who's based at Dulles International Airport in Virginia.
"For them, this is going to help them put out fires like credit card bills, things that are holding them back from moving forward in their life," he said.
The successful campaign to improve their pay gave TSA workers throughout the agency a morale boost.
"To see not only Congress but also our leadership stepping forward and taking that effort and running with it and keeping that charge, it really does mean a lot to the workforce," said Regina Boateng, a federal air marshal who's been on the job 15 years.
The US rapidly expanded the Federal Air Marshal Service after Sept. 11, but many of the thousands of current marshals are nearing retirement eligibility, said Londo, the head of the Air Marshal National Council.
Preserving the recent pay adjustments would create an incentive for many marshals to stay in place for a few years to maximize their retirement benefits and give the agency more time to hire and train new people, he said.
Security Impacts
Pekoske has spent months warning lawmakers about the impact of excluding non-TSOs from pay raises, arguing that agency-wide pay parity is a security imperative.
"Pretty much everybody in TSA is either a direct provider of security services, or is one or two steps away," he said in an interview.
And the positions are interconnected, former TSA Deputy Administrator Patricia Cogswell said. When TSA needs more officers at airport checkpoints, it also needs more human capital specialists to do the hiring, administrative workers to do the scheduling, explosives experts to respond to incidents, and so on.
"All of these things work together to create the security envelope," said Cogswell, who's now at the consulting firm Guidehouse.
The compensation changes approved last year are already paying dividends, Pekoske said. TSA has seen a 30% increase in the number of applicants for open positions and a 61% decrease in attrition in the workforce.
The Government Accountability Office is monitoring TSA's handling of the new pay system to see how it affects worker engagement and satisfaction and is encouraging the agency to work on other initiatives to improve morale that don't depend on congressional action.
"If it can direct some of the same energy that it's directing towards the implementation of its current pay system, I think that there would be a lot of benefit that comes from it for all of the TSA employees," said Tina Won Sherman, a director on GAO's Homeland Security and Justice team.
Legislative Wrangling
Like many decisions in Washington, the fate of TSA workers' pay will come down to politics, money, and backroom deals.
The House Appropriations Committee advanced fiscal 2024 spending legislation for the Department of Homeland Security that includes $856 million to preserve pay increases for TSOs. A related provision bars the use of TSA operations funding on structural pay adjustments for anyone else.
The Senate Appropriations Committee, by contrast, advanced a bill that includes $1.1 billion to preserve pay increases across the board.
Appropriators and party leaders in the Republican-led House and Democrat-led Senate will have to hash out a deal that can get sufficient support in both chambers and the White House during a particularly contentious appropriations cycle. The new fiscal year begins Oct. 1. The government will shut down if lawmakers can't reach a fiscal 2024 deal, and TSA workers will be forced to temporarily work without pay or stay home, depending on their jobs.
Top lawmakers are eyeing a stopgap measure to avert a shutdown and give themselves more time to negotiate. A typical short-term continuing resolution — lasting a few weeks or months — would preserve the raises across TSA for the duration of the bill. The agency is working on a proposal to keep the pay increases intact should a longer-term stopgap measure be needed.
Homeland Security Funding Hinges on a New Mix of Four Lawmakers
House GOP leaders are facing pressure from the most conservative members of their party to slash federal funding across the board. House Freedom Caucus members have even called for defunding DHS, which includes TSA, unless the Biden administration makes concessions on border security policies.
House Conservatives Threaten to Shut Down Homeland Security
Joyce, the House Republican overseeing DHS appropriations, defended the focus on TSO-only raises in the GOP bill as the right choice in light of funding limitations.
"We want to take care of the frontline folks, and that's what the pay raise is meant for, to get them on par with the rest of federal employees," he said in an interview. "Obviously if there's a surplus at some point, we can advocate for more money."
Joyce's Democratic counterpart is still optimistic lawmakers can work out a deal in TSA workers' favor.
"We need to keep that commitment that we had made, so we're hoping that once we get into some sort of conference, we can put the pay to cover everybody," Rep. Henry Cuellar (D-Texas) said. "I think it'll be worked out."
A June 21 House Appropriations Committee markup provided a preview of the debates to come in conference, as Rep. David Trone (D-Md.) tried to persuade colleagues that TSA explosives specialists, bomb-sniffing dog handlers, and investigators are just as "frontline" as checkpoint officers.
He proposed to restore and increase TSA funds to preserve raises across the agency, offset by trimming the GOP's desired funding for border wall construction. The committee's Republican majority resoundingly rejected the amendment.
Trone scolded them: "This holiday, I wish you all long lines."
To contact the reporter on this story: Ellen M. Gilmer in Washington at egilmer@bloombergindustry.com
To contact the editors responsible for this story: Michaela Ross at mross@bgov.com; Robin Meszoly at rmeszoly@bgov.com
Stay informed with more news like this – from the largest team of reporters on Capitol Hill – subscribe to Bloomberg Government today. Learn more.