DOD to Flex CSO Fast-Track Buying Powers for Consulting Services
Bloomberg Government subscribers get the stories like this first. Act now and gain unlimited access to everything you need to grow your opportunities. Learn more.
U.S. Space Force, an arm of the Defense Department, is considering contracting for management consulting services using a novel procurement strategy typically reserved for cutting-edge commercial technologies.
Space Force issued a sources-sought notice April 16 for contractors capable of providing enterprise change management and organizational transformation services. Notably, officials are weighing whether to compete the contract in the form of a commercial solutions opening (CSO), an acquisition method designed to promote partnerships between defense agencies and technology startups. This marks the first time the Pentagon has used a CSO to solicit management consulting services, according to Bloomberg Government's analysis.
Space Force Headquarters Space Operations Command (SpOC), located at Peterson Air Force Base, Colorado Springs, Co., seeks experts to lead its transformation into a more agile, change-ready organization. The scope of work will entail designing and implementing change management projects, training Space Force staff, and fielding any necessary commercial software, according to a statement of objectives. Because change management is not a core competency for military personnel, the document continues, Space Force must look outside the organization to identify private sector best practices.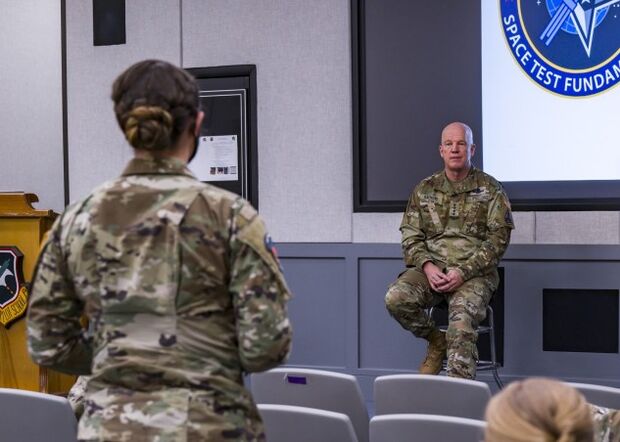 If Space Force does elect to use a CSO for change management services — a core offering among commercial consulting firms like McKinsey & Co., Deloitte Touche Tohmatsu Ltd., and Accenture PLC — the decision would be unprecedented. CSOs are similar to other transaction agreements (OTA) in that they help contracting officers cut red tape and fast-track funding for innovative technologies. Pioneered a half-decade ago by the Defense Innovation Unit, they're most commonly used to prototype or incubate technologies such as unmanned systems, microsatellites, artificial intelligence, or medical devices to combat Covid-19. The Pentagon obligated $71.6 million through 66 CSO contracts in fiscal 2020. None of these list professional services as a primary requirement.
That's not to say CSOs cannot or should not be used to contract for these types of services. The fiscal 2017 defense policy bill authorized use of CSOs "to obtain solutions or new capabilities that fulfill requirements, close capability gaps, or provide potential technological advances." CSOs can be used to acquire innovative commercial technologies or services, where "innovation" refers to "any technology, process, or method, including research and development that is new as of the date of proposal submission." Based on that definition, CSO use in this case would be consistent with the statute.
The question that arises is whether this could set a precedent for using CSOs and other novel procurement mechanisms to solicit a broader range of professional and IT services. The Air Force and Army have arguably already done this by awarding OTAs — typically reserved for technology research or prototyping — for commercial "IT as a service" pilot projects. Since fiscal 2018, the services obligated more than $500 million on contracts to test IT outsourcing engagements with companies like Microsoft Corp., AT&T Inc., Accenture, Unisys Corp. (now part of SAIC), Verizon Communications Inc., and Google Inc.
Depending on the outcome of the Space Force change management program, defense agencies could consider pursuing CSOs to deliver innovation in other professional services domains, such as financial management, human resources management, risk management, or supply chain management.
The April 16 notice doesn't specify a dollar value for the CSO. Acquisition regulations would cap it at $100 million without special authorization from senior Space Force officials. Potential bidders should respond to the notice with a 25-page capabilities statement no later than May 19.
Bloomberg Government subscribers can click here to view 45 active CSO opportunities.
To contact the analyst on this story: Chris Cornillie in Washington at ccornillie@bgov.com
To contact the editor responsible for this story: Michael Clark at mclark@ic.bloombergindustry.com
Stay informed with more news like this – the intel you need to win new federal business – subscribe to Bloomberg Government today. Learn more.