DOD Could Spend Over 100% of IT Budget on Contracts: This Is IT (1)
Bloomberg Government subscribers get the stories like this first. Act now and gain unlimited access to everything you need to grow your opportunities. Learn more.
The Defense Department may find itself in a curious situation in fiscal 2020: The amount it will obligate on unclassified information technology contracts is projected to exceed the department's entire unclassified IT budget.
Bloomberg Government projects that the Pentagon could obligate as much as $38.8 billion on IT contracts in fiscal 2020, based on current spending trends and using the government's own definition of IT spending. The Defense Department requested $36.1 billion in unclassified IT budget authority released last March, a 4.5% decline from the previous year.
The situation is curious because contract spending should represent only one share of an agency's budget, typically between 70-80%, alongside staff salaries, benefits, facilities, and more. The question is, how could the DOD obligate more than 100% of its IT budget on contracts? This hasn't happened in at least the past 10 years.
The short answer is, it's complicated. There are several possible explanations: there is a disconnect between federal agencies on the way they measure and track IT spending; there are fluctuations between requested and enacted funding levels; money appropriated in one year is available for obligation for two or three years; and there may be substitutions of contract labor for work previously done by federal employees.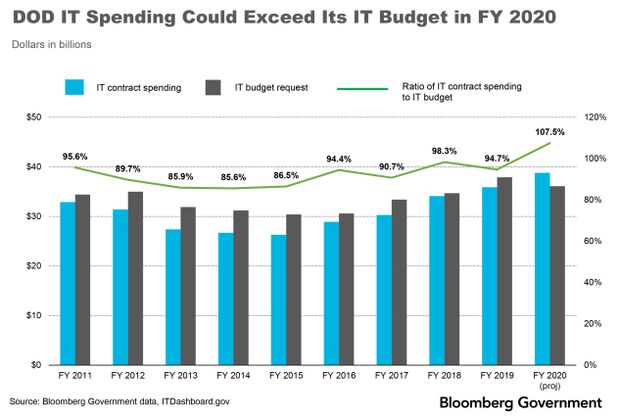 The situation raises interesting questions about what contractors can expect from the defense IT market in fiscal 2020. How should contractors plan for the future? Will Pentagon IT contract spending level off in line with its IT budget topline? Or might that spending growth persist? Based on the available data, our analysis found that contract spending in previous years is a better indicator of future spending than is the budget.
IT Contracting Up, IT Budget Down
Bloomberg Government tracks information technology spending using the government's own category management taxonomy. The General Services Administration defines information technology using to a basket of 71 Product Service Codes, which in fiscal 2019 accounted for about $69.3 billion in obligations on unclassified prime contracts for products and services governmentwide.
The Defense Department's obligations accounted for $35.9 billion of that total, a figure that has been climbing by an average of 8% per year since fiscal 2015. Within that total, the Pentagon's unclassified IT budget has grown more slowly, by an average of 4% annually. In fiscal 2020, the topline DOD IT budget will actually fall by 4.5% to $36.1 billion. The ratio of contract spending to budget has increased from about 87% in fiscal 2015 to 95% in fiscal 2019. If current trends continue throughout 2020, IT contract obligations could increase to about 108% of DOD's topline IT budget.
The Substitution Effect
The first and most obvious explanation is that as the Pentagon's mission becomes more and more technical, and as skilled employees become more difficult to hire and retain, the department is substituting contract labor for civilian government employees. Numerous reports from the Government Accountability Office document this practice. BGOV data indicates that DOD contract obligations on the outsourcing of IT services to contractors grew from $13.4 billion in fiscal 2015 to $17.8 billion in fiscal 2019, or about 7.5% average growth annually.
Yet even if IT outsourcing is growing as a share of the Pentagon's IT budget, this on its own can't explain how the department's IT contract spending could exceed 100% of its IT budget in any one year.
Blame It on the KOs
Second, there appears to be a disconnect between how agencies define IT projects for capital planning and how they define IT at the point of purchase.
Each year, the Pentagon submits an IT budget that covers a portfolio of hundreds of IT projects. Nevertheless, technology is increasingly embedded in mission systems and weapons platforms that aren't part of the formal IT budget. For instance, is the F-35's Automated Logistics Information System (ALIS) an IT program, or a weapons platform?
For budget purposes, it's the latter. "The DOD IT/[Cyberspace Activities] budget does not include IT resources that are integral to or part of a weapons system," DOD spokesman Robert Carver told Bloomberg Government in an email on Jan. 28.
However, when issuing contracts to support these systems, the program managers and contracting officers (KOs) tasked with categorizing the work — that is, selecting which NAICS and PSC codes to use — typically make these decisions based on how well the code matches the work, past precedent, feedback from industry, and the pool of qualified vendors. There isn't a formal process to align category management determinations with the capital planning process.
It's common to see contracting officers use IT PSC codes for products and services that support non-IT budget items. For example, a $71 million Acquisition, Logistics, and Technology Army Sustainment Command contract for logistics support is part of the IT market based on the government's Category Management definition. This is especially true when agencies issue large single contracts and task orders to cover a wide range of IT and non-IT activities.
Similarly, agencies may report budget and spending differently when it comes to classified and intelligence programs. While intelligence agencies aren't required to report contract obligations on SAM.gov, some agencies, such as the National Geospatial-Intelligence Agency, consistently report their unclassified obligations. It's possible that NGA isn't included in the unclassified IT budget but does report some contract obligations, creating a disconnect between what's included in the budget versus obligations.
The IT Budget Isn't Set in Stone
Another possibility is that the topline IT budget is essentially an opening bid. Budget figures, which are delivered to the Office of Management and Budget and posted to ITDashboard.gov in February or March of each year in conjunction with the release of the president's budget request, often fluctuate as a function of the congressional appropriations process. Back in May 2017, the Pentagon initially requested $33.2 billion in unclassified IT budget authority for fiscal 2018. During the following budget cycle, and after a round of congressional appropriations, Pentagon officials revised its IT budget projection to $35.7 billion. Only in hindsight, during the fiscal 2020 budget cycle, was the department able to calculate that its fiscal 2018 IT budget topline was $34.7 billion, lower than the projection released in the fiscal 2019 budget, but still $1.5 billion more than its initial request.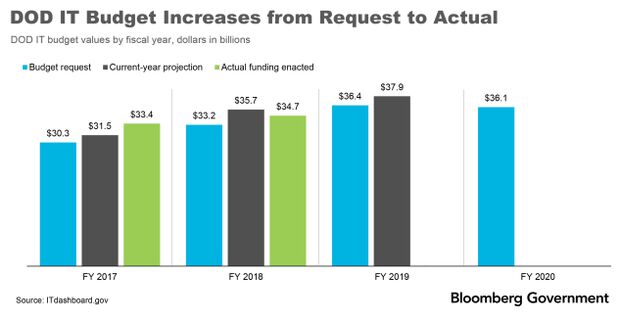 In each year since fiscal 2016, the Pentagon's initial budget request has been lower than the amount of funding ultimately appropriated. Despite a lower $36.1 billion budget request in fiscal 2020, it's possible that the current-year projection will be closer to $37 billion, but figures won't become public until mid-February, when OMB publishes next year's fiscal 2021 budget request.
Spending is expected to grow. "DOD will continue to implement the DOD Digital Modernization Strategy which will include robust IT contract spending," Carver said. It's possible that the modernization strategy, with goals to expand technical capabilities and increase innovation, will require funding increases substantial enough to boost fiscal 2020 budget estimates compared with the request.
If the 2020 budget projection is higher than the initial request, and if DOD IT contract spending growth slows relative to recent years, the ratio of IT contract spending as a share of the DOD's IT budget may remain below 100%.
There's Money Left Over
There are areas in DOD's budget where additional IT funding could be found. Money in procurement accounts and research and development funds are available for obligation for three and two years, respectively. This creates a lag effect, where money budgeted for multiple years in different accounts can be spent in a single year on IT products and services.
The Pentagon may save money in those multiyear investment accounts knowing it has an upcoming investment, which could mean that in some years, the department has more money to spend than the budget would suggest. But that means that in other years, the Pentagon may spend in line with the budget in order to save much of the multiyear IT funds. Holding back funds for obligation is also standard contracting practice, as payments are tied to performance on the contract such as successfully meeting testing or development targets.
There are a variety of explanations for why it looks as though the Pentagon could overrun its IT budget in fiscal 2020, but contractors shouldn't be concerned that the IT budget will drop in fiscal 2020. With budget and contract obligations trending upward since fiscal 2015, and because the IT budget doesn't perfectly align with how money is spent on IT, DOD IT contract spending is still likely to increase in fiscal 2020. Bloomberg Government expects $38.8 billion in unclassified IT contract obligations at the Pentagon in fiscal 2020, a jump from $35.9 billion in fiscal 2019.
To contact the analysts on this story: Laura Criste in Salt Lake City, UT at lcriste@bgov.com and Chris Cornillie in Washington, DC at ccornillie@bgov.com
Stay informed with more news like this – the intel you need to win new federal business – subscribe to Bloomberg Government today. Learn more.