Diverse Gay, Transgender Candidates Win State, Federal Offices
Jones, Torres first openly gay Black men to win U.S. House seats
First transgender woman elected to state Senate in Delaware
Gay, lesbian, and transgender candidates reaped record successes in the 2020 election, increasing their representation and racial diversity in Congress and winning spots in more state legislatures.
At least 38 LGBTQ politicians were poised to be freshman state legislators, including three transgender candidates. LGBTQ candidates won state legislative seats for the first time in Tennessee and Delaware, where political activist Sarah McBride became the first transgender candidate to win a state Senate seat anywhere in the nation.
New York Democrats Mondaire Jones and Ritchie Torres became the first openly gay Black men elected to Congress, where there will be a record of nine openly gay or lesbian House members.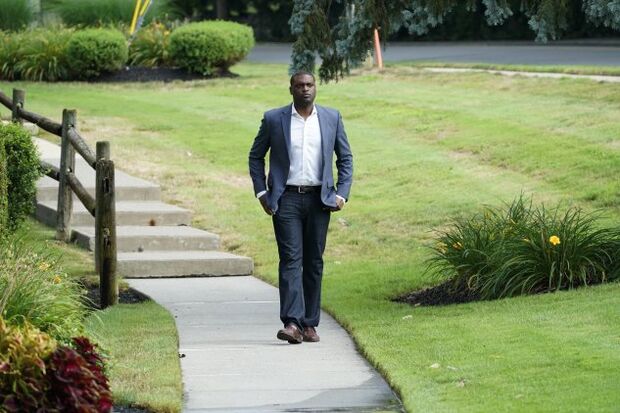 The geographic scope of the victories bolstered the political influence of the gay rights cause, activists said.
"Winning in places where we never had anyone present is important," said Annise Parker, a former Houston mayor who is president of the LGBTQ Victory Fund, which supports local, state and federal candidates.
The group's hope is that increased representation in states will strengthen efforts to defeat anti-gay rights legislation, particularly at a time when activists fear a more conservative Supreme Court will chip away at their rights on many fronts, including same-sex marriage.
Representation in state legislatures is even more important because the Democrats' likely failure Nov. 3 to win a Senate majority means Republicans may continue blocking House-passed legislation (H.R. 5) to broadly outlaw discrimination based on sexual orientation and gender identity.
State legislatures have been the incubators of gay rights and the launch pads for former and current LGBTQ members of Congress, including Sens. Tammy Baldwin(D-Wis.) and Kyrsten Sinema (D-Ariz.). Reps. Mark Pocan (D-Wis.), co-chairman of the Congressional Progressive Caucus, and David Cicilline (D-R.I.), who is running to be assistant speaker, both served in their states' legislatures.
Over the past two decades, gay lawmakers made alliances and friendships to generate the "rolling tide that forces the Supreme Court" to legalize same-sex marriage in 2015, said Andrew Reynolds, a Princeton University political scientist.
For LGBTQ politicians, state legislatures "provide a nice platform for the people that go on to the House and Senate," he said.
'Bad' Legislation
Legislatures are also a source of anti-gay legislation.
"Our bread and butter races are our statehouse races" because "most of the really bad anti-LGBTQ legislation can bubble up at the statehouse level," Parker said. Without gay lawmakers to oppose such bills, "it gets traction and gets passed and metastasizes to other states."
This year, there were 150 openly LGBTQ state legislators, according to the Victory Fund. All but a handful are Democrats.
So far, 74 legislators seeking re-election won their races and 38 LGBTQ candidates won seats for the first time in state legislatures, said Elliot Imse, a Victory Fund spokesman. A number of races have yet to be called, and some states didn't hold legislative elections this year. "There will certainly be an historic number — more than 150 next year," Imse said.
The election of three LGBTQ lawmakers in Delaware, plus two in Tennessee, marks significant progress in two states that have never had gay legislators, Parker said.
"You put one person in a legislative body, it doesn't change the outcome, it changes the conversation," Parker said. "But when you get a critical mass, which is generally about three, you can actually stop the bad bills." With larger numbers "you begin to be able to be proactive."
In Congress, Jones and Torres will replace veteran Democratic lawmakers who are retiring. Jones, a Harvard-educated lawyer, worked in the Westchester County attorney's office and a Wall Street law firm. The election of Torres, a New York City councilman, marked the first time an LGBTQ Afro-Latino won a congressional seat.
Leaders of the Victory Fund said they'd hoped to double the House membership of gay or lesbian members from seven to as many as 14. Two House candidates endorsed by the group lost in general elections to fellow Democrats in California and Washington, which have top-two, all-party primaries.
'Anti-Gay Banners'
Parker blamed homophobic and transphobic attack ads aired by the National Republican Congressional Committee for helping defeat LGBTQ House candidates in Texas and Michigan.
Republicans "didn't use anti-gay dog whistles, they used anti-gay banners" against Democrat Jon Hoadley, who unsuccessfully challenged 16-term Rep. Fred Upton (R-Mich.), she said.
The Republican campaign arm called Hoadley a "pedo sex poet" — an allusion to comments he made in a blog when he was a student at Michigan State University, including a reference to a 4-year-old "wearing a thong," and calling heterosexuals "breeders," according to the Detroit News. Hoadley's campaign called the blog entries "bad college poetry."
Parker said the NRCC ads distorted the record of Gina Ortiz Jones (D) in Texas by suggesting she wanted to spend taxpayer money for gender reassignment therapy.
An NRCC spokeswoman didn't reply to an email seeking comment.
But there were other bright spots for LGBTQ office-seekers. San Diego elected its first openly gay mayor, and lesbians won election as sheriff in the county that includes Charleston, S.C., as well as Hamilton County, Ohio, which encompasses Cincinnati.
State and local races are easier for LGBTQ candidates to win because they are closer to voters and known as figures in the community, making it harder for them to be demonized by homophobic attacks, said Reynolds, whose book "The Children of Harvey Milk" traces the progress of LGBTQ politicians.
Once friends, cousins, or colleagues come out as gay, lesbian, or bisexual, "there is a visibility that normalizes the situation," he said.
In New York, Jones and Torres benefited "from their authenticity — it's a narrative that says I'm different," said Reynolds. For them "sexual orientation is positive on the balance sheet."
To contact the reporter on this story: James Rowley in Washington at jrowley@bgov.com
To contact the editors responsible for this story: Bennett Roth at broth@bgov.com; Robin Meszoly at rmeszoly@bgov.com