Dinner Delayed: Uber Delivery Drones Face Rules for Planes
Classification as aircraft triggers complex federal reviews
Figuring out how to deal with legacy regulations on the fly
San Diego, it will be a while until you can pay for burritos delivered by drone. Uber first has to get permission from federal regulators not to train flight attendants — for 50-pound, unmanned vehicles.
Because federal laws consider drones aircraft, delivery operators such as Uber Eats and Amazon Air are being put through the same safety and economic certification processes that Delta Private Jets operating a Bombardier Challenger or companies flying business charters must go through.
The rules, some dating to the 1920s and known as Part 135, are creating delays in starting drone services for pay and threatening to keep some companies out of the market, even as the Federal Aviation Administration unveils new flight standards meant to speed up their usage.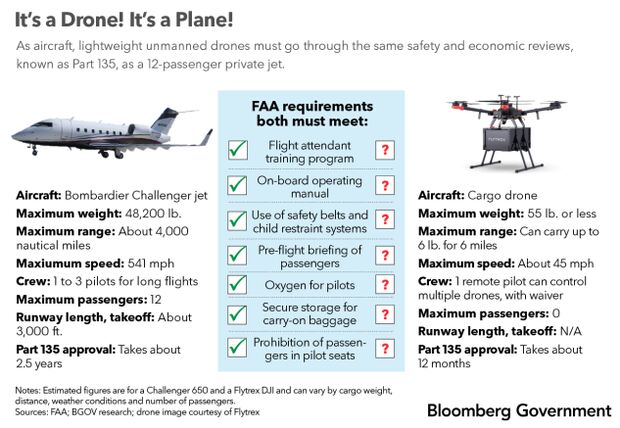 "During the application process, I wasn't even thinking about 135. 135 to me is what Delta Airlines has to go through," said Tiffany Vinson, manager of a Transportation Department pilot program in San Diego that's working with Uber. "The issue with that is that it was written with traditional aircraft in mind, not drones, of course, because they couldn't tell the future."
Another of the city's partners, Swiss-owned Matternet, is facing the prospect of not being allowed to operate drones for pay at all because of restrictions on foreign ownership and management of U.S. air operators.
None of the partners in the San Diego project, one of 10 in the transportation agency's Drone Integration Pilot Program, expected to have to apply under Part 135 and get economic certification from the FAA, Vinson said.
Pilot project participants are on a fast track comparatively speaking. The government is expediting the process for them and moving them to the front of the line for approvals. Drone delivery hopefuls left out of the program, such as Amazon, will also need to apply for Part 135, but without any guidance or inside track on the FAA's thinking, which may slow their applications.
The FAA said it was unable to respond to a request for comment, citing a shortage of staff with the government shut down. Amazon did not respond to a request for comment and Uber officials declined to comment.
Surprise!
Matternet is also working with the North Carolina Transportation Department on its drone pilot program, with a plan to deliver blood samples and medical items across WakeMed Health & Hospitals' more than 10 facilities statewide. The company has been operating a similar service in Switzerland for more than a year.
When San Diego was working on its application for the pilot program, Vinson emailed Transportation Secretary Elaine Chao's office to see if there would be any issue with their plan to transport goods through Uber and Matternet, she said.
"And they said no," she said.
Matternet assumed that because its operations were localized to the hospital system and it wasn't engaged in interstate transport, it wouldn't have to apply for Part 135 certification, Andreas Raptopoulos, founder and CEO of Matternet, said in an interview.
Then came the program participants' first in-person meeting with FAA officials last June.
There, many were stunned to hear that the agency had weighed a range for options for allowing commercial deliveries by drone and settled on requiring Part 135 certification.
"That's been one of the big surprises for us," Raptopoulos said.
The FAA hadn't worked out how the Part 135 process would proceed, including how to handle waivers of rules meant for scheduled airlines and charters such as flight attendant training, said Basil Yap, program manager for North Carolina Transportation Department.
"That's what made us nervous because they were kind of figuring the answers out as we were all talking in a group," Yap said.
The FAA also wasn't sure how long it would take—telling program participants that Part 135 applications generally take 2 1/2 years but that maybe the project participants could get approval in 12 months, said Yap.
The pilot program is scheduled to last three years. The clock started in October 2017 when the presidential memo announcing the program went out, the agency said at the same June 2018 meeting. Participants were selected in May 2018.
"We were just looking at the timeline and this is getting stretched out further and further. Three years is going to be over and we're going to do nothing," Yap said he worried at the time.
San Diego is putting together a package for Uber to get Part 135 approval, which means asking for waivers on things like seat belt requirements and passenger deplaning plans by writing out in the application, "there will not be passengers and therefore we don't need seat belts," said Vinson.
North Carolina's partners have all agreed to operate without charging until the FAA sorts through their applications.
USA
While they're expected to waive rules that obviously don't apply to drones, one area where federal regulators aren't budging are the restrictions on foreign ownership, Vinson and Raptopoulos said.
This isn't an issue for Uber, but it is for Matternet and another of North Carolina's private-sector partners, Flytrex, which customizes its own drones and the software to place and fill food-delivery orders. Flytrex is based in Israel, was founded by an Israeli, and is operating commercial delivery service in Iceland.
Federal law requires that air carriers providing transportation be at least 75 percent owned and controlled by U.S. citizens. The rules were put in place in the 1920s for national security reasons—a means of ensuring that the country's major airlines can be called upon to transport military personnel in emergencies.
Though Matternet is based in California, Raptopoulos is a Swiss citizen. He holds an American green card but isn't a U.S. citizen. Nor are many of his board members.
The requirement for U.S. citizenship has been a "headache," Raptopoulos said.
"They're in a real tough position," said Vinson.
The most likely solution is that Matternet will need to work with somebody else who is able to hold the economic authority certificate and be Part 135 certified. Someone else will have to run its test flights.
"It would not have been our first choice because before you get to a place where you can really hand the technology over to somebody else, you would like to have to been able to prove it yourself," said Raptopoulos.
Flytrex has already partnered with Causey Aviation Services, a private jet and air ambulance company based in North Carolina, owned by U.S. citizens and certified under Part 135 for its manned aircraft operations.
Flight Plan
The participants are willing to be guinea pigs in a new process because they believe there will be out-sized benefits for the pain, several said in interviews.
"It just seems like we keep turning stones over," Yap said about the IPP program.
Each of the participants interviewed expressed optimism that they and the FAA would muddle through and that eventually there will be paid delivery operations. Vinson's "really ambitious timeline" is to win approval by this coming summer. Yap expects something by third quarter of 2019, given that the partial government shutdown has furloughed the drone pilot project team.
"The key thing is: will the FAA continue to move as fast as they do now to allow us to get there by the end of the IPP? Everything that we've seen so far suggests that that's the case, but of course nobody can predict the future," Raptopoulos said.
To contact the reporter on this story: Shaun Courtney in Washington at scourtney@bgov.com
To contact the editors responsible for this story: Bernie Kohn at bkohn@bloomberglaw.com; Paul Hendrie at phendrie@bgov.com; Robin Meszoly at rmeszoly@bgov.com