DHS Overrules TSA on More Airport Screening by Private Vendor
TSA opposition stalled committee consideration of bill in May
Only CLEAR would qualify for bill's expanded screening role
Bloomberg Government subscribers get the stories like this first. Act now and gain unlimited access to everything you need to know. Learn more.
A top Homeland Security Department official overruled the Transportation Security Administration's objections to a Senate proposal that would let a private company assume authority to screen airport passengers, reviving legislation that failed to get traction earlier this year.
The letter from Ken Cuccinelli, the senior official performing the duties of the deputy secretary of Homeland Security, to bill sponsor Sen. Dan Sullivan (R-Alaska) was written days before the anniversary of the 9/11 terrorist attacks that were partly blamed on loose security by private companies.
CLEAR, which performs some security functions under contract to about 35 airports, would get access to the TSA's database of personal private information about American citizens, with limited oversight, under a bill (S. 3730) that appeared on a Senate Commerce Committee markup schedule in the spring.
The legislation that would expand CLEAR's role from a line-skipping, identification service to an airport security vetting service was "a bridge too far," TSA Administrator David Pekoske wrote in a May letter to the Senate Commerce Committee. Pekoske's letter prompted the committee to scrap a scheduled markup at that time.
But Cuccinelli rescinded Pekoske's opposition in his Sept. 9 letter to Sullivan, which was obtained by Bloomberg Government. Committee staff has been working with DHS to prepare for a possible markup Sept. 16, three people familiar with the committee's plans said.
Only CLEAR, as the lone participant in TSA's Registered Traveler program, can currently benefit from the legislation, according to Pekoske's letter.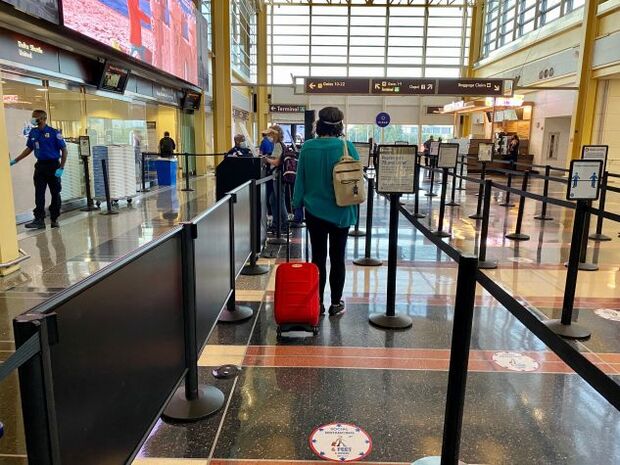 "CLEAR is really synonymous with Registered Traveler. They've been pushing it, their lobbyists have been pushing it, on the Hill," said John Halinski, TSA deputy administrator from 2012 to 2014, who said he learned about the bill when a CLEAR lobbyist asked him to back it.
A spokesperson for CLEAR said the bill "would not change the security process and all traveler vetting assessments, determinations and physical screenings would remain with TSA where they belong." They also noted the committee may consider a new version of the bill.
Carter Langston, a TSA spokesman, declined to comment on the letter or the legislation.
The bill has bipartisan cosponsors in Sullivan, Todd Young (R-Ind.), Roy Blunt (R-Mo.) committee Chairman Roger Wicker (R-Miss.), Kyrsten Sinema (D-Ariz.), and Jacky Rosen (D-Nev.).
About the Bill
Registered Traveler and TSA's PreCheck allow passengers to pay fees to get expedited security screening.
Under the Registered Traveler program, a CLEAR employee validates a member's identification and boarding pass, and escorts the member to the front of the security line, where a TSA official reviews the person's risk status and makes sure the passenger is in the right screening profile. CLEAR members are still subject to secondary screening if TSA says so. The proposed legislation would take TSA out of the risk screening role for CLEAR members and would give the company access to the no-fly intelligence list and other personal information used to make security screening decisions.
The legislation would shift oversight of CLEAR from airports to TSA, but only requires an audit once every five years.
"If enacted, this legislation would place the critical transportation and national security function of ensuring passengers are appropriately screened in the hands of private firms that are not directly accountable to the U.S. Government. Further, it would do so knowing the RT provider receives a fee for expediting their customers' entry into the screening process," Pekoske wrote in his now-rescinded May letter.
The American Federation of Government Employees, AFL-CIO (AFGE) and the Transportation Trades Department, AFL-CIO (TTD) bothwrote in opposition to the legislation, also citing oversight and national security concerns.
"TSA and AFGE—they typically don't get along on many subjects, but they're both opposed to this particular bill," Halinski said.
The bill is supported by the U.S. Chamber of Commerce and the U.S. Travel Association, which praised the Registered Traveler program for bringing efficiency to airport security without extra cost to the government.
Security Violations
CLEAR on several occasions has been forced to retrain employees on verifying traveler identity and its employees have been fined or fired for security violations, according to documents produced by various airport authorities and an attorney general and shared with Bloomberg Government.
A CLEAR employee at the George Bush Intercontinental Airport in Houston, in April 2019, didn't verify a passenger's boarding pass before sending the person to the security line. A TSA employee caught the mistake. CLEAR fired the employee, then retrained its personnel nationwide on how to properly verify passengers. TSA threatened the airport with civil penalties if there was a repeat incident.
In Salt Lake City, in December 2019, a CLEAR employee sent a passenger through security even though the traveler had accidentally presented another person's boarding pass.
Two CLEAR employees, also in Salt Lake City, faced fines when, in July 2019, one helped the other get into the secure area of the airport because one of the employees had an expired badge.
In January of this year, a CLEAR employee in New Orleans entered a TSA security line and, according to a consumer complaint sent to the airport and reviewed by Bloomberg Government, presented himself as though he was part of airport security so that he could try to sell CLEAR's services.
"Since 2010, CLEAR has been a trusted partner across government and aviation, successfully verifying identity and directing passengers to appropriate physical screening over 50 million times," CLEAR's spokesperson said.
Clear Influence
The Senate Commerce proposal emerged after language that would have provided the no-fly list to private companies and privatized the TSA travel document checker role was left out of fiscal 2020 funding legislation. Pekoske opposed that language in a December 2019 letter to Sen. Patrick Leahy (D-Vt.), the ranking member of the Senate Appropriations Committee.
The Commerce Committee didn't reach out to most aviation or transportation security stakeholders to seek input on the bill before the scheduled May markup, three people familiar with the committee's work on the bill said.
Halinski said a CLEAR executive first flagged the bill to him by asking if he would sign onto a letter backing it. Halinski said he reviewed three different letters written by CLEAR and signed the one he felt embraced the idea of a registered traveler program generally, without specifically backing CLEAR. Since that June letter of support, he has reviewed the entire bill and has concerns about the way it is drafted, especially given the lack of oversight authority for TSA and because it would benefit one company, he said.
"It's not that they're nefarious or anything like that. They have a business model they have to make money," Halinski said.
CLEAR has had lobbying representation since 2010—except for a period of 2016 and early 2017—but significantly increased its activities in the last year. It went from having a single lobbying firm on retainer, Brownstein Hyatt Farber Schreck, to having an in-house lobbyist and three other lobbying firms. The company has spent nearly $561,000 on lobbying in the first six months of 2020, a 93% increase from the same period in 2019, according to a Bloomberg Government analysis of lobbying disclosures.
Halinski said he supports the idea of a registered traveler program and perhaps "harmonizing" it with other trusted traveler programs TSA operates.
"It's always dangerous for the government to just pick one group because then they have kind of the ultimate control. And if you're not regulating them—and they're not regulated except an audit—that's always a recipe for disaster," he said.
Megan R. Wilson in Washington also contributed to this story.
To contact the reporter on this story: Shaun Courtney in Washington at scourtney@bgov.com
To contact the editors responsible for this story: Bernie Kohn at bkohn@bloomberglaw.com; Sarah Babbage at sbabbage@bgov.com
Stay informed with more news like this – from the largest team of reporters on Capitol Hill – subscribe to Bloomberg Government today. Learn more.