DeSantis on Track to Get What He Wants: Ballots & Boundaries

Florida's next stab at congressional redistricting might go pretty fast now that legislative leaders say their starting point will be whatever Gov. Ron DeSantis (R) wants.
"We are awaiting a communication from the Governor's Office with a map that he will support," said Senate President Wilton Simpson (R) and House Speaker Chris Sprowls (R). "Our intention is to provide the Governor's Office opportunities to present that information before House and Senate redistricting committees."
DeSantis had vetoed a plan that preserved a Black representative's district he sought to eliminate. The special redistricting session opens April 19. — Jennifer Kay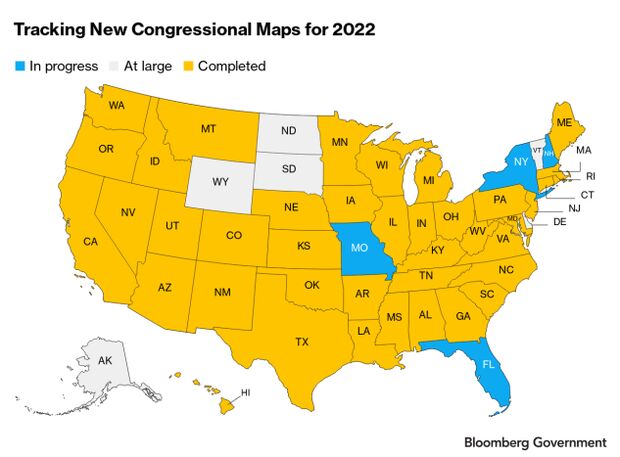 REDISTRICTING'S IMPACT: INTRAPARTY NASTINESS
It's getting ugly in an Illinois primary. Redistricting is to blame.
After the new map led Rep. Marie Newman(D) to run against Rep. Sean Casten (D) in a reconfigured 6th District, the candidates mostly concentrated on endorsements and fund-raising and weren't attacking each other.
Not anymore.
Casten issued a press release saying Newman should release details of a settlement agreement. "It has been over five months since the nonpartisan Office of Congressional Ethics unanimously voted to further the investigation into Marie Newman," Casten's press release said. "It is time for her to level with the public." That ethics referral mentions that Newman signed a non-disclosure agreement.
Newman then accused Casten of using "smear tactics" and said there's litigation involving Casten that voters should know about, pointing to two Delaware lawsuits alleging wrongdoing filed against Casten and some of his family members in an investment matter. The parties agreed to dismiss both cases and pay their own legal fees.
If Democratic primary voters want details, there's plenty to wade through:
No way to predict whether any of this will engage voters, especially those used to seeing one name but not the other on their ballots. — Stephen Joyce
(Was this newsletter forwarded to you? It's free. SUBSCRIBE )
NEW HAMPSHIRE: COURT'S READY
New Hampshire's Supreme Court will manage congressional redistricting if the legislature and governor can't finish the job.
With the June 10 candidate filing deadline approaching, "we will be prepared to resolve the case in a thorough and efficient manner," the court said in an order. It will appoint Stanford law professor Nathaniel Persily as a special master to aid the court in redrawing lines.
The Republican legislature and Gov. Chris Sununu (R) haven't agreed on where to put the boundary line separating the swing 1st District of Rep. Chris Pappas (D) and the more Democratic-leaning 2nd District of Annie Kuster (D).
"We will terminate this proceeding if a congressional reapportionment plan is validly enacted at any time prior to the close of this case," the court said. – Greg Giroux
OHIO: CARRY ON
A federal court today refused to block Ohio's May 3 U.S. House primaries. The court ruled on procedural grounds against a group of Black voters who said the state's congressional district map violates the Voting Rights Act.
The map, approved by Republicans on the state redistricting commission, also has been challenged before the state Supreme Court, but the challengers told that court there's not enough time to make changes until the 2024 election. — Kenneth P. Doyle
NEW YORK: STAY GRANTED
A New York appellate court justice granted another stay of a lower court's decision to throw out the congressional and state legislative maps. Next stop for the case: oral arguments on April 20. Meanwhile, the lines remain in place. — Keshia Clukey
Election Law
PENNSYLVANIA: DROPPING DROPBOXES
Majority Republicans in the Pennsylvania Senate are pushing to eliminate absentee ballot drop boxes, claiming they "breed misuse."
A voter who doesn't use the Post Office would only have the option of returning the ballot to a county board of elections office under the bill (S.B. 1200), which Sen. Jake Corman (R) called "a good first step to help restore the public's faith in the sanctity of our voting system." — Jennifer Kay
WISCONSIN: GOVERNOR VETOES
Gov. Tony Evers has vetoed nine elections bills, including measures that would have restricted the use of absentee ballots, banned private funds for elections administration, and allowed the state Legislature to limit the activities of the Wisconsin Elections Commission.
"I have and will continue to object to each and every effort by this Legislature and its members to undermine our democracy, to erode confidence in our elections, and to demean and harass dedicated clerks, election administrators, and poll workers," Evers (D) wrote in one of his veto messages.
Meanwhile, there's an ongoing investigation into the 2020 presidential election that should be wrapped up by the end of the month. That taxpayer-funded probe was approved by Assembly Speaker Robin Vos (R). — Stephen Joyce
TEXAS: 12.4% REJECTED
Texas rejected about one in eight mail-in ballots in its March primary, the first election since state Republicans approved a massive overhaul of voting laws.
By comparison, less than 1% of mail-in ballots were rejected in the entire U.S. in the 2020 election, the U.S. Election Assistance Commission said. — Ryan Teague Beckwith
Ballot Questions
FLORIDA: MONEY LIMIT
A new Florida law (H.B. 921) limits out-of-state contributions to political committees while they're collecting signatures for Florida ballot initiatives.
Starting July 1, donors from outside the state can't give over $3,000, and political committees based outside Florida can't receive donations over $3,000 in the petition-gathering process. The law also bans foreign governments, as well as political parties, businesses and citizens from other countries, from contributing to political committees supporting or opposing Florida ballot initiatives.
Last year, a federal judge blocked a similar law that set a $3,000 cap on all contributions during the signature-gathering process, including those from Florida-based donors. — Jennifer Kay
Caught Our Eye
Republicans are targeting state court elections to elect conservative judges. (Reuters)
Alabama once again is the battleground over Black voting rights. (The Washington Post)
Finished Maps
Alabama|Arizona | Arkansas | California| Colorado |Connecticut |Georgia |Hawaii| Idaho | Illinois | Indiana | Iowa | Kansas | Kentucky |Louisiana| Maine | Maryland | Massachusetts | Michigan | Minnesota | Mississippi |Montana | Nebraska | Nevada | New Jersey | New Mexico |New York | North Carolina |Ohio| Oklahoma | Oregon | Pennsylvania | Rhode Island |South Carolina |Tennessee| Texas | Utah | Virginia|Washington | West Virginia | Wisconsin
More Resources
Add Us to Your Inbox
Click HERE to sign up for Ballots & Boundaries, your check-in on redistricting, state voting laws, and initiatives.
To contact the reporters on this story: Jennifer Kay in Miami at jkay@bloomberglaw.com; Stephen Joyce in Chicago at sjoyce@bloomberglaw.com; Greg Giroux in Washington at ggiroux@bgov.com; Keshia Clukey in Albany, N.Y. at kclukey@bloomberglaw.com; Kenneth P. Doyle in Washington at kdoyle@bgov.com
To contact the editors responsible for this story: Tina May at tmay@bloomberglaw.com; Katherine Rizzo at krizzo@bgov.com