Democrats Win on Voting Law, Lose on Remap: Ballots & Boundaries

It's been one of the biggest weeks of the redistricting cycle. New York's Republican-stifling U.S. House map was thrown out for being too mean to the minority party and Florida's was vetoed by a governor who said it had too many majority-Black districts.
A November election net change of just five congressional seats would put the GOP in charge of the House agenda. Final maps in those two big states, therefore, will help determine how much President Joe Biden can accomplish in the second half of his term.
Meanwhile, Democrats prevailed, at least at this early stage, in lawsuits they filed against new voting laws in Florida and Arkansas.
Before we get you up to date on those, more on the congressional redistricting state of play:
New York Republicans are high-fiving and Democrats have filed notices of appeal. We'll be watching for any impact on the candidate filing period (scheduled to open on Monday) or on the June 28 primary election. READ MORE from Keshia Clukey.
Florida Gov. Ron DeSantis (R) is bringing back the legislature for a special session to try again on redistricting. His main objection was to a Tallahassee-to-Jacksonville district in the northern part of the state.
He had offered his own map with two majority-Black districts (out of 28 total House seats next year). Four of the current 27 seats have a majority-Black voting-age population. HERE'S MORE ON THE VETO from Jennifer Kay.
(Was this newsletter forwarded to you? It's free. SUBSCRIBE)
There are two lawsuits asking for court intervention in Florida, and a dispute over who's unbiased enough to judge in federal court.
Before he became a U.S. District judge, Allen Winsor represented the Florida House in opposing proposed constitutional amendments on redistricting, according to a court filing on behalf of Common Cause Florida and FairDistricts Now.
The groups want someone other Winsor to judge their case.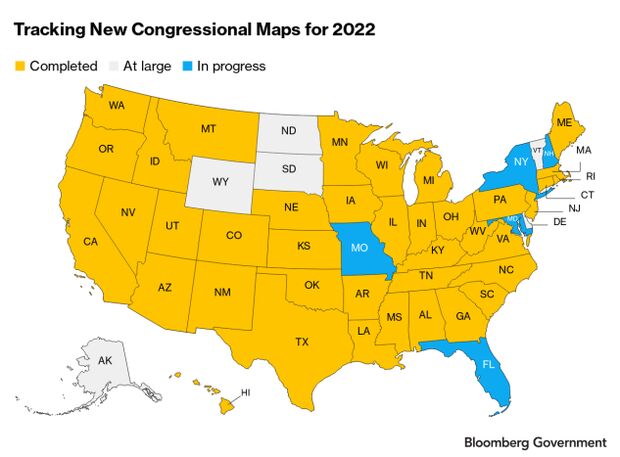 Five states remain unfinished. Here are the maps that are done:
Alabama|Arizona | Arkansas | California| Colorado |Connecticut |Georgia |Hawaii| Idaho | Illinois | Indiana | Iowa | Kansas | Kentucky |Louisiana| Maine | Massachusetts | Michigan | Minnesota | Mississippi |Montana | Nebraska | Nevada | New Jersey | New Mexico |New York | North Carolina |Ohio| Oklahoma | Oregon | Pennsylvania | Rhode Island |South Carolina |Tennessee| Texas | Utah | Virginia|Washington | West Virginia | Wisconsin
NEW HAMPSHIRE: 'IMPASSE' LAWSUIT
The legislature and New Hampshire Gov. Chris Sununu are "unlikely to reach agreement on a new congressional map in time for use during the 2022 elections," according to a Democratic filing in Hillsborough County Superior Court.
"Our hope is that the Republicans in the legislature and the governor can get together and strike a deal," Adam Kincaid, the executive director of the National Republican Redistricting Trust, said in an e-mail.
The legislature passed a map that hasn't made it to Sununu's desk and the Republican governor's map hasn't been formally introduced as a bill. Democrats are asking the court to oversee the process. -– Greg Giroux
MISSOURI: DEADLOCK CONTINUES
A months-long Republican deadlock is making it more likely the courts will take over congressional redistricting in Missouri.
The state House yesterday overwhelmingly rejected the Senate's proposed map. The Senate, including a bloc of strongly conservative senators opposed to the House map, hasn't yet agreed to a conference committee.
Both the House and Senate maps favor Republicans in six of eight districts. They differ on the 2nd District in suburban St. Louis, which was the closest congressional district in the nation in the 2020 presidential election. Democratic lawyers last month petitioned a court to draw new lines. – Greg Giroux
MARYLAND: PLAN B
Democratic legislators have a replacement congressional map ready in case they can't overturn a judge's injunction against their original proposal.
Republicans protested that the new map (SB 1012) favors Democrats in seven of the eight districts, though it's a less aggressive gerrymander than the map Democrats enacted last December. That map would have given Democrats a shot at all eight districts, including the eastern 1st District of Republican Andy Harris.
The new map is contingent on Democrats losing an appeal of a March 25 ruling that they committed "extreme partisan gerrymandering."The judge held a hearing this morning on the new map. —Greg Giroux
LOUISIANA: VRA TEST
Now that Louisiana settled its map with a veto override, two federal lawsuits are challenging the congressional redistricting plan that keeps a single majority-Black seat in a state where about a third of the population is Black.
The map violates the Voting Rights Act because its boundaries "crack and pack the state's Black population with the effect of diluting its voting strength," says a lawsuit filed by Elias Law Group LLP on behalf of Black voters. —Jennifer Kay
Election Law
In Florida, a federal judge tossed out parts of a lawthat DeSantis demanded to address unproven claims of fraud.
"In the past 20 years, Florida has repeatedly sought to make voting tougher for Black voters because of their propensity to favor Democratic candidates," Chief Judge Mark Walker wrote.
The people who run Florida's elections are now stuck on the sidelines waiting for a court appeal and final instructions on absentee ballot drop boxes and voting-law changes struck down by the court.
Some of their colleagues are in a similar boat as the state asks the Arkansas Supreme Court to block an order striking down four voting laws.
"In the judicial sphere you don't prove something is illegal just because you're afraid something might happen," Judge Wendell Griffen said in granting the injunction. "That's speculation." — Jennifer Kay
ARIZONA: INSTANT LAWSUIT
Arizona's newest voting restriction is already in court, a day after Gov. Doug Ducey (R) signed it into law.
The proof-of-citizenship measure (H.B. 2492) limits "federal-only voters," or voters who do not provide the citizenship documents required by the state and can only vote in federal elections.
A federal lawsuit brought by Mi Familia Vota—represented by Elias Law Group LLP—argues the changes will burden and could disenfranchise voters, particularly those who vote by mail. Ducey called the law a "balanced approach" to election security. — Brenna Goth
CALIFORNIA: Ex-Felon Voters
California is making it easier for those who've served criminal convictions to vote.
The law (S.B. 504) signed yesterday requires the state to give county elections officials identifying information of those imprisoned, on parole, or otherwise released from prison. It also OKs same-day registration for military and overseas voters. — Joyce E. Cutler
LOUISIANA: OUTLAWED MONEY
A state appeals panel has sided with Louisiana's Republican attorney general in a challenge to private funding for elections from the Zuckerberg-funded Center for Tech and Civic Life, so that case can proceed.
Bloomberg examined the grant program to help get election equipment to precincts in 2020, and found that 14 states took the grants and then outlawed future election-equipment handouts.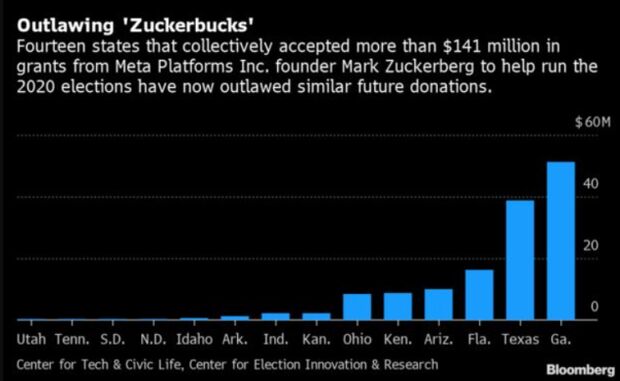 GEORGIA: SQUELCHED SQUAD
Georgia's legislature decided against copying one of Florida's election-law innovations.
The seven Republicans and four Democrats on the state Senate Ethics Committee unanimously agreed to kill legislation that would have empowered criminal investigators to independently probe allegations of voter fraud. READ MORE from Ryan Teague Beckwith and Margaret Newkirk
Looking Ahead

Caught Our Eye
Fact-checkers find flaws in Wisconsin report. (Racine Journal Times)
States grapple with poll worker and paper shortages. (CNN)
Ohio Secretary of State says two primaries will be needed if there's no vote today. (WOSU)
Resources
Add Us to Your Inbox
Click HERE to sign up for Ballots & Boundaries, your check-in on redistricting, state voting laws, and initiatives.
With assistance from Andrew Small and Kenneth P. Doyle
To contact the reporters on this story: Greg Giroux in Washington at ggiroux@bgov.com; Jennifer Kay in Miami at jkay@bloomberglaw.com; Keshia Clukey in Albany, N.Y. at kclukey@bloomberglaw.com; Brenna Goth in Phoenix at bgoth@bloomberglaw.com; Joyce E. Cutler in San Francisco at jcutler@bloomberglaw.com
To contact the editor responsible for this story: Katherine Rizzo at krizzo@bgov.com