Democrats Urged to Engage Diverse Asian American Community (1)
Democrats warned not to treat these voters as afterthought
Growing minority also target of Republican outreach efforts
(Updates with Kim quotes starting in second paragraph after GOP Wins subhead. Earlier version corrected title of Varun Nikore in fourth paragraph from the bottom.)
Democratic lawmakers are pushing their party to step up outreach efforts to Asian American voters ahead of the midterm elections, arguing that the broad, diverse group could make or break races in districts that will decide the majority.
Their efforts come as both parties take a fresh look at their approach to wooing Asian American and Pacific Islander voters, particularly after turnout among these voters jumped 47 percentage points between 2016 and 2020, according to TargetSmart, a Democratic political data services firm. That increase helped secure Democratic victories, most notably in Georgia's presidential and Senate races.
Democrats face a number of hurdles in their quest to hold onto the House in 2022, including President Joe Biden's approval declining over the past year, incumbent retirements, and rising inflation and violent crime. The party is looking to Asian Americans to give them a boost and make up for potential slippage elsewhere. But lawmakers and advocates say the party first needs to step up its engagement and outreach to Asian Americans, who were the fastest growing racial or ethnic group in the U.S. from 2000 to 2019, according to the Pew Research Center.
"AAPIs are still feeling a little bit that, compared to investment in other communities, that we're an afterthought," said Rep. Mark Takano (D-Calif.), the second vice-chair of the Congressional Asian Pacific American Caucus. "Increasingly, we have to be not an afterthought. We're the margin of difference for victory in a number of key swing states."
Rep. Grace Meng (D-N.Y.) was more blunt in the aftermath of the New York City mayoral election. Several areas of the city with large Asian American populations tilted toward Curtis Sliwa (R) in a race where concern about homeless shelters, public safety, and proposed admissions changes to the city's specialized high schools energized the community.
"Our party better start giving more of a shit about #aapi voters and communities," Meng tweeted two days after the election. Meng, who is chair of the caucus' political arm, ASPIRE PAC, said in another tweet that Democrats "in general need to pay more attention to multilingual outreach and staffing that includes AAPIs. We need a good message + messengers."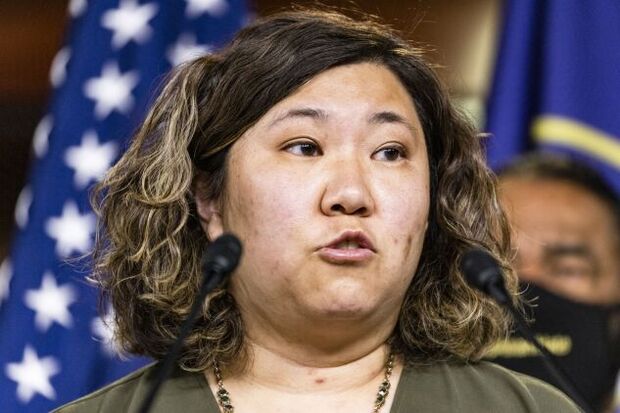 Democratic strategists are heeding that advice. The Democratic Congressional Campaign Committee hired Veronica Yoo as its first senior adviser for AAPI engagement and allocated $30 million for a new program to mobilize minority voters through long-term investment in communities.
"AAPI voters can go from marginalized to being the margin of victory in some of these battlegrounds," Yoo said.
Republicans are also expanding their outreach. Last year, the Republican National Committee opened three AAPI centers in Atlanta, Dallas and California's Orange County. The centers go beyond political activities by hosting events such as holiday potlucks and Lunar New Year celebrations, said Nainoa Johsens, the RNC's director of Asian Pacific American media.
"The difference this year is the RNC has permanent investments going into multiple minority communities across the country," Johsens said.
GOP Wins
Republican efforts in recent years are beginning to pay off, as evidenced by the victories of two Korean American GOP lawmakers from Southern California in 2020: Reps. Michelle Steel and Young Kim.
Kim initially lost when she ran for a House seat in 2018. Two years later, Kim said Republicans at the national, state, and local level "invested heavily in their outreach by bringing more field operators and regional directors" and brought in campaign operatives with a focus on outreach to ethnic communities. She said the effort helped her unseat incumbent Rep. Gil Cisneros (D).
"It was a matter of doing a better job of educating," she said. "We have done a better job of outreach to ethnic communities in their languages."
Steel, who also defeated an incumbent, said Republicans have increased their focus on messaging to Asian Americans, seeing them as persuadable voters.
"They've realized how important AAPI community is because there are not a lot identifying as Republicans or Democrats," Steel said.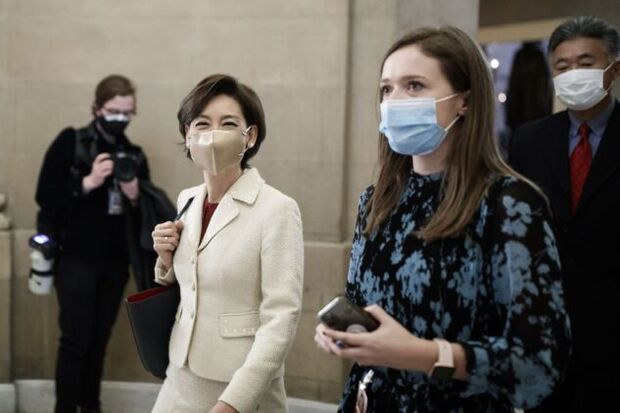 Asian American voters have shifted toward the Democratic Party in recent years, but about a third said they are independent or don't identify with a political party, according to AAPI Data, which publishes demographic and policy research.
A motivating factor for many of these voters in 2020 was the spike in anti-Asian American hate crimes after President Donald Trump and other Republicans blamed the Covid-19 pandemic on China. Republicans are hoping to make inroads this year with a focus on being tough on violent crime, which has increased in large urban areas.
Rep. Judy Chu (D-Calif.), chair of the Congressional Asian Pacific American Caucus, said "this trend toward voting Democratic is recent, it's a change that's occurred over the last decade or two. That's why our leaders need to be mindful that it could go the other way."
'Not Monolithic'
One of the biggest challenges for both parties in engaging with these voters is their diversity.
Takano said he's urged the DCCC to better understand that Asian Americans are "not monolithic" and learn how to tailor messages to different communities, such as a second generation Korean American as opposed to a first generation Vietnamese American or someone who immigrated from India.
In 2020, Democrats ran in-language advertisements in Chinese, Hindi, and Vietnamese. But merely translating a message into another language doesn't take into account cultural competency, tone, nuance, and dialect.
"We can't take a cookie cutter message and translate into different languages and say, 'Oh we reached out to AAPI voters,'" Yoo said. "That's not going to cut it."
Yoo said Democrats are also bolstering similar efforts they made in the last two elections by investing earlier, organizing earlier, and starting paid media earlier.
'Pennies on the Dollar'
Some Democratic-aligned groups are concerned it still won't be enough. Varun Nikore, executive director of the AAPI Victory Alliance, which works to build AAPI political power, said financial investment in Asian American voters during the 2020 election amounted to "pennies on the dollar and in the last quarter of the ball game." Data on which voters identify as Asian American and what ethnicity they are is "abysmal," he said.
Nikore also saw firsthand during the 2021 Virginia governor race, won by Glenn Youngkin (R), how Republicans are focusing on voters like him. Youngkin targeted voters with specific plans to reach different groups of Americans including those with Polynesians, central Asian, and Middle Eastern backgrounds, according to a Washington Post op-ed penned by Youngkin's top campaign strategists.
While exit polls showed that Asian Americans supported Terry McAuliffe (D) by a large margin, Nikore said he noticed the Republican outreach effort, including receiving mailers for Youngkin's campaign months before the election.
"The fact this happened so early and it was specific and targeted should frankly send a shudder down the side of the Democratic Party," he said.
To contact the reporter on this story: Emily Wilkins in Washington at ewilkins@bgov.com
To contact the editors responsible for this story: Bennett Roth at broth@bgov.com; Kyle Trygstad at ktrygstad@bloombergindustry.com