Democrats to Struggle Going 'Solo' on Main Parts of Highway Bill
Democrats consider bipartisan bill, reconciliation option
Highway, transit funds face Sept. 30 reauthorization deadline
Bloomberg Government subscribers get the stories like this first. Act now and gain unlimited access to everything you need to know. Learn more.
Democrats will need GOP support for central parts of an infrastructure package, which can't pass through expedited procedures, analysts warn.
After advancing the latest Covid-19 relief package (H.R. 1319) along party lines, the Biden administration and congressional Democrats have signaled they want to pursue bipartisan infrastructure legislation next. They haven't ruled out using reconciliation to do so. That option would let them pass a bill without Republican support in the Senate, but would limit it to provisions that affect revenue or spending.
"We're not going to try to go solo," Cedric Richmond, a senior adviser at the White House, said March 9 on Bloomberg Television. "We may have to do that, but that's not our first choice."
Tied to the infrastructure push, lawmakers are facing a Sept. 30 deadline to reauthorize highway, transit, and rail programs. Analysts say much of what Congress would do in a surface transportation reauthorization bill, including moving funds from the general fund to the Highway Trust Fund, can't be done under the current rules for budget reconciliation. That could make it harder to reauthorize highway programs at the same time as enacting an infrastructure package.
Reconciliation could make Biden's agenda "look like Swiss cheese at the end because of things that will and will not fit," said Tori Gorman, policy director for the Concord Coalition, a nonpartisan group that focuses on the federal budget.
U.S. Infrastructure Bill Could Pass Committee in May, Chief Says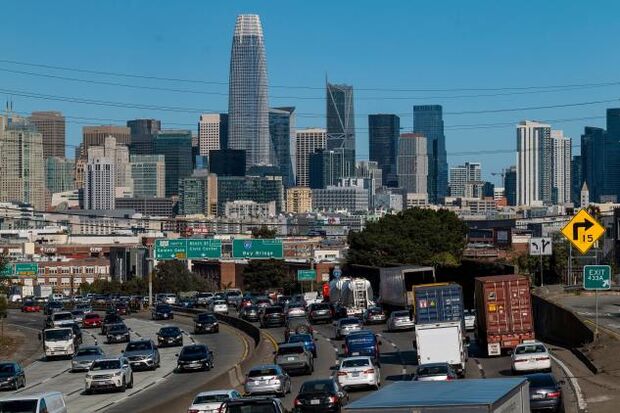 Weighing Options
Democratic lawmakers central to the effort are still weighing which path to pursue to get infrastructure through Congress.
Rep. Peter DeFazio (D-Ore.), chair of the House Transportation and Infrastructure Committee, said in an email that he is "not ready to take any option off the table at this point if it helps get a bill to the president's desk," but that he has "a hard time seeing how we do a bold piece of legislation within the strict confines of an arcane process."
Rep. David Price (D-N.C.), chair of the House Appropriations panel that oversees transportation, said he is working with the administration to determine the best path forward, including how to structure a major infrastructure package alongside surface transportation reauthorization.
His preference is to "move forward on a robust infrastructure stimulus plan that is as bipartisan as possible," he said in an email. "The reconciliation process comes with a host of restrictions and limitations, but it is a potential option," he added.
Neither lawmaker described how they would approach elements of the highway bill that can't be passed under reconciliation.
Fund Issues
The Senate's Byrd Rule, adopted in the 1980s, allows reconciliation to be used only for provisions that affect the deficit, and prohibits "extraneous" material if Senators enforce the rule, according to the Congressional Research Service. Analysts say the traditional way that surface transportation programs have been funded wouldn't comply with that rule.
The Highway Trust Fund, the main source of federal money for highways and transit, is facing insolvency. Last year's House infrastructure bill, which some Democrats plan to use as the template for this year, included a $145.3 billion transfer from the general fund to the Highway Trust Fund.
Battle Lines Drawn on Bipartisan Path for Infrastructure Package
That transfer likely wouldn't be possible in reconciliation because it wouldn't affect the deficit, said Jeff Davis, a senior fellow with the Eno Center for Transportation think tank. Outlays from the fund also wouldn't meet reconciliation requirements.
Davis said highway bills passed using regular order have been able to inject funding into the trust fund to keep it solvent. "But the downside is that everything in reconciliation has to be completely on the mandatory side of the scorecard, which means that you can't really do any spending from the trust fund the way it's currently set up, and you can't do any bailout of the trust fund because those bailouts don't score," he said.
But Congress could tweak the rate of the motor fuels tax—the main source of money for the Highway Trust Fund—under reconciliation since it would affect revenue, Davis said.
Senators may also have an opportunity to include specific scoring directions in the budget resolution that would lay the groundwork for the bill passed using reconciliation, the Concord Coalition's Gorman said.
BGOV Cheat Sheet: Budget Reconciliation
Large Project Hurdles
The Biden administration campaigned on a $2 trillion infrastructure package to help with economic recovery and tackle climate goals. Mandatory spending on infrastructure could pass through reconciliation, but would need to follow stricter guidelines and might still face hurdles depending on how the Senate Parliamentarian rules.
Legislation under the Byrd Rule can't increase the deficit beyond a designated time frame, such as 10 years, so spending on infrastructure would have to be temporary or have a corresponding offset, said Zach Moller, deputy director of the Economic Program at the think tank Third Way.
That restriction would make it difficult to fund larger projects like high-speed rail, which can take many years to develop and construct.
"That's the problem with high speed rail and things like that. There are not enough projects currently ready to go that could be complete within 10 years, so you'd have to make sure there was a tax increase in the bill that lasts after 2030," Davis, from the Eno Center, said.
Rail Industry Gets Boost From Buttigieg on Creating Trust Fund
Earmarks in Sight
Another issue complicating using reconciliation are earmarks, or funding for specific projects. House Democrats announced a new process to include earmarks in the highway bill last week. That practice has been banned for the last decade. If Republicans get on board, it could help win their support for surface transportation reauthorization.
Earmarks are unlikely to meet Senate reconciliation requirements. For example,the Senate Parliamentarian ruled that funding for a Bay Area Rapid Transit extension in the latest Covid-19 relief package didn't qualify for reconciliation.
"Specific projects that target specific companies and areas have been ruled as violations of the Byrd Rule in the past," said Marc Goldwein, senior vice president and senior policy director for the nonprofit Committee for a Responsible Federal Budget. "That's not a good sign that earmarks within a reconciliation bill will be successful."
To contact the reporter on this story: Lillianna Byington in Washington at lbyington@bloombergindustry.com
To contact the editor responsible for this story: Sarah Babbage at sbabbage@bgov.com
Stay informed with more news like this – from the largest team of reporters on Capitol Hill – subscribe to Bloomberg Government today. Learn more.