Democratic Ad Surge Targets GOP Senators' Virus Response (1)
Democratic outside groups add $10 million to August ad buy
GOP ads mostly avoid virus, focus on protests, abortion, guns
(Adds details on Senate race ads in 10th paragraph; a previous update corrected the spelling of the Wesleyan professor in the following paragraph.)
Democrats are using the stalemate in Washington over coronavirus relief in a series of new ads to paint Republican senators as ineffective advocates for their states.
Top Democratic outside groups added more than $10 million to their August advertising buys to hammer home the message. The surge represents an early start to the general election campaign, well before the final sprint kicks off after Labor Day.
"The crisis rages on," says the announcer in a recent Senate Majority PAC ad against Sen. Joni Ernst (R-Iowa). "Nurses, towns and schools all asking Joni Ernst for help. But she's not listening."
The Iowa ad was accompanied by a similar message against Sen. David Perdue (R-Ga.), among many other ads running this month.
The campaign comes as the pandemic, the economic fallout resulting from it, and President Donald Trump's low marks for his handling of it have altered the national political environment and put Democrats in position to win the White House and the Senate.
Groups aligned with both parties have been spending in various Senate races for months and had announced plans for a $160 million ad spending blitz starting in early September.
An August surge of about $30 million in additional spending from both sides comes after Republicans, seeking to shore up endangered incumbents, announced plans for an early start on their fall effort.
Coming This Fall to TVs in Iowa and Maine: Lots of Political Ads
These groups spent nearly $27 million on TV ads from Aug.1-17, nearly all in seven top battleground states, according to the firm Advertising Analytics, which tracks campaign ads.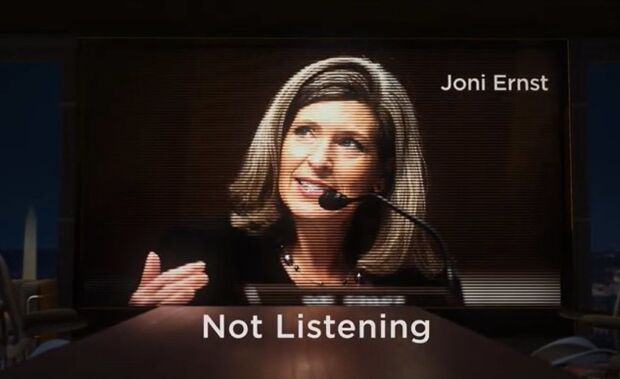 Health Care Top Issue
Health care is by far the top advertising issue for Democrats in Senate races, a Wesleyan study released Thursday found. Nearly half of all Democratic Senate ads are on the issue, with the pandemic specifically mentioned in more than a third of all ads.
A total of over 685,000 TV ads have aired in Senate races in the current election cycle through mid-August — a 170% increase over the comparable period in the 2016 cycle, the study found. Senate ad spending is up by 19%, with ad dollars stretching further during the pandemic than they did in the 2016 cycle.
"Health care is top of mind for most voters, especially during the pandemic," and Trump is widely viewed as not dealing with it effectively, said Erika Franklin Fowler, a government professor at Wesleyan University in Connecticut. She heads the Wesleyan Media Project, which has studied political advertising for more than a decade.
Despite widespread concern about the virus, Republicans avoid discussing the pandemic in all but 16% of their ads in Senate races, and less than a quarter of GOP ads mention health care.
The challenge for Trump and Republican senators is "trying to find other issues to talk about," Fowler said. GOP ads more frequently focus on taxes or social issues like protests, abortion and guns.
Ads Starting Early
Senate Leadership Fund, the super PAC aligned with Majority Leader Mitch McConnell (R-Ky.), announced $21 million in additional ad buys earlier this month, sparking the August skirmish.
Democrats responded with their barrage from the Senate Majority PAC, which is aligned with Senate Minority Leader Chuck Schumer (D-N.Y.), and its affiliated nonprofit, Duty and Honor, SMP spokesman Matt Corridoni said in a phone interview.
The additional spending is intended to "keep Senate Republicans on their heels as they are forced to defend their weak incumbents," J.B Poersch, the Democratic super PAC's president, said in announcing the new ads, which were reported by NBC News.
While Democratic ads focus on health care and the pandemic, Republican ads lob charges of deception and cronyism at Democratic Senate challengers in North Carolina and Montana.
"We're about to make this the hottest August on record for Democrat Senate candidates who have all sworn allegiance to Chuck Schumer's radical agenda," Steven Law said in announcing the new Republican ad spending this month. Law is president of the Senate Leadership PAC and its affiliated nonprofit, One Nation.
Republicans' strategic priority is clear. The groups' spending has focused solely on states with GOP incumbents.
Democrats need a net gain of at least three seats to take control of the Senate. Six Republican incumbents are in races rated as Toss-ups by the Cook Political Report, while Sen. Martha McSally's (R-Ariz.) race is rated as Lean Democratic.
Democratic media consultant Martha McKenna said she didn't think the "scattershot ads" targeting Democrats would help Republican senators hold onto their seats.
"They do not seem to have a clear message in any of these races," she said in an email, adding that it was hard to make "these ticky tack little arguments about their opponents while the country's economy is in freefall and we're all terrified of getting COVID."
To contact the reporter on this story: Kenneth P. Doyle in Washington at kdoyle@bgov.com
To contact the editors responsible for this story: Kyle Trygstad at ktrygstad@bgov.com; Bennett Roth at broth@bgov.com