Democrats Target GOP Incumbent on Trump Tax Breaks, Abortion
DSCC launched TV, digital ads on Wisconsin primary day
Part of $33 million media investment to unseat Johnson
Sen. Ron Johnson's votes for Trump-era tax breaks and opposition to abortion rights are featured in national Democrats' first general election ads against the Wisconsin Republican.
The Democratic Senatorial Campaign Committee launched a mix of TV and digital ads Tuesday, as Lt. Gov. Mandela Barnes was set to formally become the Democratic nominee.
They presage a high-stakes battle for the seat at the center of the Senate majority fight. Both parties view Johnson as the most vulnerable GOP incumbent as he seeks re-election in a state Joe Biden narrowly won in 2020.
The TV ad, produced in a style reminiscent of a 1980s commercial, says Johnson "delivered" a $215 million tax break for billionaires who gave him big campaign donations, while also benefiting personally from the tax break.
"Tired of Washington politicians not working for you?" the ad's announcer asks. "We've got a solution. With three easy payments of $1 million, Ron Johnson will work for you."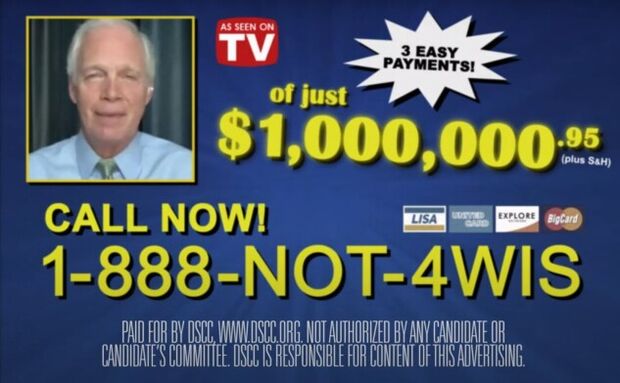 One digital ad also focuses on Johnson benefiting from the tax break. The other says Johnson "doesn't care" about the consequences of Wisconsinites losing the right to have an abortion.
The ads are part of previously announced $33 million investment in the race from the DSCC's independent expenditure arm. The National Republican Senatorial Committee and super PACs aligned with both parties have reserved hundreds of millions of dollars worth of advertising time in Wisconsin and several other Senate battleground states.
The NRSC has issued a series of statements criticizing Barnes on the economy, police funding, and "dark" campaign money since his path to the nomination was all but cleared as his top primary opponents dropped out. NRSC spokeswoman Lizzie Litzow said the committee has "and will continue to show voters in Wisconsin that Ron Johnson will continue to fight for them while Mandela Barnes will fight for a radical agenda that will hurt struggling Wisconsin families."
Read More: Wisconsin Primary Sets Up Marquee Battle for Control of US Senate
To contact the reporter on this story: Kenneth P. Doyle in Washington at kdoyle@bgov.com
To contact the editors responsible for this story: Kyle Trygstad at ktrygstad@bloombergindustry.com; Bennett Roth at broth@bgov.com