Democrats Sticking With Health-Care Push After Stinging Losses
Stakes grow as Georgia races may hold key to Senate control
Promises to save ACA, tackle Covid didn't generate 'blue wave'
Democrats are sticking to their health-care messaging even as that strategy didn't resonate as they had planned in last week's election.
House Democratic leaders leaned heavily on the agenda they believe earned them a majority two years ago: expanding the Affordable Care Act while deflecting the Trump administration's attempts to undercut it, and lowering drug prices. This year, they came up short of growing their House majority or capturing the Senate.
Democratic-aligned groups, amid a continuing coronavirus pandemic, say they're now retooling their health-care message in Georgia, where two races could determine control of the Senate in coming months. They'll be aided by the fact that a legal challenge to the ACA will reach the Supreme Court this week.
"Everything is at stake now," Laura Packard, co-chair of Health Care Voter, an advocacy organization associated with Democrats, said. "Congress can only pass fixes to save the ACA if Democrats have control."
Senate Control in Limbo as Two Georgia Races Go to Runoffs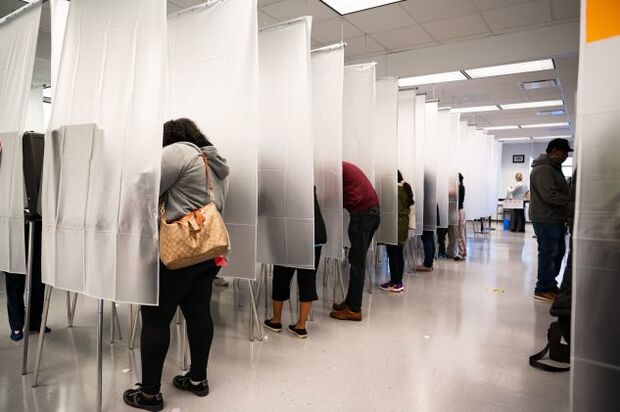 Joe Biden's presidential campaign emphasized the importance of preserving and expanding the ACA, the centerpiece of Barack Obama's presidency, which Biden worked to push through Congress as vice president.
Election observers, however, say health-care issues weren't as salient for many voters this election, even given the pandemic, and Republicans gained ground in key races by painting their opponents as extremists and generating substantial turnout.
"This election was more about people's identity than health care," Gregg Bloche, who was a health-care adviser to Obama's 2008 campaign and now teaches law at Georgetown University, said. "Democrats generally do better when it's about health care."
'Socialist Pitch'
In southern Florida, freshman Rep. Donna Shalala (D-Fla.), who headed the Department of Health and Human Services under the Clinton administration, lost her re-election bid to Maria Elvira Salazar, a former broadcast journalist, in one of the state's Latino strongholds.
Shalala's campaign typified many of the messages Democrats wanted to send this year. In an ad running in the weeks before election day, she warned Salazar wanted to overturn the ACA and "remove coverage of preexisting health conditions."
Salazar successfully likened Shalala's politics to those of oppressive regimes in Cuba in a race that could reverberate through the Democratic Party. Anyone looking to unseat Salazar in two years may need to treat lightly around proposals such as Medicare for All or even expanding the ACA, Bloche said.
"The success that the socialist pitch seemed to have in key areas, most notably south Florida, would seem to make it much more difficult to offer up any policy options that could get tarred with that socialism brand, however unfair that tarring may be," Bloche said.
Persuading Republicans
Several Democratic candidates with deep health-care backgrounds running in Republican strongholds lost their races when they couldn't win over conservatives voters as others did two years ago.
Cameron Webb, a doctor who treated coronavirus patients while running for office in a long-held Republican district in Virginia, said he tried to deliver a unifying message. He lost to Bob Good, a former Liberty University fundraiser and CitiFinancial regional manager.
Webb touted his work as a White House Fellow in both the Obama and Trump administrations, and talked about expanding coverage and dealing with the cost of health care. That message may not have hit home as well with voters dealing with the immediate problem of the Covid-19 pandemic, Webb said.
"Talking about broader system reform in the midst of an acute crisis is harder for people to wrap their heads around," Webb said.
Barbara Bollier, a former anesthesiologist, lost her Senate race against Rep. Roger Marshall (Kan.), one of Congress's longest-serving Republican doctors, after battles over how to respond to the coronavirus pandemic and whether Kansas should expand Medicaid.
Bollier's agenda centered around ideas Democrats hoped would win over Republicans and independents: directing Medicare to negotiate the price of medicine with drugmakers and ending "surprise" medical bills that hit insured patients with fees for out-of-network services.
Ben Meers, the executive director of the Kansas Democratic Party, said these issues are popular among Republicans in the state but didn't translate to a win for Bollier.
"People voted more on party lines than on how they poll on Medicaid expansion and the importance of health care access," he said. "We were kind of shocked to see that."
Democrats did succeed in unseating Republican Sens. Cory Gardner (Colo.) and Martha McSally (Ariz.) by focusing on their records on health issues, Packard said. Groups such as Health Care Voter spent years hammering Gardner for supporting repeal of the ACA, which was deeply unpopular in Colorado.
To contact the reporter on this story: Alex Ruoff in Washington at aruoff@bgov.com
To contact the editors responsible for this story: Sarah Babbage at sbabbage@bgov.com; Robin Meszoly at rmeszoly@bgov.com