Democrats Seek to Salvage Paths for Immigrants in Imperiled Bill
Senators angle to include protections if new deal is reached
Potential steps forward range from ambitious to downsized
Bloomberg Government subscribers get the stories like this first. Act now and gain unlimited access to everything you need to know. Learn more.
Democrats are trying to regroup on immigration changes in their sweeping tax and social spending bill, even as key proposals face enormous obstacles and the overall package teeters on collapse.
"We haven't given up," Sen. Catherine Cortez Masto (D-Nev.) said in an interview Wednesday. Democrats are actively discussing how to advance immigration measures, she said.
The House-passed provisions of the legislation (HR 5376) would offer parole status with temporary work authorization and protection from deportation for some undocumented immigrants, along with addressing chronic backlogs in the visa system.
In a December one-two punch, the Senate parliamentarian concluded the parole plan violated the chamber's rules for the budget reconciliation process Democrats are using to pursue their agenda without Republican support. Sen. Joe Manchin (D-W.Va.) dealt a bigger blow to the package days later when he announced he wouldn't support the House bill.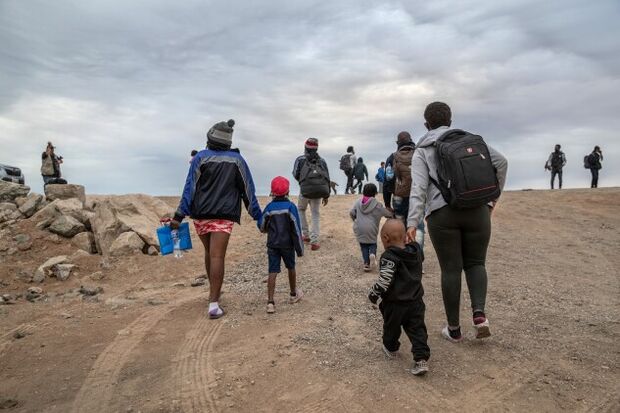 Senate Majority Leader Chuck Schumer (D-N.Y.) has vowed to push forward with a vote, and some lawmakers have floated options for a slimmer package to appease Manchin, whose vote is crucial. Advocates are working to ensure immigration measures are included in any future version.
Democrats Search for Path Forward on Biden's Economic Agenda
If a deal comes together, Democrats are poised to at least vote on disregarding the parliamentarian's advice and plowing ahead on rejected immigration provisions, according to a person familiar with the discussions.
Schumer and other key Democrats signaled support for that approach before Manchin's announcement last month. Many immigrants' rights advocates are ramping up pressure for senators to use a procedural maneuver to ignore the parliamentarian and revive earlier provisions that would provide a path to citizenship.
At the same time, other immigration advocates are crafting new language to try to pass muster with the Senate rules official, the person said. Those efforts are tentative for now, as Democratic leaders assess how to move forward on the package and turn their attention to voting rights legislation in the meantime. The fate of separate provisions that address backlogs in the legal immigration system also remains to be seen.
Manchin on Tuesday told reporters there were "no negotiations going on at this time" on the tax and spending package.
'Any and All Options'
Key lawmakers haven't offered specifics on their preferred path forward but say they're committed to delivering protections for immigrants.
"As we work to find a path forward on Build Back Better, I will continue working with my colleagues as we pursue any and all options that will provide much needed legal protections to hard-working undocumented immigrants who only want an opportunity to contribute to America's future," Sen. Bob Menendez (D-N.J.) said in a statement to Bloomberg Government.
Cortez Masto said she's spoken with Manchin "on several occasions" in the past month but didn't offer details. Sen. Ben Ray Luján (D-N.M) said Schumer and Sen. Dick Durbin (D-Ill.) are still working on the issue with him and the other Latino Democrats in the Senate: Cortez Masto, Menendez, and Sen. Alex Padilla (D-Calif.).
"We're all committed to fighting to get immigration reform included, and we're not going to stop pushing for that," Luján said in a hallway interview Wednesday. "The House-passed provisions of immigration reform are still where we are, being thoughtful and moving forward and continuing to show we can work together to get it done."
Risky Options
Even without the Manchin complication, Democrats would have to use dicey procedural maneuvers to move forward on either the House-passed immigration parole provisions or an earlier plan to provide a path to citizenship for some undocumented people.
The Senate parliamentarian concluded both were too policy-oriented for the reconciliation bill, which under the chamber's rules must contain primarily budget-related provisions. A coalition of immigrants' rights groups is trying to secure broad support among Democratic senators to bypass that advice and pursue the citizenship option, said Angélica Salas, executive director of the Coalition for Humane Immigrant Rights.
Manchin has said he's opposed to overruling the rules official, and other moderate Democrats may also be wary. Simply disregarding the parliamentarian's opinions wouldn't demand all Democrats' support up front but would require a united caucus in subsequent procedural votes.
Immigration Loss Leaves Democrats Eyeing Risky Alternatives
Democratic leaders signaled willingness to attempt the move after the parliamentarian's latest opinion but haven't addressed how Manchin's position on the House bill affects that calculus if a new deal is reached.
Any pursuit of a watered-down version of immigration parole or other relief, meanwhile, faces its own set of risks. There's no guarantee a proposal would win all Democrats' support or pass muster with the parliamentarian.
Rep. Adriano Espaillat (D-N.Y.) earlier this week told MSNBC he was sure "we can find a way to build consensus around what issues are troubling some of the members of the U.S. Senate."
A House Democratic aide said the White House and leaders in both chambers are consulting with key House lawmakers on how to advance immigration.
To contact the reporter on this story: Ellen M. Gilmer in Washington at egilmer@bloombergindustry.com
To contact the editors responsible for this story: Robin Meszoly at rmeszoly@bgov.com; Fawn Johnson at fjohnson@bloombergindustry.com
Stay informed with more news like this – from the largest team of reporters on Capitol Hill – subscribe to Bloomberg Government today. Learn more.