Democrats Seek Education Higher Ground to Counter GOP's Rhetoric
Party's campaign arm testing messages on critical race theory
Lawmakers to focus on social welfare initiatives for parents
House Democrats are preparing to battle an onslaught of education-related attacks from Republicans who intend to shine a spotlight on the issue in the midterm elections.
The Democratic Congressional Campaign Committee began testing education messages in battleground districts before Republican Glenn Youngkin was elected Virginia governor last week with the issue as his campaign centerpiece.
It found in polling that Democrats should appeal to parents through measures in the social welfare and tax bill (H.R. 5376) lawmakers are still working to pass, including monthly checks to parents, universal pre-kindergarten, and potentially paid family and medical leave. It also found that voters support needing to "teach the truth" of American history and honoring Americans who fought to make the country better, and that they identified with messages blaming Republicans for trying to divide Americans.
DCCC Chair Sean Patrick Maloney (D-N.Y.), who's tasked with leading the party's efforts to hold its slim majority next year, said in an interview that the committee's plans include aggressively confronting misinformation around issues such as critical race theory, which became a major talking point in Virginia despite not being taught in K-12 schools.
"You won't hear me say these lies and distortions the Republicans are telling don't do damage," Maloney said. "They do if we don't respond."
( Sign up for Ballots & Boundaries, a weekly check-in as states change voting laws and revise political districts.)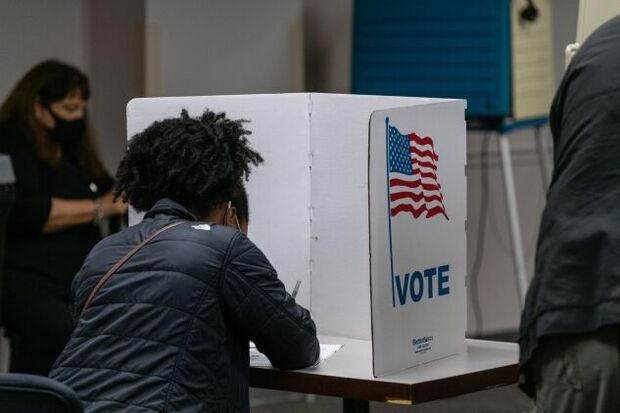 House Republicans have long promoted giving parents more control in education, including backing policies that could make it easier to send kids to private schools or be home schooled. They're doubling down after Youngkin's victory.
Youngkin energized voters with calls to combat critical race theory and support greater parental control over curriculum. Rep. Jim Banks (R-Ind.), chair of the Republican Study Committee, circulated a memo on election night saying "the concerns of parents need to be a tier 1 policy issue for Republicans." The next day, House Minority Leader Kevin McCarthy (R-Calif.) deemed the GOP "the party of education" and announced Republicans would be releasing a "Parents' Bill of Rights."
Michael McAdams, a spokesman for National Republican Congressional Committee, said in a statement that Republicans plan to "highlight how Democrats would rather cater to their teachers' union donors than let parents have a say in their children's education."
Counter Argument
Robert Blizzard, a GOP pollster who's studied voter preferences on education, said Covid-19 brought a national shift on education. When schools shuttered and classes went virtual, parents began to worry about their kids falling behind, Blizzard said. Focus groups and qualitative research in the last year and a half has shown parents feel local officials "bow to the demands of teachers unions over what was best for students and families," he said.
Molly Murphy, a Democratic pollster, said Republicans in Virginia did a "masterful job" tapping into parents' frustrations around educating their kids during the pandemic. If Democrats want to counter it, she said, they need to focus less on policies and more on a message that allows parents to feel heard.
"When you are perceived as dismissing or minimizing people's concerns, it sends a larger message," she said.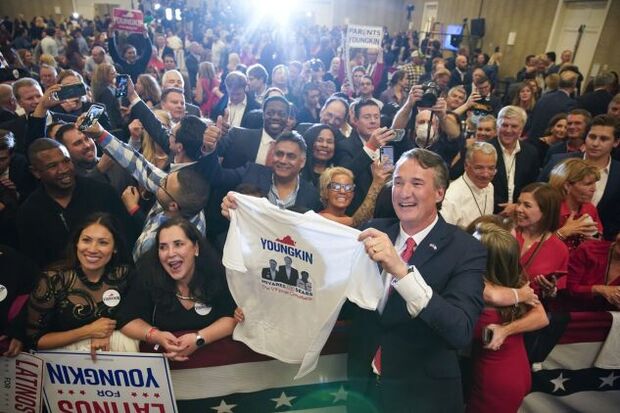 A key turning point in the Virginia governor's race came when Democratic nominee Terry McAuliffe said during a debate that parents shouldn't be telling schools what they should teach. Maloney called the comment "unhelpful," particularly as parents grappled with the effects of Covid-19 shutdowns on their kids' education.
Rep. Donald McEachin (D-Va.) said the gaffe proved costly.
"You cannot turn to a group of people who have had to homeschool their children for 18 months, who had to try to balance work and home life and school life for 18 months, and who at the end of the day are your bosses, and tell them their opinion on education doesn't matter," McEachin said.
Critical Race Theory
Democrats also hope to course correct the debate on teaching critical race theory, a decades-old concept about how racism is embedded in society that became a nationwide talking point earlier this year.
Rep. Jahana Hayes (D-Conn.), a former history teacher who traveled around the country in 2016 in her role as Teacher of the Year, said she's never encountered critical race theory, either as a teacher or otherwise. To combat misinformation, Hayes said lawmakers need to "quell their fears by talking about what it is and what it means."
"It's very clear we have pockets of the population that feel like we're not speaking directly to them," she said. "We just have to do a better job of that."
Rep. Colin Allred (D-Texas) said the $1.75 trillion social spending and tax measure Democrats intend to pass will have a bigger effect on voters' decision-making a year from now than issues such as critical race theory.
"If anyone wants to make that the main point of the midterms, that's fine," he said. "We'll keep talking about the economy, we'll keep talking about kitchen table issues."
To contact the reporter on this story: Emily Wilkins in Washington at ewilkins@bgov.com
To contact the editors responsible for this story: Kyle Trygstad at ktrygstad@bloombergindustry.com; Bennett Roth at broth@bgov.com