Democrats Savor Wisconsin Win to Blunt GOP on Abortion, Vote Map
Abortion case would be heard by a more liberal court
Election set a US record for spending in a judicial race
Bloomberg Government subscribers get the stories like this first. Act now and gain unlimited access to everything you need to know. Learn more.
A flip of the Wisconsin Supreme Court gives Democrats an opening to use legal challenges to try to undo decades of Republican policies—with abortion access and election law high on their wish list.
Throughout what became the most expensive judicial election in US history, the winner, Milwaukee trial court Judge Janet Protasiewicz, emphasized her support for abortion rights, called Wisconsin's political districts "rigged" for Republicans, and voiced concern about tightening voting rules.
Now Protasiewicz, who won about 55% of the vote against former Justice Daniel Kelly, will be a deciding voice when lawsuits on those topics get to the state's highest court.
"I expect the Wisconsin Supreme Court will be on political speed dial for the Democrats. I don't think anybody is confused about what will happen," said state Republican Party Chairman Brian Schimming.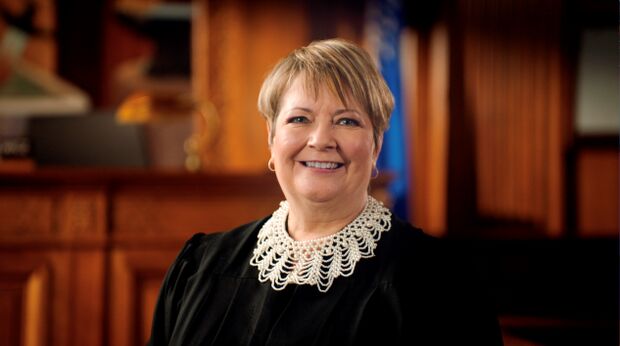 Protasiewicz and groups backing her spent nearly $21 million on advertising, according to the tracking firm AdImpact. That spending, plus $18 million spent by Kelly and his supporters, combined to set a judicial campaign record.
The pressure from the high-profile contest was evident in the concession speech of Kelly, who lost his bid to get back on the bench after being voted out in 2020. "I wish that in a circumstance like this, I would be able to concede to a worthy opponent," he told his backers. "But I do not have a worthy opponent to which I can concede."
Preparing to Sue
Wisconsin is a swing state. The last two presidential elections were decided there by less than a single percentage point; it has both a Republican and a Democrat in the US Senate; Gov. Tony Evers is a Democrat; and its state Assembly and Senate are dominated by Republicans, in part because of how GOP majorities configured the districts.
Lawsuits challenging Wisconsin's congressional and state legislative maps "will most definitely" be filed, said Wisconsin Common Cause Executive Director Jay Heck. In other states, courts have redrawn maps in response to successful litigation. Those who objected to the way the legislative majority handled redistricting are rooting for that to happen in Wisconsin, too.
"If Wisconsin has fair maps we would actually become a democracy, which is almost too much to imagine," Democratic Party Chair Ben Wikler said.
Abortion Litigation
A challenge to Wisconsin's 1849 criminal ban on abortion is making its way through the court system. The key question in the case is whether laws enacted over the last 170 years implicitly repealed the ban by regulating abortion as though it were legal within limits.
"We have been describing this as our 'Roe moment,'" Wisconsin Right to Life Legislative Director Gracie Skogman said.
From the opposite side of the abortion debate, Women's March encouraged abortion rights backers to vote because "We understand how courts work," said Rachel Carmona, the group's executive director. "The whole point of gutting Roe was to send the issue of abortion back to the states, and now that it's going back to the states, they're getting their clocks cleaned."
Not 'Common Sense'
In 2020, Wisconsin came within a single state Supreme Court vote of switching the state's electoral college votes from Joe Biden to Donald Trump. Other close decisions tightened election laws that could make a difference in future races for control of Congress.
As they prepare to ask the courts to evaluate political maps, lawyers will line up voter plaintiffs from areas where Democratic-leaning precincts were merged into Republican-dominated districts beginning in 2011, Heck said.
That strategy could maneuver around hurdles from prior lawsuits, such as the US Supreme Court Gill v. Whitford case brought by a University of Wisconsin Law School professor. William Whitford lived in Madison where he and other Democratic voters have an overwhelming majority, and the nation's high court found he didn't have legal standing to sue.
If the change of judicial perspective results in a mid-decade redistricting, Wisconsin's political lines could end up looking like Pennsylvania's, said Princeton University Professor Sam Wang, who directs the Princeton Gerrymandering Project.
In that state, Democrats dominate in urban areas, Republicans dominate in rural areas, and both parties contend for control of the statehouse. In the meantime, Wang said, "because Wisconsin's maps have a strong partisan tilt to them, it's possible for a modest majority of voters to translate into a veto-proof majority."
"You have something, which flies in the face of common sense, where half the voters can elect a veto-proof majority that then overrides the other half," he said.
In her victory speech, Protasiewicz said the result "shows that Wisconsinites believe in democracy and the democratic process."
Senate Supermajority
A Tuesday special election highlighted how close the GOP is to creating a veto-proof supermajority in the Wisconsin state Legislature.
Republican Dan Knodl, seeking a state Senate seat in a northern Milwaukee suburb, was leading in the unofficial count with nearly 51% of the vote. If his margin holds, it will seal a GOP supermajority in that chamber.
For complete dominance, Republicans would have to win a special election for Knodl's vacated Assembly seat, then flip two more districts in the 99-member state Assembly. Preventing that is one of the Democratic Legislative Campaign Committee's priorities for 2024, DLCC President Heather Williams said in a statement.
"We successfully defended the Governor's veto power in Wisconsin in 2020 and 2022," Williams said. "There's a path for us to block supermajorities even on the GOP's rigged playing field."
The majority party is ready to press its case at the ballot box, Republican State Leadership Committee spokesman Michael Joyce said in an email.
"While Democrats are focused on suing their way to victory, the RSLC and Republicans will continue to win state legislative races at the ballot box and defend our Republican majorities and supermajorities across the country, while going on offense and expanding the map in 2023 and beyond," he said.
To contact the reporter on this story: Alex Ebert in Madison, Wisconsin at aebert@bloombergindustry.com
To contact the editors responsible for this story: Katherine Rizzo at krizzo@bgov.com; Bill Swindell at bswindell@bloombergindustry.com
Stay informed with more news like this – from the largest team of reporters on Capitol Hill – subscribe to Bloomberg Government today. Learn more.