Democrats Rush to Confirm Biden Picks as Year-End Deadline Looms
GOP Holds Up Biden's Defense, Foreign Policy Nominees
Schumer warns of long days, weekends to overcome backlog
Bloomberg Government subscribers get the stories like this first. Act now and gain unlimited access to everything you need to know. Learn more.
Senate Majority Leader Chuck Schumer is employing a two-pronged strategy to confirm more of President Joe Biden's nominees before the end of the year, when many will have to be returned to the White House and renominated.
He's under increasing pressure to overcome the blockade Republicans have mounted on dozens of key defense and foreign policy positions, as well as noncontroversial positions, that are essential to the president carrying out his policy goals. If he doesn't, the Senate and White House must start anew on a long list of stalled picks for federal agencies and the judiciary.
In some cases, Schumer is readying for time-consuming floor debate and votes to fill priority posts. With others, he's begun quietly negotiating deals to help Republicans attain legislative goals in exchange for letting nominees go through quickly.
The push comes as Democrats must reserve limited floor time for debating Biden's signature tax and spending package and efforts to raise the federal debt limit. Schumer warned his colleagues to prepare for long hours before the holiday recess to ensure the Senate can complete its business, including filling out the administration.
"If our Republican colleagues continue their holds on various individuals, senators should prepare for the possibility of late nights and votes on the weekend," Schumer said as the Senate began work Monday. "The president deserves to have his team, and we will spend whatever time we need to ensure his nominees are confirmed."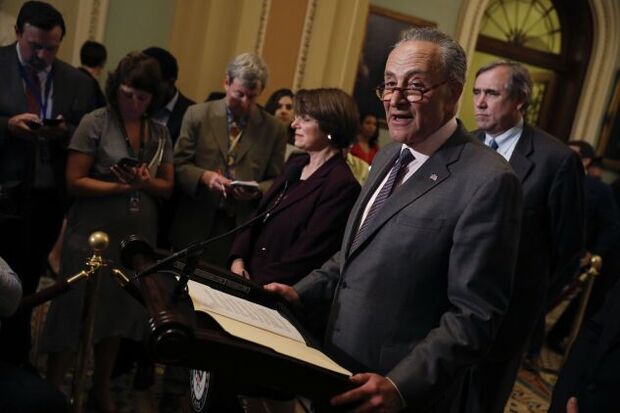 Schumer kicks off the effort Tuesday with votes on Biden's picks for the Federal Communications Commission, National Mediation Board, and U.S. Customs and Border Protection. Behind them are over 100 other nominees, including several for the federal courts.
"We'd encourage the Senate to move as quickly as possible to confirm these qualified nominees," said White House spokesman Chris Meagher, who directed questions about strategy to the Senate.
Amid the crush, Schumer said he's prioritizing picks that promote diversity. During last week's Judiciary hearing on the nominee to the U.S. District Court for the Southern District of New York, Schumer touted both the demographic and professional diversity brought to the bench by Dale Ho, a voting rights attorney and the son of Filipino immigrants. And speaking on the floor Monday, Schumer said FCC chair nominee Jessica Rosenworcel would break "another glass ceiling in our government" as the first woman to hold the position.
'Snail's Pace'
Critics said lawmakers' holds on Biden's choices for domestic agencies are likely to slow down the implementation of the administration's priorities, including the recently enacted bipartisan infrastructure package (Public Law 117-58). A blanket hold on State Department nominees like the one imposed by Sen. Ted Cruz (R-Texas) also hurts U.S. efforts to conduct effective diplomacy and push back on adversaries, they said.
"If the Republicans are going to object on a categorical basis to all of Biden's nominees, it is only with one motive and that is to diminish his ability to govern," Senate Majority Whip Dick Durbin (D-Ill.) said in an interview.
Max Stier, president and CEO of the Partnership for Public Service, said that while Biden's rate of nominations is on par with Presidents George W. Bush and Barack Obama, the pace of Senate confirmations now lags far behind. Defense has only 37% of its positions subject to Senate confirmation approved, Treasury has 28%, and Commerce 27%, according to statistics tracked by Stier's organization. Excluding ambassadors to countries, State is at 35%.
"There isn't an agency where you have a full complement of people in place," Stier said.
A recent Brookings analysis also said Biden's nominees are advancing at a "snail's pace." But Kathryn Dunn Tenpas said her analysis shows Biden's commitment to diversity represents a "historic breakthrough."
Tenpas said that at the 300-day mark women represent half of the 140 confirmed appointees, and 39% of the nominees are nonwhite.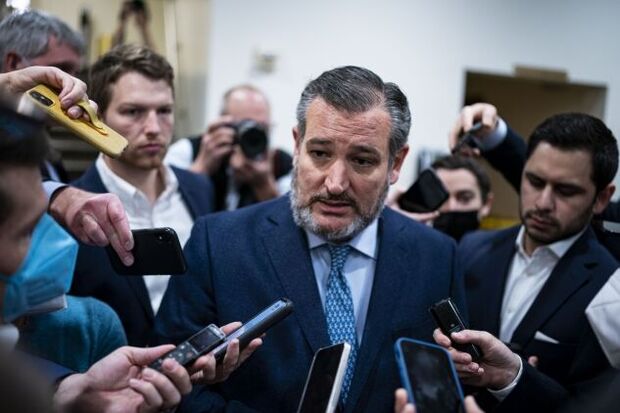 Inside a Hold
A Senate hold is an informal practice by which senators alert leaders to their intention to withhold consent to proceed to a confirmation vote. It takes a simple majority vote to overcome a hold, so with the vote of Vice President Kamala Harris Democrats can advance nominees—but only after debate.
Earlier this fall, Schumer set up votes to overcome Cruz's objections but abandoned the time-consuming process amid other priorities. Sen. Josh Hawley (R-Mo.) also blocked Defense picks.
Sen. Jim Risch(R-Idaho), ranking member on the Foreign Relations Committee, said in an interview that it's up to Schumer to decide how hard he'll push nominees if he's forced to undertake many time-consuming votes.
"He can pick any one of those that's out there on the floor and put it up for debate and a vote in the ordinary course of business, but he's got to make a decision as to what's more important—to get the ambassador in Lower Slobbovia or a tax bill," Risch said.
Democrats themselves have used holds to slow down some Biden nominees. Michigan Sens. Gary Peters and Debbie Stabenow temporarily blocked Frank Kendall's nomination to be Air Force secretary after a Michigan base was passed over for the F-35 international training center. Kendall was later confirmed.
Still, Sen. Jeanne Shaheen (D-N.H.), a senior Foreign Relations Committee member, said Republicans holding up 50 State nominees is unprecedented.
"I find it strange that at a time when we should be swiftly confirming our ambassadors so that we can engage with our allies and address challenges like China and Russia, that what we're hearing from our colleagues on the other side of the aisle is they want to hamstring our national security," Shaheen said after the GOP blocked Mark Gitenstein to be U.S. ambassador to the European Union.
Deal-Making
Schumer is negotiating potential deals that could sharply cut the number of nominees awaiting votes. For starters he promised Cruz a vote to sanction Russia for developing the Nord Stream 2 gas pipeline as part of the National Defense Authorization Act (H.R. 4350) rewrite that leaders also want finished by year's end.
Cruz said in an interview that he may let some nominees advance if he wins concessions.
"I've been negotiating with Democrats to drop some of the holds in exchange for a vote, and if the bill passes I'll drop additional holds," Cruz said. "I'm using them incrementally to incentivize the Senate acting to force Biden to change his disastrous foreign policy."
But Schumer also must deal with Sen. Rick Scott (R-Fla.), chair of the National Republican Senatorial Committee, who said in an interview he recently put holds on all Transportation and Commerce nominees.
"We got a big supply chain problem, and I'm waiting for the secretary of Transportation and the secretary of Commerce to come testify and tell us how they're going to solve it," said Scott, who is making rising inflation a focus of GOP campaign messaging in 2022 races.
Schumer and Durbin, who chairs the Judiciary Committee, prioritized the confirmation of 28 federal judges this year and now have 13 more ready for confirmation. GOP opposition to those was expected, but Durbin said the party also is slow-walking many U.S. attorneys representing the Justice Department in Democratic-controlled states.
Stier said Biden picks not acted on by year's end may have to be returned to the White House and renominated in 2022.
Courtney Rozen in Washington also contributed to this story.
To contact the reporter on this story: Nancy Ognanovich in Washington at nognanov@bgov.com
To contact the editors responsible for this story: Bennett Roth at broth@bgov.com; Kyle Trygstad at ktrygstad@bloombergindustry.com
Stay informed with more news like this – from the largest team of reporters on Capitol Hill – subscribe to Bloomberg Government today. Learn more.