Democrats Road Test '24 Themes in Rhode Island Special Election
Self-funder remains on the ballot after 'suspending' campaign
Democrats view contest as bellwether for next year's elections
Bloomberg Government subscribers get the stories like this first. Act now and gain unlimited access to everything you need to know. Learn more.
Rhode Island has become a temporary Democratic Party laboratory testing which messages and messengers motivate the base.
The candidates running in the special Sept. 5 primary to replace ex-Rep. David Cicilline offer something for just about every variety of Democrat. Their pitches, policy stances, political styles, and personal backgrounds vary enough to provide insight into which of the party's power centers might have a leg up as they try to regain control of the House next year.
"It's a microcosm of the Democratic dilemma nationally," said Wendy Schiller, a political science professor at Brown University.
"This race can give us hints about the persistent battle in the Democratic Party between White very liberal progressives and candidates of color," she said. "Both types of candidates have been successful at attracting outside PAC money, which shows how interest groups can reinforce divisions within the party."
Key groups on Capitol Hill have weighed in.
The Congressional Hispanic Caucus' BOLD PAC, EMILY's List and the New Democrat Coalition Action Fund endorsed Lt. Gov. Sabina Matos.
Former Biden and Obama administration aide Gabe Amo has the backing of the Congressional Black Caucus, and Bernie Sanders headlined a rally for former state lawmaker, Aaron Regunberg, who has the endorsement of the Congressional Progressive Caucus. Regunberg's uncle, Rep. Brad Schneider (D-Ill.), is a member of the New Democrat Coalition.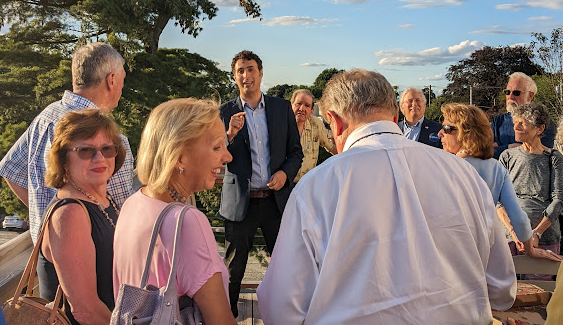 "There's a lot the party can learn from this economically and ethnically diverse urban-suburban district," said Schiller.
The district, home to waterfront mansions, giant jazz and folk festivals, the CVS corporate headquarters, and significant immigrant communities, has a population that's about 63% non-Hispanic White, according to the Census Bureaus 2021 American Community Survey, which found that languages other than English are spoken in about 27% of the district's homes.
About a quarter of the households were living on less than $35,000 a year, and another quarter had income exceeding $100,000, the survey estimated.
First-Generation Americans Vie to Fill Cicilline's House Seat
It's a crowded primary, with a dozen names on the ballot in a district so dominated by the Democratic Party that the primary is the key contest in choosing a successor to Cicilline (D), who resigned to run the Rhode Island Foundation. Several of the candidates — including Matos, Amo, and state Sen. Sandra Cano, who is originally from Colombia — have the chance to be ground-breakers as the first person of color or female Democrat to represent the state in Congress.
As they make their case to voters via TV, radio, and online ads, the candidates have focused on personal biographies, support for abortion rights, stricter gun laws and climate legislation.
Matos' campaign has tried to emphasize her journey as an immigrant from the Dominican Republic who learned English on the job at a jewelry factory, but it's also been on the defensive because of a controversy related to fraudulent signatures to get her on the ballot.
Matos said a vendor had produced the fraudulent signatures, including from deceased people. "I feel awful to know that this may have created any type of mistrust in the democratic process," she said during an interview in her Providence campaign headquarters.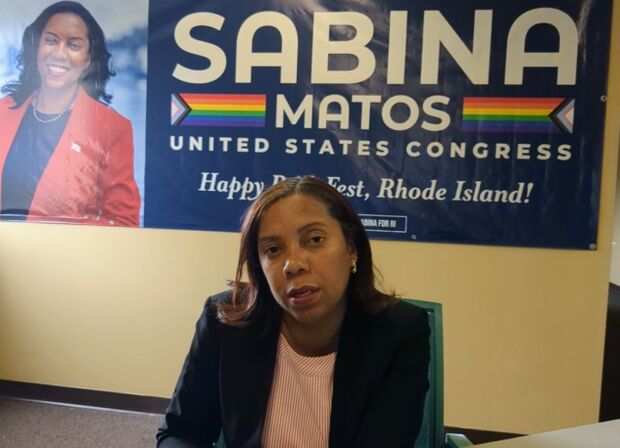 An opponent who had been aggressively criticizing Matos, meanwhile, says he's no longer in the race after drawing his own unwelcome attention over text messages sent to a student while teaching college.
Don Carlson, a wealthy investor attempting his first run for office, announced the suspension of his campaign after "extraordinary stress on my family and close friends." Early voting had already been underway for 11 days before he made that declaration, and Carlson's name remains on the ballot.
Among the other candidates, frequent themes include the importance of defending democracy and taking on "MAGA Republicans" — consistent with talking points put out by the national party committees.
Regunberg, in a debate this week, was the only candidate who said he would have voted "no" on this year's debt ceiling deal, so long as his wasn't the deciding vote (in which case he said he would have voted yes). Numerous candidates, including Matos and Amo, said Regunberg's position amounted to playing politics. A new super PAC, Committee for a Better Rhode Island, swiftly launched an ad attacking Regunberg on that topic.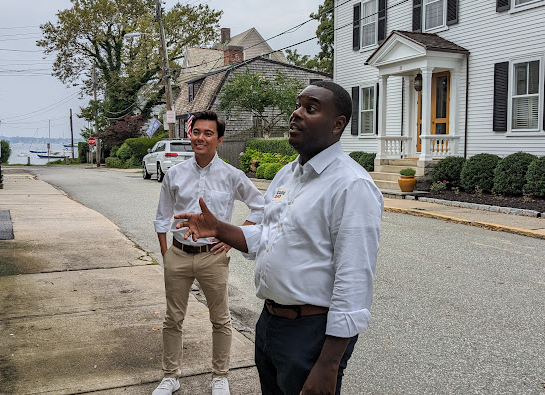 Amo, who hasn't held elective office, has been telling voters that his experience in Washington, combined with his upbringing in Pawtucket and work for state officials, would help make him effective in the House.
"I have been at the heights of government, working for President Biden," he said, while going to voters' homes in the Point neighborhood of Newport with Mayor Xaykham "Xay" Khamsyvoravong, who has endorsed Amo. "My experience working for two presidents and working for the governor here equips me with the ability to get things done, like, faster than the normal junior member of Congress."
Money
Even as a late-summer, off-year, low-turnout contest, the race has showcased Democrats' internal strife over the role of money in politics, as rhetoric about wanting to banish special interest dollars hits the reality of needing to gin up enough cash and TV ads to have a viable campaign.
Matos and Regunberg, a former state lawmaker who is white and Jewish, have attracted the most outside funding. The two have tangled over political money, super PACs and lobbyists' donations.
BOLD PAC and a super PAC tied to EMILY's List have helped fuel nearly $800,000 in outside support of Matos, while the Working Families Party PAC and others have invested more than $360,000 in support of Regunberg, so far, according to federal disclosures.
Progress Rhode Island, a super PAC supporting Regunberg, drew donations from his family members, including $125,000 from his father-in-law, and is the subject of a Federal Election Commission complaint from Matos' campaign. Regunberg's campaign, in response, has criticized the Matos campaign's donations from D.C. lobbyists whose firms represent banking and pharmaceutical clients.
(Keep up with congressional election trends and more with BGOV's Ballots & Boundaries newsletter.)
Regunberg used some of his debate time to criticize Amo for receiving donations from lobbyists, while Amo countered that Regunberg's six-figure family support through the super PAC was a "red flag."
"We need to get money out of our political system," Regunberg, who has degrees from Brown University and Harvard Law School, said to a crowd from whom he was soliciting campaign donations at a campaign event at the Ragged Island Brewing Co.
"It is obscene the way it works, but the fact is right now there is nothing that makes a bigger difference than making sure that we have the resources to pay these wonderful people who are doing this work," said Regunberg, who's running on an anticorporate platform that includes support for Medicare for all legislation.
"In special elections like this there's often a bit of a national magnifying glass on them," Regunberg said in an interview at the Portsmouth brewery. "It's an opportunity to show that Democrats understand that we face big problems right now, and big problems require big solutions."
To contact the reporter on this story: Kate Ackley at kackley@bloombergindustry.com
To contact the editors responsible for this story: George Cahlink at gcahlink@bloombergindustry.com; Katherine Rizzo at krizzo@bgov.com
Stay informed with more news like this – from the largest team of reporters on Capitol Hill – subscribe to Bloomberg Government today. Learn more.