Democrats Pressed to Finalize Deal; First Female FCC Head Tapped
Democratic lawmakers say a deal on their tax and social spending plan is imminent, but members are still negotiating issues such as bank data reporting and state and local tax breaks. Meanwhile, President Joe Biden tapped Jessica Rosenworcel to be the first woman to serve as permanent chair of the Federal Communications Commission today, teeing up the agency to begin work to fulfill Democratic priorities.
Here's what else Bloomberg Government is tracking today.
Pelosi Says Democrats at Decision Point on Biden's Economic Plan
Speaker Nancy Pelosi (D-Calif.) said today that Democrats are at a decision point on what will be included and what will be left out of their economic agenda in order to move forward with a sweeping social-spending package and a vote on a separate infrastructure bill as soon as this week.
"There's not that much more time," Pelosi said after meeting with House Democrats this morning. "We have to have decisions largely today." Pelosi said she still hoped to have votes on the tax and spending package and the infrastructure legislation by the end of the week, which would give President Joe Biden a political boost as he heads Thursday to summits with other world leaders in Europe.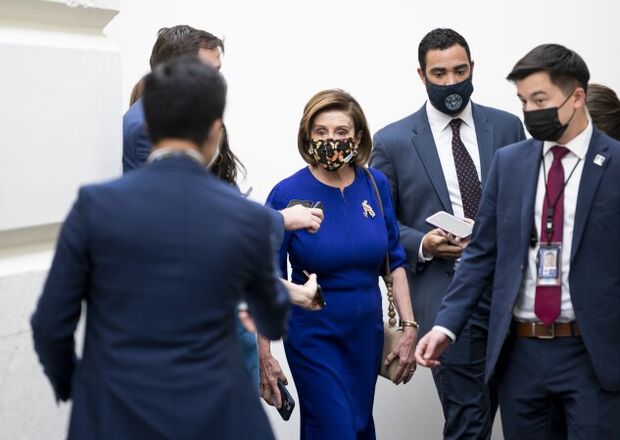 But that schedule appears unlikely given the differences that remain between House and Senate Democrats on some key issues—including taxes, healthcare and measures to address climate change, and considering the complexity of the legislation. Progressive Democrats are continuing to insist that they won't vote on the infrastructure bill without a firm deal on the larger package.
During the meeting with House Democrats, Pelosi said the party should embrace the compromise tax and spending plan carrying much of Biden's agenda even though it will be substantially less than the $3.5 trillion originally envisioned, according to lawmakers. Pelosi's message was "this is not going to be fun. It's not going to be everything we wanted but it's going to be bigger than what we could have imagined a few years ago," Rep. Dan Kildee (D-Mich.) said after the meeting.
Democrats have been inching toward an agreement on a version of the spending plan that can pass Congress with their razor-thin majorities. Two Senate Democrats, Joe Manchin (W.Va.) and Kyrsten Sinema (Ariz.), have been insisting that the package shrink. Their votes are pivotal in the 50-50 Senate.
Manchin today indicated that he may be willing to raise his limit on the overall price tag from $1.5 trillion, which he has held to since the summer. But he then later said he doesn't see the price tag rising to the roughly $2 trillion that Biden has suggested would be the final compromise figure. "I'm fighting for 1.5, and I'm trying to see if we're going to get a piece of legislation," Manchin said today. "We know the outline. But until you see the text it's hard to make a final decision." Billy House, Laura Davison and Laura Litvan have more.
Democrats Speed Up Climate Talks Pre-Summit: Talks over the climate provisions in the Democrats' spending bill have accelerated and are focused on a slew of measures that could replicate the emissions reductions of a clean energy plan dropped from the draft measure. The new proposals would expand grants and loans in the agriculture and industrial sectors to help them shift to clean energy providers with fewer emissions, according to a senior Biden administration official who requested anonymity to share the plans.
The White House discussed the proposals yesterday with leaders of environmental and justice groups, according to the official. The new strategies appear to rely on incentives to encourage clean energy use rather than penalties for failing to make the transition, which could help win over Manchin who holds a swing vote. Read more from Ari Natter.
Drug Price Caps Will Extend to Private Plans, Wyden Says: Caps on drug price increases will extend to private, employer-sponsored insurance plans in Democrats' legislation, Senate Finance Chairman Ron Wyden (D-Ore.) said. Democrats want to require drugmakers that increase prices faster than inflation to pay back that excess amount to the government. Democrats previously wavered on whether major parts of their drug pricing legislation could apply to private plans, fearing a challenge on procedural grounds, but Finance Committee staff have written the provision to survive Senate parliamentarian challenge, Wyden said, Alex Ruoff reports.
Medicaid Gap Compromise Sought: Two senators who support expanding Medicaid in a dozen holdout states signaled today they're working on a deal with detractors. Sens. Raphael Warnock (D-Ga.) and Jon Ossoff (D-Ga.) said they're meeting regularly with Manchin and other Democrats who oppose creating a federal Medicaid-like program in the 12 states that have declined to expand their low-income health programs to people just above the federal poverty level. Manchin said Monday he doesn't support the Medicaid language proposed so far. Read more from Alex Ruoff.
Retail Lobby Sends S.O.S. on Supply-Chain: The U.S.'s biggest retail lobby pressed Congress to pass the infrastructure package and update shipping and trucking laws to ease supply chain woes that are raising prices and causing shortages. Congress "can help retailers keep store shelves stocked and address some of the issues plaguing supply chains by acting on a few pieces of critical legislation," the National Retail Federation—which represents both mom-and-pop stores and chain behemoths—said today. Ana Monteiro have more.
Happening on the Hill
YouTube, TikTok, Snap Seek Distance from Facebook: Social media companies YouTube, TikTok and Snap sought to distance themselves before lawmakers today from the backlash facing rival Facebook, emphasizing they have established privacy protections for kids and teens on their platforms. "Being different from Facebook is not a defense," Sen. Richard Blumenthal (D-Conn.) said in his opening remarks. "What we want is not a race to the bottom, but really a race to the top." Read more from Rebecca Kern and Anna Edgerton.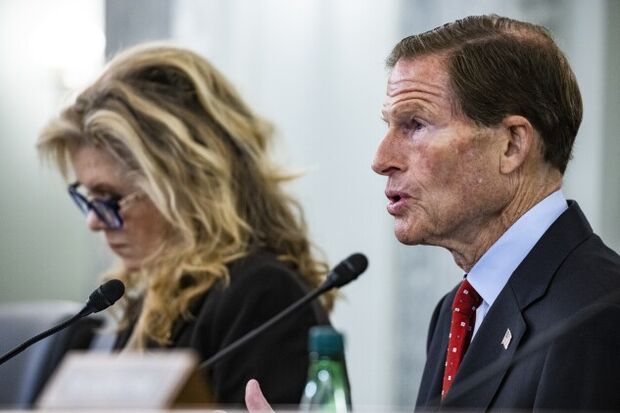 Jobless-Aid Pick Tied in Committee: A Senate panel deadlocked along party lines on the president's pick to run the U.S. Department of Labor's largest subagency, which oversees the federal-state unemployment insurance system. The Senate Health, Education, Labor and Pensions Committee voted 11-11 today on José Javier Rodríguez to head the Employment and Training Administration, as Republicans used the session to attack Democrats' sweeping climate and social spending package. Read more from Ben Penn.
WTO Nominee Wants to Restore Appellate-Body Function: Biden's nominee to the World Trade Organization, Maria Pagan, told the Senate Finance Committee today said she will work to "restore" the institution's defunct appellate body, which previously had the final say in trade disputes that affected billions of dollars in international commerce. The Trump administration paralyzed the WTO appellate body in December 2019 when it blocked all new appointments to the seven-member panel, saying it had overstepped its mandate. Read more from Bryce Baschuk.
Brown Sees Biden Unveiling 'Slate' of Fed Picks: Senate Banking Chairman Sherrod Brown (D-Ohio) said he expects Biden will release a combination of nominations to the board of the Federal Reserve at the time he unveils his decision on the central bank chair. Bown declined to specify whether he wants Fed Chair Jerome Powell nominated for a second term, saying it's Biden's decision to make. Asked about the recent revelations that some top Fed officials engaged in financial trading last year amid pandemic measure rollouts, Brown said "I assume probably we will" hold hearings on the matter. Read more from Steven T. Dennis and Megan Howard.
ISIS-K, al-Qaeda Could Plan Terrorist Attacks Abroad in a Year: Intelligence assessments indicate ISIS-K and al-Qaeda in Afghanistan intend to conduct external operations, potentially against the U.S., a Pentagon official warned Congress. ISIS-K, the Islamic State group's Afghanistan affiliate, could take six to 12 months to be able to conduct such attacks, Colin Kahl, under secretary of Defense for policy, told the Senate Armed Services Committee. Kahl also told the panel that fewer than 500 American citizens remain in Afghanistan, but about 240 of them don't want to leave the country, Roxana Tiron reports.
Senate GOP Seek to Block U.S. Consulate for Palestinians: A group of Senate Republicans including Bill Hagerty (R-Tenn.) introduced legislation seeking to block the Biden administration from reopening a U.S. consulate for Palestinians. "President Biden continues to push forward his inflammatory plan to establish a second mission in Israel's capital city of Jerusalem—one for the Israelis and a second one for the Palestinians—despite the fact that this plan violates the Jerusalem Embassy Act of 1995," Hagerty said in a statement, Se Young Lee reports.
Child Obesity Thwarts Military Recruitment: Childhood hunger and obesity that comes from malnutrition are a national security problem that's thwarting military recruitment, retired admirals and generals say. Congress needs to act, they wrote in a letter to lawmakers. Several authorities established under the child nutrition law expired more than five years ago. The programs still are in place and can't be improved without legislation authorizing new policies. Child obesity is the leading medical reason that 71% of young Americans can't serve in the U.S. military, said the letter from more than 300 retired military leaders. Megan U. Boyanton has more.
Defense & Foreign Affairs
Bigger Taiwan Role at UN Sought by Blinken: Secretary of State Antony Blinken in a statement today called for other countries to join the U.S. in pressing to give Taiwan a greater role at the United Nations, as tensions with China over the island's government rise. The government in Beijing, which considers the island part of its territory, has blocked Taiwan's participation in UN agencies such as the World Health Organization since Taiwanese President Tsai Ing-wen was elected in 2016. Read more from David Wainer.
China Seeks Upgrade of Ties With ASEAN: China wants to upgrade its relationship with the Association of Southeast Asian Nations, calling for a special summit next month that President Xi Jinping will attend as the world's second largest economy seeks to expand its reach in a region where the U.S. is also vying for influence. Chinese Premier Li Keqiang delivered the proposal at the ASEAN-China summit in Brunei today, Singapore Prime Minister Lee Hsien Loong said in remarks delivered during the meeting. The proposal came hours ahead of a planned virtual meeting between Biden and ASEAN. Read more from Bloomberg News.
Suspected Russian Hackers Use Home Networks: When an elite team of Russian government hackers attempted to break into hundreds of intelligence targets this year, they used a clever tool to cover their tracks: the mobile and home computer networks of unsuspecting Americans, according to several cybersecurity experts. The hackers, who are believed to be working for Russia's Foreign Intelligence Service, leveraged what is known as "residential IP proxies" in order to gain access and evade detection, the experts said. Read more from William Turton.
U.S. Weighs More Economic Measures Against Sudan: The U.S. is weighing more economic measures on Sudan on top of suspending $700 million of aid as it tries to pressure the army into restoring democracy after Monday's takeover, National Security Advisor Jake Sullivan said. The North African nation, which was being ruled by a transitional civilian-military government, plunged into a new crisis this week, sparking protests and a crackdown that's claimed at least seven lives and threatens to derail Sudan's road to democracy after the 2019 ouster of long-time dictator Omar al-Bashir. Read more from Justin Sink.
Politics & Influence
'Democracy Under Threat' in Florida: Florida's election supervisors have a message for elected officials perpetuating lies about voting fraud: Stop it! "The Great American Experiment, our cherished democracy, is under threat," according to a memo from Florida Supervisors of Elections, whose membership is bipartisan. The "misinformation, disinformation, and malinformation" about the 2020 presidential vote undermines public trust in the electoral process and has led to threats against the people who run elections, according to the memo. Read more about redistricting and elections in Bloomberg Government's weekly newsletter Ballots & Boundaries.
Wyman Tapped for Biden Election Security Lead: The Biden administration today announced Washington Secretary of State Kim Wyman will join the Cybersecurity and Infrastructure Security Agency as its senior election security lead, according to a press release. Wyman was an outspoken critic against former President Donald Trump's allegations that the 2020 election was fraudulent. The move would allow Washington Gov. Jay Inslee (D) the ability to appoint her successor, Alex Ebert reports.
Around the Administration
Biden to Nominate Rosenworcel as First Female FCC Chair: Biden today announced he will nominate Jessica Rosenworcel, the acting leader of the Federal Communications Commission, to become the first woman to serve as permanent chair of the agency. Biden also announced his intent to nominate Gigi Sohn, a former FCC official, to serve as a commissioner and give Democratic appointees a majority at the agency for the first time in his term.
The appointments, which need Senate approval, would break a partisan split on the commission and clear the way for the agency to fulfill Democratic priorities. The appointments, which need Senate approval, would break a partisan split on the commission and clear the way for the FCC to fulfill Democratic priorities. Those include restoring net neutrality rules that bar unfair practices by broadband providers, bolstering broadband subsidies and making mobile broadband networks more reliable. Read more from Todd Shields.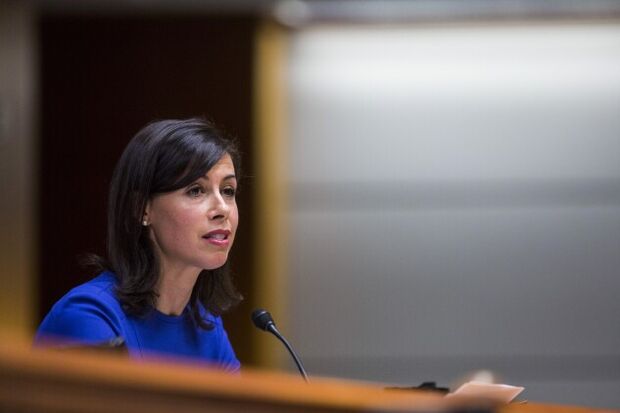 FCC Revokes China Telecom's Permission to Operate in U.S.: The U.S. Federal Communications Commission voted to revoke licenses held by China Telecom, and pledged more steps to purge the U.S. market of Chinese technology companies in the name of security. The agency voted 4-0 vote at its monthly meeting today to cancel the permission to operate in the U.S. held since 2002 by the unit of China Telecom, which is one of three leading communications providers in China. Read more from Todd Shields.
Vidal Tapped for Patent Office: The Biden administration tapped Winston & Strawn partner Kathi Vidal to serve as director of the U.S. Patent and Trademark Office. Vidal, if confirmed, would enter office following years as a litigator navigating leading venues for patent disputes like the U.S. Court of Appeals for the Federal Circuit, International Trade Commission, and PTO's Patent Trial and Appeal Board. Read more from Ian Lopez.
Trump 'Habitat' Rules to be Sidelined for Imperiled Species: The Interior Department is planning to toss out Trump-era Endangered Species Act regulations finalized in 2020, including the definition of the term "habitat," the agency said today. Regulations allowing areas to be excluded from a "critical habitat" designation because of its economic impact are being rescinded. Both regulations were finalized by the Trump administration in December 2020. Read more from Bobby Magill.
State Department Aims to Ease Visa Backlog: The U.S. will expand visa processing efforts to accommodate an expected spike in applications under a new policy that loosens restrictions on vaccinated travelers, officials said today. On Nov. 8, the U.S. will open borders to fully vaccinated people who've been tested within 72 hours. Visa delays mounted throughout the pandemic as consulates closed and workers stayed home, creating a backlog that could be exacerbated if a surge of people seek authorization to visit the U.S. under the new policy. Read more from Josh Wingrove.
DOJ Alleges Kaiser Permanente Defrauded Medicare: Members of Kaiser Permanente's health-care consortium defrauded Medicare out of about $1 billion by altering patient medical records to add diagnoses after the fact that either didn't exist or were unrelated to patient visits, the Department of Justice is alleging. Read more from Lydia Wheeler.
What Else to Know
Pfizer Says Lower Vaccine Dose May Also Work for Older Kids: Pfizer's lower-dose Covid-19 vaccine for kids under 12 appears to offer protection across the board, company officials said, and the drugmaker might look into offering lower doses for teens who now get the adult dose. A scientific advisory panel to the Food and Drug Administration is deliberating today on whether to recommend the vaccine for 5- to 11-year-olds. If cleared by regulators, it would make a Covid-19 vaccine available to all school-age children for the first time. Read more from Jeannie Baumann.
Abortion Laws Blocked in Oklahoma: Oklahoma is barred from enforcing multiple laws restricting abortion that were set to take effect Nov. 1, at least until their constitutionality can be decided, the state's top court said. Abortion providers won't be required to comply with a law mandating that doctors who perform abortions be board-certified obstetrician gynecologists. They also aren't subject at this time to two laws that affect pill-induced abortions, the Oklahoma Supreme Court said. Read more from Mary Anne Pazanowski.
Chip Lead Times Begin to Slow, Suggesting Shortages Have Peaked: Delivery times for chips in October posted their smallest gain in about nine months, signaling that the shortages that have punished a broad swath of industries may finally be easing. The lead times—a closely watched gap between when a semiconductor is ordered and when it's delivered—increased by one day to about 21.9 weeks this month compared with September, according to research by Susquehanna Financial Group. Read more from Ian King.
With assistance from Alex Ebert
To contact the reporter on this story: Michaela Ross in Washington at mross@bgov.com
To contact the editors responsible for this story: Brandon Lee at blee@bgov.com; Zachary Sherwood at zsherwood@bgov.com