Democrats Pressed on Immigration to Boost Hispanic Vote in 2022
Immigration overhaul could energize key party constituency
Hispanic voters' top issues also include economy, health care
Democrats are under pressure to find an immigration proposal that conforms with Senate budget rules ahead of a midterm election in which the party must motivate Hispanic voters to turn out.
Party leaders are working on a new plan to bring before the Senate Parliamentarian Elizabeth MacDonough after she issued an opinion that the previous proposal to grant a pathway to citizenship to "Dreamers," essential workers, and those with temporary protected status was a policy change, rather than a budgetary one and couldn't be included in the massive social spending package. Democrats have looked to insert the immigration provisions into the budget reconciliation because that legislation only requires a simple majority vote in the Senate.
Energizing Hispanic voters is crucial in 2022 for Democrats who hold the narrowest of margins in the House and Senate. While Hispanics helped Democrats win the White House and Senate and retain the House in 2020, a sizable segment of voters in Florida and along the Texas border supported former President Donald Trump and contributed to the loss of Democratic House seats.
Passing pieces of an immigration overhaul could help sway those voters to support the Democratic Party, said Rep. Ruben Gallego, chair of BOLD PAC, the Congressional Hispanic Caucus' campaign arm.
"I bring up every year that we're slipping with Latino males who are becoming more and more cynical about the Democratic brand," Gallego said. "The only thing they actually favor Democrats for is comprehensive immigration reform."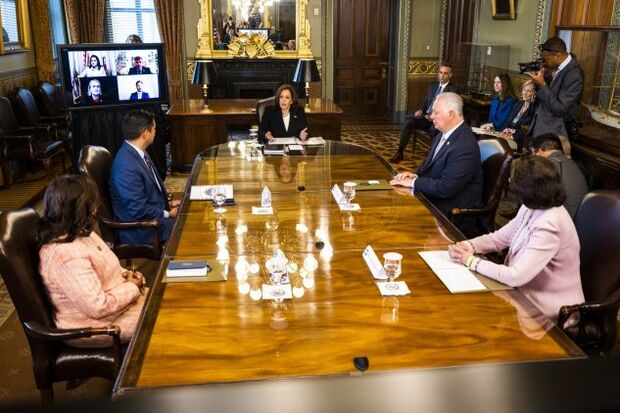 Sen. Catherine Cortez Masto (D-Nev.), who is up for re-election, said immigration changes are particularly important in her state, where Hispanics make up 28% of the population.
"I can only tell you in my state this is the thing that I hear about that is important to really focus on, and rightfully so," she said in an interview.
Senate and House Democrats running in some of the most competitive races in Arizona, Georgia, and Texas have sizable constituencies of immigrants, including Dreamers — individuals brought to the country as children — who face deportation and in many cases have been put more at risk during the Covid-19 crisis due to their work in health care and as first responders.
In Georgia, a swing state where the election of Sens. Raphael Warnock (D) and Jon Ossoff (D) handed Democrats the Senate majority this year, Hispanic voters are becoming an increasingly important part of the electorate.
Growing Influence
Amy Steigerwalt, a political scientist at Georgia State University, said many voters are probably not following the arcane budget reconciliation process. But she said the immigration issue may become more significant to Hispanic voters as the 2022 election draws closer and Warnock is on the ballot again.
Steigerwalt said Georgia now has the 10th highest concentration of Hispanics in the country. The group also has growing influence in the Atlanta suburban district of Rep. Carolyn Bourdeaux (D-Ga.), who flipped the seat in 2020.
Steigerwalt said Democrats' handling of immigration policy could become particularly relevant for candidates during next year's primary season. "Is that going to be an issue that they get primaried on?" Steigerwalt said. "Is it going to be something where they're not able to turn out voters because they're disaffected because between September and next November they don't do anything? That's going to be the real question."
Former Texas state Rep. Jason Villalba (R), CEO of the Texas Hispanic Policy Foundation, also said most voters aren't paying much attention to the current budget fight in Congress, so they don't understand how close Democrats are to passing a path to citizenship for Dreamers and others.
"I don't think anyone is on the edge of their seats in the Hispanic community anticipating that this is going to happen," he said. But, if it does, "the political points to be scored among Hispanics for taking such a courageous position would be tremendous."
Mario E. Diaz, a Democratic political strategist in Phoenix, said the parliamentarian's decision was disappointing, but from a Hispanic perspective it is significant that Senate Democrats haven't given up on an immigration overhaul.
"Latinos know that Democrats have been at the forefront of advocating for immigration reform," he said.
Diverse Interests
While including a path to citizenship would give Democrats a boost in the midterms, leaving it out could have a minimal effect, argue some lawmakers. They say the diverse subset of the electorate tends to prioritize issues such as health care, jobs, and higher education over immigration changes. The top issues among Hispanic voters polled in the summer before the 2020 election were the economy, health care, and the Covid-19 outbreak, according to a national survey by the Pew Research Center.
Rep. Veronica Escobar (D-Texas) said in an interview that while she's working to get a path to citizenship in the reconciliation bill, it's not the top topic in her El Paso district. In her decade-plus of campaigning in districts along the Texas border, it's the economy, not immigration, that's the priority.
"It's a mistake for folks to assume it's the No. 1 issue for Latinos," she said.
Lawmakers are eyeing a backup immigration proposal to be presented to the parliamentarian that would update a section of the Immigration and Nationality Act and allow many undocumented individuals to apply for green cards and gain protection from deportation.
Reagan-Era Legal Immigration Path Eyed as Option for Democrats
Rep. Lou Correa(D-Calif.), who announced in June that he'll vote against reconciliation if it doesn't contain a pathway to citizenship, said this week he's "hoping against all hope" Democrats can find something the parliamentarian will accept. But he said his constituents are frustrated with the lack of action.
"There's always a more important priority," he said. "The biggest minority in the United States is at the end of their patience with both parties."
To contact the reporters on this story: Emily Wilkins in Washington at ewilkins@bgov.com; Nancy Ognanovich in Washington at nognanov@bgov.com
To contact the editor responsible for this story: Bennett Roth at broth@bgov.com