Democrats Point Finger at Major Food Companies for Higher Prices
Inflation rose 8.5% in July, with food prices up 10.9%
Economists say factors besides 'price gouging' at play
Bloomberg Government subscribers get the stories like this first. Act now and gain unlimited access to everything you need to know. Learn more.
Democrats are blaming major food producers for passing along inflation to consumers while recording profits — a strategy they hope can blunt the political impact of rising prices ahead of the midterm elections.
Their strategy was underlined in an analysis from left-leaning watchdog Accountable.US on Wednesday, which pointed to positive financial results for food companies including Sysco Corp., Kellogg Co., Starbucks Corp., Kraft Heinz Co., and Chipotle Mexican Grill Inc. in recent months. Those results came even as consumers faced food prices that climbed 10.9% compared to a year ago, the most since 1979, according to inflation figures released Wednesday.
The Accountable.US report was shared first with Bloomberg Government, and compiled by a group run by former staffers for progressive causes and lawmakers. It's meant to bolster Democratic arguments that consumers' pricing pain is the fault of profit-seeking corporations — not government spending, as Republicans have claimed.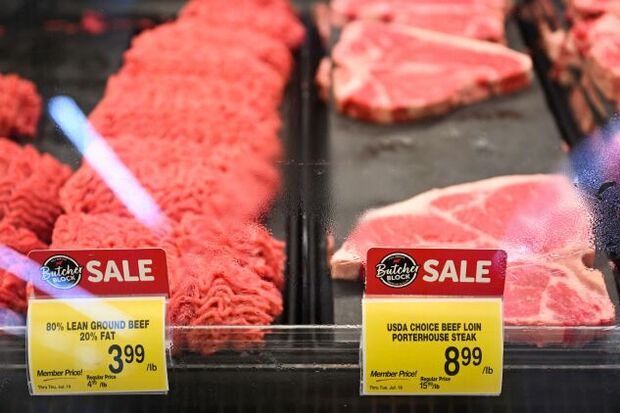 "The same corporations that trumpet massive new profits and giveaways to their wealthy investors suggest they somehow had no choice but to inflate prices so high," Accountable.US spokesperson Liz Zelnick said.
Economists on both sides of the aisle have cast doubt on the arguments, instead pointing to the myriad drivers of high inflation, including Russia's invasion of Ukraine and pandemic-related supply chain concerns — while disagreeing on the role of consolidation.
Still, Democratic lawmakers have leaned into arguments that they can curb inflation through antitrust policies — if only voters turn up for them in the midterms. And some polling shows such "greedflation" factors are a compelling explanation for voters — especially for Democrats, but also for some Republicans and independents.
"The Republican playbook, same as it's always been: cut taxes for the richest Americans, cut regulations on the giant businesses that cheat people, and slow down the spending on families that actually need some help," Sen. Elizabeth Warren (D-Mass.) said at a press conference last month urging Congress to pass antitrust measures such as S. 4214, a bill she sponsored that would make price gouging a federal crime.
"We have other ideas on the Democratic side and we started today with 'end the price-gouging,'" Warren said. "That's something we can do if voters will help us out in November."
Calls to Voters
Overall, Wednesday's data showed prices in July rose 8.5% from a year before, slowing down from the previous month but still above historical averages.
Read More: US Inflation Runs Cooler Than Forecast, Easing Pressure on Fed
Democrats seeking to target companies' price-gouging have focused in part on widespread consolidation in the food industry, where the production of goods from beef to dry pasta is controlled by a few big companies, exacerbating any price pressures.
"The only winners in this massive food system, which is making incredible profits, are the consolidated multinational companies that dominate this industry, and they've turned it into an oligopoly," said Sen. Cory Booker (D-N.J.).
Inflation has factored in as a significant drag on Democrats as they look to retain control of Congress. A Fox News poll conducted in July by Democratic firm Beacon Research and GOP outfit Shaw & Company Research found 31% — a plurality — of 1,000 registered voters blamed the Biden administration the most for high gasoline prices. Less than half that, or 14%, of people in the same survey pointed the finger at profiteering or price-gouging in the private sector.
But polling by left-leaning firms outlines the messaging push to divert blame to corporations. Progressive firm Data for Progress in May asked 1,146 likely voters a series of questions about large corporations before gauging them on those companies' impacts on inflation. Democrats were subsequently more inclined to blame inflation on corporations "taking advantage of the pandemic" to increase profit. The same survey showed more than half of independents and Republicans agreed with that argument.
"There is actually a fairly persuasive story that unites people, both living in cities and rural areas," Data for Progress senior analyst Ethan Winter said.
Earnings Evidence
Watchdog group Accountable.US points to executives' remarks on earnings calls as evidence that food companies are using inflation as an excuse to set prices higher than necessary.
The five companies mentioned didn't respond to requests for comment on the accusations.
"There's no better time than the current hyperinflationary environment to have a strategic pricing tool, and we're leveraging it to our advantage," Sysco CEO Kevin Hourican said on a May earnings call cited by the group. Sysco this week also reported higher earnings and sales for its fourth quarter.
Starbucks CEO Howard Schultz also said last week during a third-quarter earnings call that the company isn't seeing a significant reduction in customer spending due to inflation and praised its "pricing power." Accountable.US said the remarks, coupled with the company's record quarterly revenues of $8.2 billion, up 9% from the previous year, highlight how major food companies are profiting while consumers struggle higher prices.
"The food industry's hunger for record-high profits has come at the unreasonable expense of everyday families," said Zelnick, the group's spokesperson, urging the passage of Democrats' climate and tax bill (H.R. 5376). The House is scheduled to pass the partisan measure on Friday.
Once enacted, it would impose an excise tax on corporate stock buybacks — which Democrats say would help assuage rising prices for consumers by curbing "greedflation" from large companies.
Read More: Share Buyback Tax's Lag Could Spur Rush to Repurchase This Year
Role of 'Greedflation'
Democrats have sought to target corporations more explicitly with other legislation. In the House, vulnerable Democratic Rep. Abigail Spanberger (Va.) led a package of legislation billed the Lower Food and Fuel Costs Act (H.R. 7606), which the chamber passed in June.
The package would set up an investigator's office in the meat and poultry sector to weed out anticompetitive actions, which Spanberger argued would bring down prices for consumers.
Though seven Republican voted for the legislation, others in the party shot down the connection between market competition and inflation.
"The crisis we are facing cannot be mitigated with unfunded mandates, duplicative authorities, polarized agencies, and big government," said Rep. Glenn 'GT' Thompson (R-Pa.), the ranking member on the House Agriculture Committee.
Read More: Democrats' 'Greedflation' Claims Run Up Against Scant Evidence
Tyson Foods Inc., which wasn't mentioned in the Accountable.US report, threw a wrench in the "greedflation" argument with its lackluster earnings reported earlier this week. The biggest US meat company is one of the four major meatpackers in an industry under congressional scrutiny for allegations of anticompetitive behaviors, which all the packers have denied.
Tyson said in the earnings report that "inflationary market conditions" such as supply chain issues and labor costs hurt its quarterly performance.
Impact of Policies
"Inflation does not impact all sectors equally and at the same time" with some businesses getting a temporary bump from inflation, said Joel Griffith, a research fellow at the conservative Heritage Foundation. "But over time, this impacts not just consumers, it will impact businesses, as well."
He added that some food and energy companies are seeing higher profits because they're tied to commodity prices, which have been soaring over the past year.
The Democrats' party-line spending bill could cut inflation years down the line by making the US more of a leader in green energy technology and increasing taxes, Berkeley antitrust economist Aaron Edlin said — but not in the immediate future.
Though antitrust actions could lower prices somewhat in specific markets, Edlin, who served on the Council of Economic Advisers in the Clinton White House, said high global inflation isn't due to corporate consolidation. "It's not plausible that if we have much stricter antitrust enforcement over the next year, that's going to make a meaningful dent in inflation," he said.
Federal Reserve policies are the major cause of rising inflation, according to Christopher Thornberg, the founder of research group Beacon Economics. "It's ridiculous to claim that inflation is being driven by corporations," he said.
Still, Thornberg said Republicans aren't looking in the right places to lower prices, either. He said the GOP "opened up the spigot" of stimulus spending that contributed to rising prices.
"Every time you have a bout of inflation, everybody runs around trying to find scapegoats," Thornberg said. "And this is just one of those scapegoats."
To contact the reporters on this story: Maeve Sheehey in Washington at msheehey@bloombergindustry.com; Zach C. Cohen in Washington at zcohen@bloombergindustry.com
To contact the editors responsible for this story: Anna Yukhananov at ayukhananov@bloombergindustry.com; Loren Duggan at lduggan@bgov.com
Stay informed with more news like this – from the largest team of reporters on Capitol Hill – subscribe to Bloomberg Government today. Learn more.