Democrats Outraised Republicans in Nearly Every Top Senate Race
Democratic Senate candidates raised more campaign money than Republicans last quarter in nine of the 11 most competitive races, as the path to flip control of the chamber continued to widen.
Republicans held more in cash on hand at the end of June in six of these races, however, according to reports due Wednesday to the Federal Election Commission. Democrats need a net gain of at least three seats to take control of the chamber.
The fundraising numbers reflect "an unprecedented motivation to hold Republicans in Washington accountable," said Lauren Passalacqua, a spokeswoman for the Democratic Senatorial Campaign Committee. "Democrats are building momentum and raising the resources it will take to end Mitch McConnell's majority so we can move our country forward."
Democratic challengers raised more money than Republican incumbents from April through June in all five races rated as Toss-ups by the Cook Political Report: Arizona, Colorado, Maine, Montana and North Carolina. They had more cash heading into the final months of the campaign in two of them.
In Arizona, retired astronaut Mark Kelly (D) collected $12.8 million for the quarter and had $24 million on hand at the end of June — more than double the $11 million held by Sen. Martha McSally (R), who raised $9.3 million. In Montana, Gov. Steve Bullock (D) led Sen. Steve Daines (R), $7.6 million to $7.1 million, in cash on hand after entering the race in March.
"With control of the Senate hanging in the balance, these numbers should be a big wake-up call for any Republican donors still sitting on the sidelines," GOP strategist Brian Walsh said.
Leaning Races
Democrats also raised more money last quarter in races for three of four GOP-held seats Cook rates as Lean Republican. They include 2017 House candidate Jon Ossoff (D), who's challenging Sen. David Perdue (R-Ga.); real estate executive Theresa Greenfield (D), who's challenging Sen. Joni Ernst (R-Iowa); and state Sen. Barbara Bollier (D), who's running for the open seat in Kansas.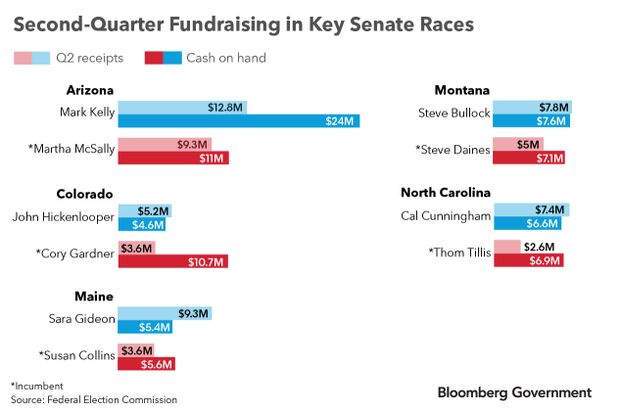 The ability to put those, along with the special election for the other seat in Georgia, in play provides Democrats with additional avenues to Senate control and could force the GOP to spread its resources to even more races in which it's playing defense.
The two Georgia Senate races are viewed as increasingly competitive. Majority Forward, the nonprofit arm of the Democratic-aligned Senate Majority PAC, announced July 9 it would sponsor $3 million worth of TV ads criticizing Perdue for his stance on health care coverage during the coronavirus pandemic. The move responded to plans by the National Republican Senatorial Committee to run more than $2 million worth of ads in the race beginning this month.
A fifth seat rated Lean Republican is held by a Democrat, Sen. Doug Jones of Alabama. He holds a significant cash advantage over former Auburn football coach Tommy Tuberville (R), who won a primary runoff Tuesday.
A bright spot for Republicans was in Michigan, where 2018 candidate John James (R) is running again, this time to unseat Sen. Gary Peters (D). James outraised Peters, $6.4 million to $5.2 million, though Peters led in cash on hand, $12 million to $9.3 million.
Democratic challengers in Kentucky, South Carolina, Mississippi and Alaska also showed surprising strength by outraising Republican senators in races viewed as safer for the GOP. McConnell (R-Ky.), the Senate majority leader, trailed Amy McGrath in money raised for the quarter and in cash on hand, the latest FEC reports showed.
Walsh said the Democratic advantages are "another reminder for the party broadly that while we've made some advances in online fundraising, the Democrats still have a big advantage that has to be addressed."
"Every Senator up in 2022 or 2024 has to be looking at these numbers and redoubling their efforts now while 2020 GOP candidates are trying to hold off this green wave," he said.
With assistance from Jodie Morris
To contact the reporter on this story: Kenneth P. Doyle in Washington at kdoyle@bgov.com
To contact the editors responsible for this story: Kyle Trygstad at ktrygstad@bgov.com; Bennett Roth at broth@bgov.com