Democrats' N.J. Defector Over Trump Risks Blowback in 2 Parties
Jeff Van Drew, the New Jersey freshman who bolted the Democratic Party after opposing President Donald Trump's impeachment, faces an uncertain political future — not assured of acceptance by Republican voters while risking backlash from his former party.
House party-switchers have a mixed electoral record, with some going on to win re-election while others facing primary defeats by voters unconvinced by their political conversion.
"We'll see how this goes, but I think he'll be welcomed with open arms" in the party, said Rep. Steve Stivers (R-Ohio), a former chairman of the National Republican Congressional Committee.
"The party that somebody's leaving has usually left them," Stivers said. "In this case the Democratic Party has continued to move further and further left. And the district Jeff Van Drew represents is a conservative district. He's a conservative Democrat. But there's really no such thing any more, as he found out."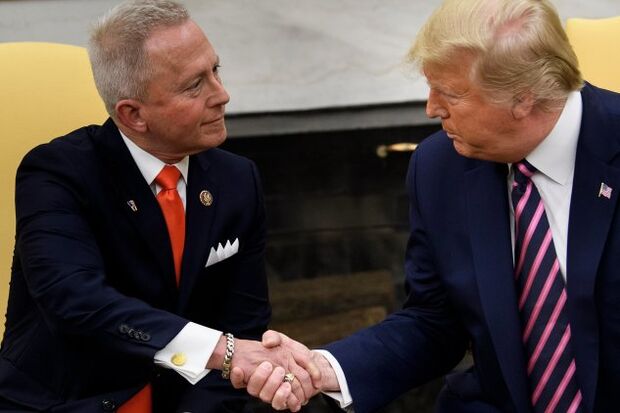 Van Drew, a former state senator elected in 2018 to a Republican-leaning southern New Jersey district that takes in Atlantic City, announced his party switch in an Oval Office meeting with Trump Dec. 19 — a day after Van Drew defied Democratic leaders by voting against both articles of impeachment against the president. Van Drew pledged his "undying support" to Trump, who endorsed him.
Even with presidential support, Van Drew can't expect a coronation in the June 2020 Republican primary against opponents who have been campaigning for months to unseat him.
'Switcheroo Van Drew'
"As a lifelong conservative Republican, I have a message for liberal Switcheroo Van Drew: Bring it on," Bob Patterson, one of the candidates running in the Republican primary for New Jersey's 2nd District, said in a Dec. 19 statement. Patterson criticized Van Drew as "pro-choice, pro-amnesty and anti-Trump."
In the 116th Congress, Van Drew has voted for many major Democratic bills that are anathema to most House Republicans, including measures seeking to overturn Trump's declaration of a "national emergency" on the southern border to justify funds for a barrier and requiring background checks on all gun purchases. He also voted for a $15-per-hour minimum wage and a prescription drug-pricing bill that would give Medicare the power to negotiate.
Van Drew sided with Democrats 82% of the time on votes that divided the two parties — the second-lowest score in the party after Collin Peterson (Minn.), according to a Bloomberg Government analysis. Van Drew and Peterson were the only Democrats who voted against both articles of impeachment against Trump.
At the same time, Van Drew has broken with Democratic leaders on enough votes to be viewed as somewhat of a party maverick. He voted "present" instead of for Nancy Pelosi (Calif.) in the election for speaker at the start of the 116th Congress. Van Drew was among the four Democrats who voted against finding Attorney General William Barr and Commerce Secretary Wilbur Ross in contempt of Congress.
History shows that changing parties is not a sure bet for re-election. Former Rep. Parker Griffith (Ala.), the last House member to switch from the Democratic Party to the Republican Party, was unseated in a 2010 GOP primary about five months after he changed his affiliation.
Sen. Arlen Specter (Pa.) switched from Republican to Democrat in April 2009 with support from President Barack Obama, though Specter lost the Democratic primary about 13 months later. Other party-switchers, including southern Democrats who joined the Republicans in the 1980s and 1990s, were easily re-elected.
Van Drew has a history of winning votes from Republicans and independents — he was elected 53%-45% in a district that voted for Trump in 2016 by 51%-46%.
Residual Appeal
"You would think he still has some residual appeal on the other side," Rep. Tom Cole (R-Okla.), another former NRCC chairman, said of Van Drew.
Cole said Van Drew would be welcomed into the Republican fold on Capitol Hill. "People are anxious to get to know him," he said. "We're happy to have him."
But Democratic officials in Washington and in New Jersey are not in a forgiving mood. The Democratic Congressional Campaign Committee called on Van Drew to return small-dollar campaign contributions.
House Energy and Commerce Committee Chairman Frank Pallone(D-N.J.) , who hired some Van Drew aides who quit, was critical of the switch. "It's unfortunate he has chosen to climb a career ladder that's doomed to collapse," Pallone said in a statement, according to the Philadelphia Inquirer.
Here's a look at the political histories of the most recent House members who changed their party affiliation during their congressional service:
Justin Amash, Michigan. (Republican to independent in 2019). Amash, a maverick libertarian conservative since coming to Congress in 2011, abandoned the GOP in July. He's maintained his strongly conservative voting record, though Amash notably sided with Democrats in supporting Trump's impeachment. Amash is currently seeking re-election as an independent in a Grand Rapids-area district that used to be solidly Republican but has become more politically competitive. Democrats and Republicans have serious candidates seeking the seat.
Parker Griffith, Alabama (Democrat to Republican in 2009). Like Van Drew, Griffith made an unusual shift from the majority-party Democrats to the minority-party Republicans at the end of his first year in the House. Griffith was defeated in the June 2010 Republican primary by Mo Brooks. Griffith returned to the Democratic Party in 2014 to run for governor. He won the party nomination but decisively lost the general election.
Rodney Alexander, Louisiana (Democrat to Republican in 2004). Alexander, who was first elected as a Democrat in a close 2002 race, switched parties on the final day of the Louisiana candidate filing period in August 2004 — and just two days after he originally filed to run for re-election as a Democrat. The last-minute reversal was controversial, but it blocked serious Democratic opposition from materializing against Alexander, who was easily re-elected that November as a Republican and four more times before resigning in 2013.
Ralph Hall, Texas (Democrat to Republican in 2004). First elected to Congress in 1980 as a conservative Democrat, Hall had voted frequently with Republicans years before he finally switched to the GOP in early 2004 — to the delight of his friend and Texas political ally, President George W. Bush. With Bush's support, and a voting record more in line with Republicans than Democrats, Hall easily won the 2004 Republican primary and continued to easily win re-election until 2014, when the nonagenarian Hall sought an 18th term and lost in a primary runoff to John Ratcliffe.
Virgil Goode, Virginia (Democrat to Independent in 2000, Independent to Republican in 2002). Goode left the Democratic Party midway through his second term representing a conservative district in southern Virginia. Goode caucused with the Republicans and was overwhelmingly re-elected as an independent in 2000, then formally joined the GOP in 2002. He was re-elected as a Republican three times before losing his seat in 2008 to Tom Perriello (D). Goode would change his political affiliation yet again: in 2012, he was the far-right Constitution Party's nominee for president and won about 122,000 votes (0.1%).
Michael Forbes, New York (Republican to Democratic in 1999). Forbes, elected to represent eastern Long Island in the national Republican upswing of 1994, switched to the Democrats in July 1999, less than a year after he voted for all four impeachment articles against President Bill Clinton. In 2000, Forbes lost a low-turnout Democratic primary to Regina Seltzer, a former librarian. The NRCC intervened in the Democratic primary to help sink Forbes.
With assistance from Emily Wilkins
To contact the reporter on this story: Greg Giroux in Washington at ggiroux@bgov.com
To contact the editors responsible for this story: Bennett Roth at broth@bgov.com; Kyle Trygstad at ktrygstad@bgov.com