Democrats' Infrastructure Message Clouded by Inflation Worries
Biden seeking to revive interest in public works package
Republicans seize on inflation as bigger campaign issue
Democrats are providing a split-picture campaign message over the spring recess, touting the benefits of the bipartisan infrastructure package and telling voters what they're doing to combat inflation.
When President Joe Biden signed the $550 billion infrastructure package into law (Public Law 117-58) last fall, lawmakers saw the local projects it funded as surefire political wins to promote on the campaign trail. But their efforts to make it a key election selling point have been overshadowed by rising consumer prices, which Republicans are seizing on in their bid to retake control of Congress.
As Biden and his cabinet secretaries hit the road this week to reinforce the benefits of infrastructure spending, Democrats in the tightest races are echoing that message while also addressing voters' economic concerns. Their ability to strike that balance could help determine whether Democrats can maintain the Senate majority in November amid midterm headwinds.
Sen. Raphael Warnock (D-Ga.), seeking a six-year term after winning a 2020 special election, is reminding voters what the measure means for Georgia, including the Port of Savannah, among the nation's top half-dozen ports. But in one of his first ads, Warnock uses a wall of shipyard containers as a backdrop to instead call for solutions to supply-chain issues.
"I don't think it's an either or," Warnock said in an interview at the Capitol earlier this month. "The bipartisan infrastructure bill in the long run is good news for jobs, for opportunity, and for energy. But immediately I'm focused on dealing with addressing rising costs. We need to hold oil and gas corporations accountable."
Sen. Mark Kelly (D-Ariz.), who's also running for a full term after winning a special election, highlights in a new ad his work to help complete neglected interstate highway projects, improve ports of entry, and more. He's also promoting plans to suspend the 18.3 cents per gallon federal gas tax funding infrastructure programs.
"They know there's funding there, and they know that we're going to get a lot of these problems fixed," Kelly said in an interview. "I know people don't focus on that. They focus on what else is the next problem. It's the rising cost of gasoline."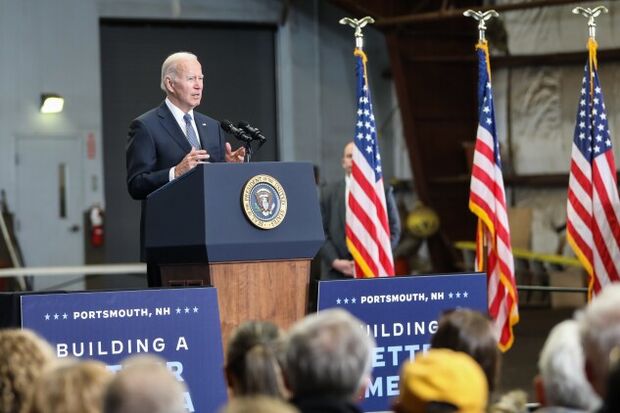 Republicans are applying political pressure on inflation and pointing a finger at Democrats. Minority Leader Mitch McConnell (R-Ky.), who voted for the infrastructure package, has called inflation the top issue of the midterms.
National Republican Senatorial Committee Chairman Rick Scott (R-Fla.) called it "the biggest issue," as it affects "every family in this country."
"I think they just feel like the Democrats know they're responsible and they're not fixing things," he said in an interview.
Democratic Push
Biden's latest push highlighting the law started Tuesday in New Hampshire, where Sen. Maggie Hassan (D) faces re-election. During a speech in Portsmouth, Biden described the "incredible opportunity" in implementing the new law.
"But we know that families are struggling with higher prices," Biden said.
Hassan announced this month some $45 million in grants generated by the infrastructure law, and, in remarks at the Biden event Tuesday, highlighted her working across the aisle to help pass the bipartisan bill. She also joined with Kelly and Warnock in backing the gas tax suspension (S. 3609) through year's end.
Cabinet officials simultaneously are touring rural states to talk up the infrastructure act's provisions, including broadband development funds.
Days after releasing an ad for his Senate campaign focused on the need to tackle inflation, Rep. Tim Ryan (D-Ohio) was in Youngstown on Tuesday with Sen. Sherrod Brown (D-Ohio) and EPA Administrator Michael Regan to tout how the infrastructure law will fund lead pipe replacements.
"We're pushing it across the board," Democratic Senatorial Campaign Committee Chair Gary Peters (D-Mich.) said. "Battleground states are places like Arizona that need to have infrastructure to keep up with the growth they're seeing. And places like Pennsylvania and Ohio where we need to make sure infrastructure is maintained and improved."
To contact the reporter on this story: Nancy Ognanovich in Washington at nognanov@bgov.com
To contact the editors responsible for this story: Bennett Roth at broth@bgov.com; Kyle Trygstad at ktrygstad@bloombergindustry.com