Democrats Help House Campaign Committee Chair in Tight Race (1)
Rep. Sean Patrick Maloney's N.Y. race ranked a toss-up
GOP super PAC bought $4 million in ads attacking Maloney
(Updates with Maloney comment at the end of the story. A previous version corrected the description of how his cash bail position was discussed in an ad.)
The House Democrats' campaign arm is shelling out funds to shore up its own chair, Rep. Sean Patrick Maloney (D-N.Y.), as his race tightens amid stiff Republican opposition.
The Democratic Congressional Campaign Committee will spend $605,000 in Maloney's Hudson Valley district on an ad buy attacking his opponent, Republican Assemblyman Mike Lawler as a "MAGA Extremist."
Republicans view Maloney as a prime target given his status helming the DCCC. The Congressional Leadership Fund, a super PAC aligned with House Minority Leader Kevin McCarthy (R-Calif.) launched a $4 million ad buy last week. The TV spot says Maloney supports ending cash bail and argues his stance would allow "violent criminals to get back on the street."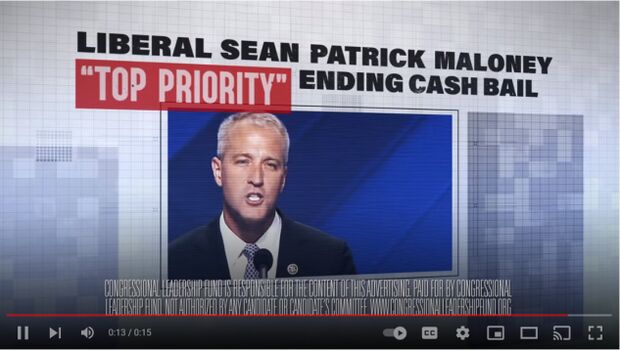 The Cook Political Report with Amy Walter on Monday moved its ranking of the race from "lean Democratic" to "toss-up." While President Joe Biden would've won the redrawn district by 10 points in 2020, Maloney, like many Democrats in competitive districts, has been hammered by Republicans on crime and economic issues.
Maloney previously said he wouldn't be a part of any decision on whether the DCCC would spend in his race. DCCC spokesman Chris Taylor confirmed that Maloney recused himself.
"As we have with every decision this cycle, we are making investments that ensure Democrats hold our House Majority," Taylor said in a statement.
National Republican Congressional Committee spokesperson Samantha Bullock said both the ratings change and spending were signs Maloney will ultimately lose his seat. The NRCC has spent $484,000 on ads in the race, according to AdImpact.
"In just a few weeks, Democrats will wonder how many seats Sean Patrick Maloney and the DCCC could have saved if they hadn't lit $600,000 on fire in his district," Bullock said in a statement.
Maloney hit back against the idea he would lose the race, noting his former district had supported Donald Trump and him.
"Republicans have spent millions against me and their numbers still say MAGA Mike Lawler is losing," he said in a statement, adding the Congressional Leadership Fund "can light another $4 million on fire and peddle open racism in an attempt to rescue their loser candidate — it won't work."
With assistance from Greg Giroux
To contact the reporter on this story: Emily Wilkins in Washington at ewilkins@bgov.com
To contact the editors responsible for this story: Bennett Roth at broth@bgov.com; Loren Duggan at lduggan@bgov.com