Democrats' Drug Bill in Jeopardy as Centrists Plot Alternatives
Democrats who reject price negotiation craft their own bills
Divide comes as party holds slim majorities in both chambers
Bloomberg Government subscribers get the stories like this first. Act now and gain unlimited access to everything you need to know. Learn more.
Moderate House Democrats are crafting alternatives to their party's signature drug pricing legislation because they're skeptical a bill to empower the government to negotiate with drugmakers can become law.
Two Democrats say they're preparing drug pricing bills aimed at garnering more support than one pushed by House leaders (H.R. 3) that would peg drug prices in the U.S. to those in foreign countries.
These lawmakers hope they can gather bipartisan support for redesigning Medicare to lower what seniors pay for medicines or penalize drugmakers for raising their prices—changes that could save Americans money at the pharmacy without having the government dictate the price of medicines.
"We want to come up with a way that we preserve jobs and American science," Rep. Scott Peters (D-Calif.) said in an interview. "That way we keep getting cures we need and we deliver them to consumers at a price that they can afford out of pocket."
BGOV OnPoint: Democrats Move Forward With Drug Pricing Bills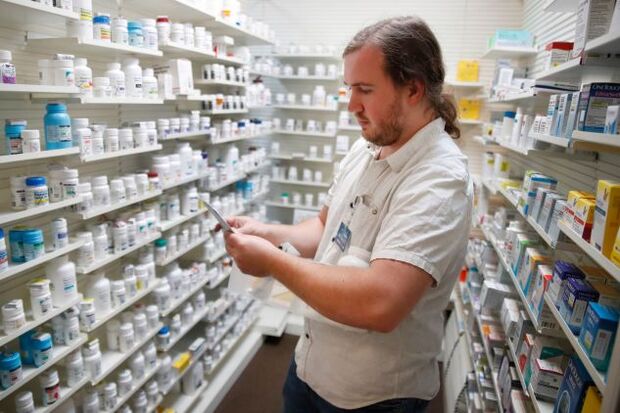 Party Divisions
Advocates fear Democrats could be splintering on the how to tackle drug prices when they hold only slim control of both chambers of Congress, limiting the chance of passing major legislation.
One advocacy group, Patients for Affordable Drugs Now, launched a seven-figure ad campaign last week aimed at more than 40 Democrats, including Peters, urging them to support H.R. 3. The legislation would empower the government to negotiate with drugmakers to lower the price of certain medicines to about 120% of their costs in Australia, Canada, France, Germany, Japan, and the U.K.
That bill was introduced this year by the heads of the three principal health committees in the House, and backed by Speaker Nancy Pelosi (D-Calif.).
Pelosi and other party leaders have said they want to attach their drug pricing bill to a tax and jobs package Democrats are likely to advance using budget reconciliation, a procedure that bypasses the need for Republican votes in the Senate. That would require Democrats to remain unified in the Senate, while they could only lose a few members in the House.
Sen. Ron Wyden (D-Ore.) said using the power of government to lower the cost of prescription drugs is the best way to reduce what Americans pay for medicines. The policy is widely opposed by Republicans in Congress and some in Wyden's own party, including Sen. Bob Menendez (D-N.J.), who represents a state with a major pharmaceutical industry.
"It doesn't pass the sniff test to say the government shouldn't use its power to negotiate on the price of drugs," Wyden, the top Democrat on the Senate Finance Committee, said in an interview.
The proposal is also key to Democrats' larger legislative package for budget reasons: the portions of H.R. 3 that allow drug price negotiation would lower government spending by $456 billion, according to the Congressional Budget Office—savings that could be used to offset other spending.
Drug Price Bill Savings Estimated at $195 Billion for Employers
New Ideas
Peters was part of a group of 10 Democrats that called on Pelosi not to pursue H.R. 3. earlier this month.
The group caught the attention of Sen. Chuck Grassley (R-Iowa), who is trying to garner support for a package of drug pricing reforms he put together last Congress with Wyden that would limit price increases on Medicare drugs to inflation, and cap what seniors on Medicare pay for medicine. Grassley said he offered to work with the 10 Democrats on the issue, but hasn't personally met with any of them.
Peters said he wants to first work with his House colleagues to design a drug pricing package similar to the Grassley-Wyden agreement. He said his concern is that H.R. 3 would harm development of new drugs by setting the prices too low.
"It's a lot better to have a cure that's very expensive, and try to figure out how to pay for it and deliver it to people—than not have a cure at all," Peters said.
Companies Seek Same Deal on Any Drug Prices Medicare Negotiates
Rep. Jake Auchincloss (D-Mass.) said he is also working on drug pricing bill to compete with H.R. 3. He said the drug price negotiation bill doesn't do enough to lower what seniors pay each month for medicines, or allow them to spread out those costs over the year.
"If we're going to do drug pricing legislation, we've got to lower prescription drug prices for senior citizens," he said in an interview.
Auchincloss said the government could cut health spending as much as H.R. 3 does by making Medicare a more responsible purchaser of medicines, changing how Medicare Advantage plans are paid, and cracking down on anti-competitive practices by pharmaceutical middlemen, known as pharmacy benefit managers. Auchincloss wants to deal with "coding intensity" in Medicare Advantage, which is run by private insurers which have some incentive to inflate how sick their enrollees are.
"At the end of day, what I want is to improve the drug pricing legislation that Democrats are putting forward," he said. "We have an opportunity to deliver great progress for lowering out of pocket costs for cures and for jobs, and I want to make sure we take full advantage of this moment."
To contact the reporter on this story: Alex Ruoff in Washington at aruoff@bgov.com
To contact the editors responsible for this story: Sarah Babbage at sbabbage@bgov.com; Anna Yukhananov at ayukhananov@bloombergindustry.com
Stay informed with more news like this – from the largest team of reporters on Capitol Hill – subscribe to Bloomberg Government today. Learn more.