Democrats Cave After Maryland Rejection: Ballots & Boundaries
Maryland lawmakers hastily redrew congressional district lines after a surprise court ruling killed a map that could have led to an all-Democratic delegation. A more Republican-friendly version is on track for passage later today.
It's a victory for the GOP because one district could make a big difference; with an overall net of just five seats in this year's elections, control of the U.S. House of Representatives would flip.
Of the states that haven't completed redistricting, Missouri's likely voting today; we're on override watch in Louisiana; a veto might be coming from New Hampshire; and Florida Gov. Ron DeSantis (R) delivered his promised veto today.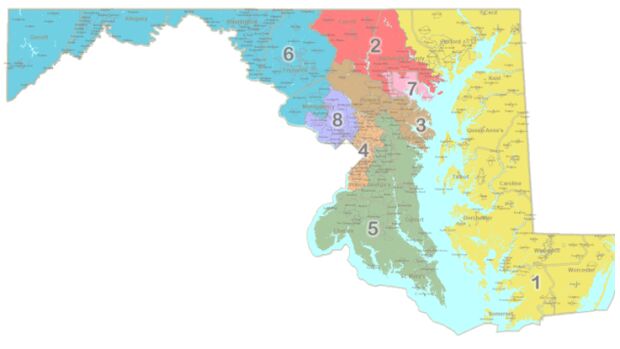 Maryland's new map proposal would restore a Republican-friendly district for Rep. Andy Harris, the only Republican in Maryland's eight-member House delegation. It would reduce the Democratic leanings of Rep. David Trone's 6th District, which runs from Montgomery County near Washington to the western edge of the state.
The other six districts, including the 5th District of Majority Leader Steny Hoyer, would remain overwhelmingly Democratic.
Republicans said the new option still isn't fair enough. "This map, while prettier, is nothing more than lipstick on a pig," state Sen. Michael Hough said during today's floor debate. — Greg Giroux
(Was this newsletter forwarded to you? It's free. SUBSCRIBE)
NEW HAMPSHIRE: STALEMATE
With only two congressional seats, how hard could it be to revise the lines to keep up with population shifts?
Pretty hard, actually.
The legislature targeted 1st District Rep. Chris Pappas (D), who was re-elected by 5 percentage points in 2020, and would make Rep. Ann Kuster (D) more politically secure. Gov. Chris Sununu (R) has said he'll veto it and proposed his own version. Sununu's map would make Pappas' district marginally more Republican-leaning and Kuster's district a little more Democratic-leaning.
It's not clear yet if the legislature will vote on the governor's proposal. – Greg Giroux
MISSOURI: END IN SIGHT?
Today's calendar in the Missouri's House of Representatives includes a Senate-passed congressional map, so redistricting could be completed before the 5 p.m. candidate filing deadline.
Under the plan, Republicans would be favored in six of eight districts including the 2nd, a politically competitive seat near St. Louis now held by Rep. Ann Wagner(R). This version (H.B. 2117) would give Wagner a more GOP-leaning seat than the one proposed by the House in January.
Lawsuits have been filed asking the courts to configure a new congressional map if the politicians don't finish a map today. —Greg Giroux
LOUISIANA: OVERRIDE POSSIBLE
Louisiana lawmakers will meet tomorrow afternoon to consider overriding Gov. John Bel Edwards' veto of a congressional map that maintains a single majority-Black district.
Edwards and other Louisiana Democrats want two such districts to reflect the state's demographics.
It's unclear whether enough Republicans will vote to overturn Edwards' veto, and the timing is unusual: Calling a veto override session this week means pausing Louisiana's regular legislative session that began March 14. — Jennifer Kay
Five to Go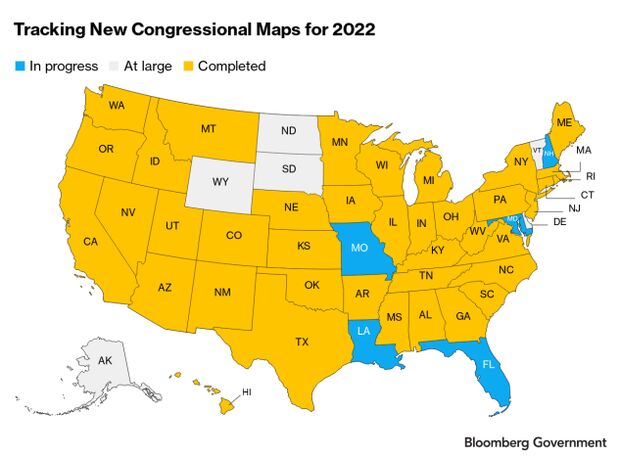 The finished maps:
Alabama|Arizona | Arkansas | California| Colorado |Connecticut |Georgia |Hawaii| Idaho | Illinois | Indiana | Iowa | Kansas | Kentucky | Maine | Massachusetts | Michigan | Minnesota | Mississippi |Montana | Nebraska | Nevada | New Jersey | New Mexico |New York | North Carolina |Ohio| Oklahoma | Oregon | Pennsylvania | Rhode Island |South Carolina |Tennessee| Texas | Utah | Virginia|Washington | West Virginia | Wisconsin
Redistricting's Impact: Member vs. Member
Michigan's 11th District (D-vs-D): Appearing at a virtual candidate forum, Rep. Haley Stevens said she's been "a champion for Michigan's economy" who's taken "bold positions" in a Republican-leaning district for a minimum wage hike, Donald Trump's impeachment, and paid family leave. Rep. Andy Levin characterized himself as a "bold progressive fighting for the big changes we need" and touted his opposition to the USMCA trade pact and defense bills he said were too expensive.
West Virginia's 2nd District (R-vs-R): West Virginia MetroNews looks at the May 10 primary between Reps. David McKinley and Alex Mooney, who are opponents after their state lost one of its three districts in reapportionment. McKinley has more seniority and represents more of the merged district, while Mooney has a bigger campaign fund and Trump's endorsement. — Greg Giroux
Redistricting Litigation
WISCONSIN: DISMISS ALREADY
The Republican-controlled Wisconsin Legislature wants a federal judge to dismiss lawsuits challenging congressional and state legislative redistricting maps following a split decision by the U.S. Supreme Court on the maps' constitutionality.
The justices left in place a congressional map submitted by Gov. Tony Evers (D), giving no explanation in its one-sentence order. It asked the state Supreme Court to try again on state legislative boundaries, questioning the constitutionality of an additional majority-Black district in the Milwaukee area. — Stephen Joyce
NEW YORK: LAST CALL
The case against New York's congressional and state Senate maps is wrapping up in the state Supreme Court. Closing arguments are set for Thursday.
Republicans say the maps were grossly gerrymandered and should be thrown out. They also asked the court to delay the June 28 primary. Justice Patrick F. McAllister has until April 4 to rule. — Keshia Clukey
PENNSYLVANIA: NO LAWSUITS LEFT
Pennsylvania Republicans have dropped their last court challenge to a congressional map selected by the state's highest court.
Two GOP candidates for Congress were among the six plaintiffs who on Monday voluntarily dismissed their remaining claim in U.S. District Court for the Middle District of Pennsylvania, alleging the map violated the equal-population rule. A three-judge panel previously dismissed two other claims of Elections Clause violations. — Jennifer Kay
OHIO: PARTIAL PRIMARY?
Ohio's May 3 primary is still on the schedule for everything except races for the state House and Senate. For now, anyway.
Secretary of State Frank LaRose said a federal court or the state legislature would have to decide whether to hold a unified primary at a later date.
A three-judge U.S. District Court panel has a hearing scheduled for tomorrow, in part to get answers from the Secretary of State's office on election mechanics. Meanwhile, the Republican-majority redistricting commission voted to deliver slightly tweaked legislative maps to the state Supreme Court (which already said no to moving the primary to late June). — Kenneth P. Doyle
Election Law
TENNESSEE: TRANSPLANTS UNWELCOME
Maybe they want a fast ticket to the U.S. Supreme Court. The Tennessee legislature passed a bill requiring three years of residency before running to represent the state in the U.S. Senate and Congress.
This is noteworthy on two fronts. First, the law seems to target a Trump-backed candidate. Second, it's been long settled that states don't have the right to impose requirements on those federal offices. The Congressional Research Service explains in this report.
It's now up to Gov. Bill Lee (R) to veto or set up a court challenge by signing the bill (H.B. 2764). — Chris Marr
ARIZONA: CLAIM DEBUNKED
A report led by former Rep. John Shadegg (R-Ariz.) confirmed Maricopa County's election system was not connected to the internet in the 2020 elections, further debunking a claim raised by election deniers. The findings, prepared by three independent computer security experts, settle a dispute between the county and the Arizona Senate over routers sought for the Senate's audit by Cyber Ninjas.
The county refused to turn the routers over, so the sides agreed to hire Shadegg as a special master to resolve outstanding questions. The conclusions "should be a final stake in the heart of the Senate's so-called 'audit,'" County Supervisors Chairman Bill Gates (R) said in a statement. — Brenna Goth
CALIFORNIA: BILLS IN MOTION
California voters wouldn't have to squint so much to read who's funding campaign advertisements under a bill (S.B. 1360) approved by a state Senate committee.
Print, TV, and online ads would have to use more visible and easier to read disclosures about who is paying for the ads including the top contributors. Voters asked to sign initiatives or recall referendum would first have be shown the list of who's bankrolling the campaign.
Another bill (AB 1872) would make Election Day in even-numbered years a state holiday, with public schools, communitiy colleagues and California State University campuses closed.
And the measure on the fastest track would make it easier for those who've served criminal felony convictions to vote. The measure (S.B. 504) would require the Secretary of State's office to give county elections officials identifying information of those imprisoned, on parole, or otherwise released from prison. The bill, which returns to the Senate to vote on Assembly amendments, also would OK same-day registration for military and overseas voters and disabled voters — Joyce E. Cutler
WISCONSIN: WORKER PROSECUTIONS?
Wisconsin Assembly Speaker Robin Vos says he may prepare for the defeat of the Democratic state attorney general by making it easier to make a criminal case against election officials.
During a radio interview, Vos (R) said that state law provides a degree of immunity to people subpoenaed by the state legislature, and "it makes no sense to give people immunity now that we see there has been so much that has been found that a Republican attorney general could later prosecute." — Stephen Joyce
Looking Ahead

Resources
Add Us to Your Inbox
Click HERE to sign up for Ballots & Boundaries, your check-in on redistricting, state voting laws, and initiatives.
To contact the reporters on this story: Greg Giroux in Washington at ggiroux@bgov.com; Kenneth P. Doyle in Washington at kdoyle@bgov.com; Jennifer Kay in Miami at jkay@bloomberglaw.com; Keshia Clukey in Albany, N.Y. at kclukey@bloomberglaw.com; Stephen Joyce in Chicago at sjoyce@bloomberglaw.com; Brenna Goth in Phoenix at bgoth@bloomberglaw.com; Joyce E. Cutler in San Francisco at jcutler@bloomberglaw.com; Chris Marr in Atlanta at cmarr@bloomberglaw.com
To contact the editors responsible for this story: Katherine Rizzo at krizzo@bgov.com; Tina May at tmay@bloomberglaw.com