Democrats Build Constitutional Case for New Voting Rights Bill
Pelosi says voting rights bill could pass in fall after hearings
Seeking passage and to hold up in likely court challenge
Bloomberg Government subscribers get the stories like this first. Act now and gain unlimited access to everything you need to know. Learn more.
Democrats are taking a deliberate approach with a voting rights bill that would return oversight power of some states' election laws to the federal government. They're using congressional hearings to build a case for the legislation to both improve its chances of becoming law and survive an inevitable court challenge.
The House Administration Elections Subcommittee is holding its fourth hearing Friday on the yet-to-be-introduced John Lewis Voting Rights Advancement Act. Rep. G.K. Butterfield, chair of that subcommittee, said he expects 16 hearings to be held on the bill, including some held by the House and Senate Judiciary committees, and that it won't be ready for floor action until fall.
Double-digit hearings on a bill the House passed in the previous Congress and is likely to do again — and which faces a tough road to advance in the Senate — may seem pointless, but, Butterfield said, the goal is to satisfy the issues the Supreme Court cited in striking down the portion of the 1965 Voting Rights Act that gave the Justice Department the power to approve certain states' election-related laws. Democrats plan to highlight discriminatory practices in voting policy and procedure, specifically new state restrictions enacted since the 2020 elections.
"We're going the extra mile," Butterfield (D-N.C.) said in an interview. "We're trying to develop a clear and cogent record that would be persuasive to the Supreme Court if the new law is tested."
Butterfield plans to hold two more hearings after Friday's and to wrap up his panel's work by the end of the month before sending the takeaways to the House Judiciary Committee, where the bill will be written. The bill could be ready by the first week of September and get a House vote in the first or second week of October, Butterfield said.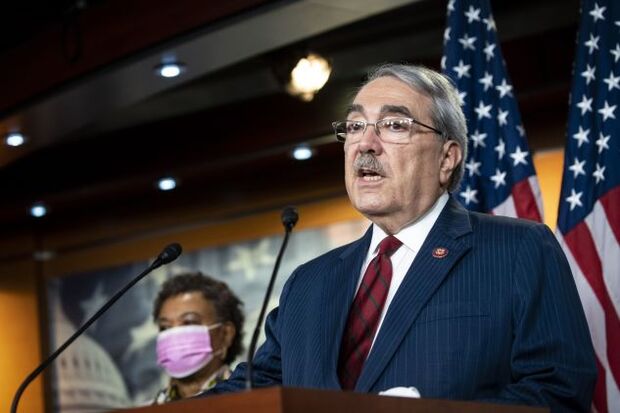 The push for this legislation comes as Democrats' far broader elections overhaul (H.R. 1, S. 1), which also deals with redistricting and campaign finance, has stalled in the evenly divided Senate. Sen. Joe Manchin (D-W.Va.) announced his opposition to it in a June 6 op-ed but reiterated his and Sen. Lisa Murkowski's (R-Alaska) work to build support for updating the Voting Rights Act.
Senate Majority Leader Chuck Schumer (D-N.Y.) is planning a vote on the larger package for the last week in June, despite the lack of Republican support or unanimous Democratic backing.
Pelosi told House Democrats in a letter Tuesday that the update to the Voting Rights Act should be passed in addition to the broader bill, not in place of it. She said "it is not a substitute for H.R. 1″ and, explaining the extensive committee work, said it must be achieved "in a way that is ironclad constitutionally."
Even if that's achieved, there isn't at this point a clear path to the bill becoming law. In addition to Murkowski, nine more GOP senators would need to support it once the House passes it to overcome a likely filibuster. Senate Minority Leader Mitch McConnell (R-Ky.) threw cold water on the effort this week, saying it was "unnecessary" as racial discrimination in voting is already illegal.
Butterfield said the bill has a long way to go and could attract more support. "I believe it can be written in such a way that it will garner 10 or more Republicans and all 50 Democrats," he said.
Still, the updated Voting Right Act likely has a better shot at success than the more sweeping package and would once again allow for challenging future bills such as the ones being considered and passed by state legislatures in Georgia, Texas, and elsewhere, said Aaron Scherb, director of legislative affairs with Common Cause.
"As more and more Republican-led states pass discriminatory voting laws to take away our freedom to vote, there's a strong need to keep building that evidentiary record to push back against any future court challenges that might occur," Scherb said.
Voting Changes
Butterfield said the committee is looking at seven voting practices with a high probability of voter discrimination at local or federal levels: changing boundaries of a city, redistricting, method of election, qualifications or documentation needed to vote, lack of multi-lingual voting materials, reduction of voting opportunities, and purging voter registration lists.
Some of those practices have been included in new state laws. Through mid-May, 14 states had passed 22 laws this year that would restrict access to vote, according to the Brennan Center for Justice. Updating the Voting Rights Act likely wouldn't affect state laws that were recently changed but would help with future state legislation, said House Administration Chair Zoe Lofgren (D-Calif.).
"After significant changes to elections administration in response to the global and deadly COVID-19 pandemic, many of which expanded access to the ballot, efforts to suppress the vote have intensified," Lofgren said in a statement to Bloomberg Government.
Legally Speaking
The likelihood of a lawsuit stems from the bill's origins: In 2013, the Supreme Court heard a case challenging the Justice Department's review of any proposed changes to election laws or procedures in parts of the country with a history of discrimination. The practice known as preclearance was established by the 1965 Voting Rights Act, but in a 5-4 decision, the court deemed that while preclearance was legal, the regions subject to it made sense in the 1960s and 1970s and were outdated.
Chief Justice John Roberts said in his majority opinion in Shelby County v. Holder that the stuck-down section of the law could become active again, but Congress "must identify jurisdictions to be singled out on a basis that makes sense under current conditions."
Jon Greenbaum, a senior deputy director with the Lawyers' Committee for Civil Rights Under Law, said lawmakers need to "build as strong a record as possible and have the best possible case that can be made in terms of the litigation, which will inevitably follow," given the previous challenges to the 1965 law.
To contact the reporter on this story: Emily Wilkins in Washington at ewilkins@bgov.com
To contact the editors responsible for this story: Kyle Trygstad at ktrygstad@bgov.com; Bennett Roth at broth@bgov.com
Stay informed with more news like this – from the largest team of reporters on Capitol Hill – subscribe to Bloomberg Government today. Learn more.